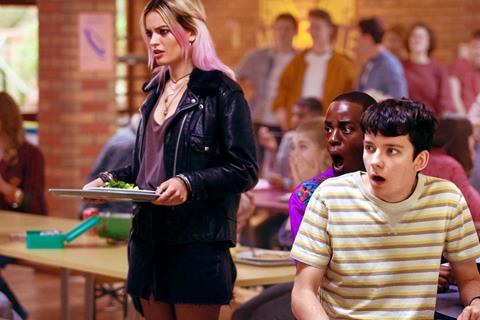 Writing teen comedy-drama Sex Education has led creator Laurie Nunn down unexpected paths. "I find myself researching very strange things. Sometimes I'm like, 'I've just spent an hour researching fingering — weird.'"
The frankness with which both writer and show handles issues around copulation has brought great acclaim to the eight-part first season, made by Eleven Film for Netflix. Shot in Wales in spring 2018, the modern-day show is set in a non-specific UK high school, and follows a timid 16-year-old boy who is enlisted by an outsider girl to run a sex therapy clinic for their contemporaries.
For Nunn, a graduate of the screenwriting MA at the UK's National Film and Television School, it was an affection for youth-centred content that motivated the script. "It came from a shared love between myself and the producers at Eleven — we were all just very passionate about the teen genre. We were looking back at the John Hughes films, [TV show] Freaks And Geeks, Mean Girls, and then trying to look at the conversation in a different way."
The show balances this heritage with a welcome dose of originality. "Because it's a teen show, it was very important that it had fresh faces," says Nunn.
He may look youthful, but Asa Butterfield — playing lead role Otis — is an old hand, working consistently since his 2008 breakthrough in The Boy In The Striped Pyjamas.
His classmates, however, are all newcomers, including Emma Mackey as the delightfully different Maeve, Ncuti Gatwa as Otis's flamboyant best friend Eric, and Aimee Lou Wood and Connor Swindells (a Screen Star of Tomorrow 2017) as sex-troubled lovers Aimee and Adam.
Ruling the roost is Gillian Anderson as Otis's sex therapist mother, a madam-meets-matriarch played with tongue firmly in cheek.
International appeal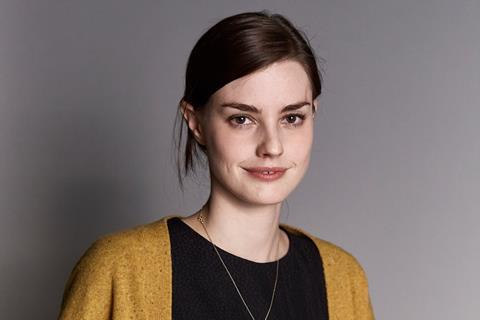 Despite this predominantly UK casting and its location, the show has a culturally non-specific ambience, with many elements borrowed from the US experience: varsity jackets, swim teams and, of course, a school dance.
"My writing and the hook of the show have got a heightened element to them," says Nunn of the deliberately ambiguous setting. "They needed an elevated world to match that premise. It was never intentional to think about how it would connect with an American audience. I like to think about it as teenagers in their own utopia."
And yet connect with an audience, in the US and beyond, it has. Netflix — notoriously secretive with its figures — reported in January this year that the show was on track to hit 40 million member viewers in its first four weeks. Those are numbers TV network executives could only dream of for any product, never mind a first-time show with only two notable names. What did that news mean to its creator?
"It's surreal. I've never had anything I've written get to the point of actually being made, so to think that many people have potentially watched it is mind-blowing," says Nunn. "It's lovely to hear that a lot of young people are enjoying it, but older people too."
A second series of Sex Education is currently shooting in Wales, with production running throughout summer 2019. Nunn is coy about the details, but says: "Coming up with the sex stories is one of the most fun parts of writing the show. There's endless material that we can draw on. We've got a few new characters too, which is exciting."
While her brain is "completely consumed by writing about 16-year-old boys, at the moment", Nunn would like to turn to directing at some stage in her career, and test out different genres.
"It would be interesting to do something where I don't have to tell penis jokes all the time — even though I love them!"