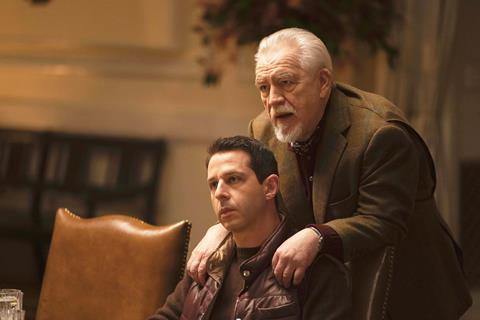 Until the climactic scenes of its final episode at least, the second season of Succession felt like the calm before the storm for Logan and Kendall Roy, the father and son played in the lauded HBO comedy-drama by Brian Cox and Jeremy Strong.
But that does not mean the season was any less of a workout for UK stage, film and TV veteran Cox and US movie and theatre regular Strong. Cox, who earlier this year won a Golden Globe for his work on the show, sees his character's inscrutability as part of the "joy" of playing Logan, gruff patriarch of the dysfunctional Roy family and head of its Waystar Royco global media empire.
"I find it gratifying that he's a hard character to read, and I want him to be that," says the actor, known for appearances in everything from 1960s UK cop series Z Cars to Manhunter to the Jason Bourne movies. "That's what is interesting about the character for me, and that gives it tremendous dimension."
And while the Roy clan is often compared to the family of real-life media tycoon Rupert Murdoch, Cox shares series creator Jesse Armstrong's view that the character is entirely fictional. "Quite frankly, I don't see it at all," he says of the comparison. "[Logan] is a self-made guy, he didn't inherit his father's business and we don't know what his trajectory has been."
The character's normally ruthless front showed a few cracks in the season two episode that had the Roy family visiting Logan's childhood home in Dundee, the Scottish city that was also Cox's birthplace. It was "a bizarre, bizarre situation", says the actor, who happily showed cast-mates round his early haunts while playing a character "who was the antithesis – he couldn't embrace any of it. He cannot face up to his roots."
In the season's final scene, meanwhile, Cox delivered the much-discussed enigmatic smile that is Logan's reaction to son Kendall's shock public pinning of Waystar's escalating legal and ethical problems on his father.
"I completely understood it," says Cox of his character's reaction. "[Logan] is a hopeless father but not a bad father. He does love his children, but his children are constantly disappointing him and Kendall has been a bit of a nightmare." The betrayal, he adds, was "an act of manhood on Kendall's part, and Logan acknowledges that but says, 'OK, now bring it on.'"
Less is more
Strong, whose recent credits include Adam McKay's The Big Short and Guy Ritchie's The Gentleman, had a different kind of challenge playing Kendall, presumed to be Logan's successor as company head until his failed boardroom coup and drug-fuelled meltdown at the end of the show's first season.
At the start of the second season, Kendall, says his portrayer, "has completely subordinated himself to his father's will and, in a sense, abdicated his own self. So the challenge was how to embody this shadow of a person and do that almost entirely internally, with a real economy of means."
Citing influences including the examination of guilt in Russian literary classic Crime And Punishment as well as Mark Rylance's stoic performance as Thomas Cromwell in the BBC's adaptation of Hilary Mantel's historical novel Wolf Hall, Strong explains his less-is-more approach to Kendall's arc.
"I find the ultimate challenge is to make the work look like not work at all," he says. "And that seems to me to be about coming from your centre without any embellishment and without any performance. If you create in yourself a sort of resonating chamber for that suffering to exist in, you don't need to express it any further."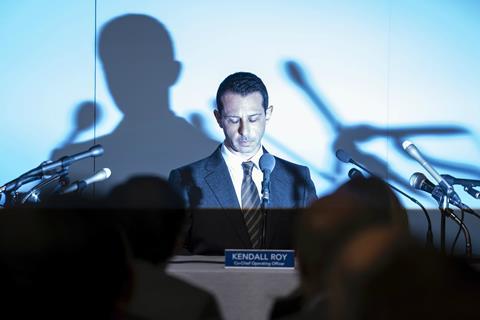 The exception to that approach came in season two's cringe-inducing rap scene, where Kendall serenades his father at a Dundee reception with self-penned hip-hop number 'L To The OG'.
"Often with Kendall it's about overshooting the mark and, in a sense, trying too hard, which is something that I probably share with him," says Strong of the sequence. "So I just went for it."
As they did in the first season and will undoubtedly do in the third, one-on-one scenes with Logan and Kendall gave the latest run of Succession some of its most charged moments. But the actors approached the scenes in different ways.
"There are a lot of improvisations in those scenes," says Strong, whose early acting heroes included Al Pacino and John Malkovich. "There's a lot of unknown when they call action. But with that there's a real sense of danger and tension that we work very hard to preserve."
Cox, adds Strong, is "a lovely man… which I try and avoid as much as possible because that doesn't serve the dynamic of the work we're doing together".
Cox, who comes from a UK theatre tradition that puts the writer first, is more circumspect. "There's a bit of improvisation," he confirms. "You look at it like a sandwich. The centre of the sandwich, the meat, doesn't change but the bread could be ciabatta or a hotdog bun or anything. That's the bit where you improvise and get into the meat."
The third season of Succession had been due to start shooting in late April until pre-production was shut down because of the coronavirus pandemic. While waiting, first for the original production start and more recently for a new date to be revealed, Cox and Strong have both been busy.
Before the lockdown, Cox spent two months starring as 1960s US president Lyndon B Johnson in Broadway play The Great Society – "a great thing to do," he says, "because I hadn't stretched my theatre muscles for a while."
By strange coincidence, Strong worked pre-lockdown alongside Rylance and others in the ensemble cast of The Trial Of The Chicago 7, written and directed by Aaron Sorkin, for whom Strong had previously appeared in Molly's Game.
The long-in-the-works and now doubly topical feature dramatises events following the so-called 'police riot' at the 1968 Democratic National Convention, where delegates were selecting a presidential nominee they hoped would succeed Johnson. The film had been set for release this autumn by Paramount before coronavirus challenged the studio's plans, with Netflix since stepping up for global distribution rights.
Strong has also, he reports, taken advantage of spending the lockdown with his Danish wife and family in her home country to express an interest in working with Scandinavian filmmakers. He has held talks with writer/directors Tobias Lindholm (A War) and Lone Scherfig (An Education) about possible future projects.
Coming attractions
Not surprisingly, neither Cox nor Strong is willing or able to give much away about the third season of Succession, whose characters seem set for a bloody Games Of Thrones-style corporate battle with Logan and Kendall at its centre. Strong offers a hint that the third season of the New York-based series will have more international locations, following the second season visits to Scotland and Croatia and the first season trip to England. But he has only "a broad sense" of what the writers are plotting.
"I hope that whatever they had been thinking [pre-pandemic] will evolve, given the way the world has changed in the last three months," he says.
Although he has not yet seen scripts for the season, Cox may know a little more. He reports that Jesse Armstrong "did something which is very out of character. He told me about the next season, and he's never done that."
But, when it comes to details, he remains as inscrutable as the ever-mysterious Logan Roy. "It's very interesting. I can't talk about it."