Fittingly, given the title and themes of HBO's 10-part Stephen King adaptation The Outsider, UK actress Cynthia Erivo was a complete stranger to the original novel when she was approached by executive producer Jason Bateman, whose Aggregate Films produced with HBO.
Bateman, who had been impressed with Erivo's work on stage and screen – including theatre productions of The Umbrellas Of Cherbourg and The Color Purple and films such as Bad Times At The El Royale, Widows and Harriet – hoped to cast her in the key role of savant private investigator Holly Gibney, who assists in the surreal case of a shapeshifting murderous demon stalking the southern US state of Georgia.
When Bateman sent over a script, it was Erivo's first introduction to the story and the character (at that time the woman had become Lorraine, before being changed back to Holly Gibney ahead of shooting).
"I swallowed it whole," she says. "I was so impressed by how complex [the character] was. There were so many things about her that I'd never seen in a character on TV before – especially if they were considering casting me, a woman of colour, in this particular role."
It was a part Erivo could not get out of her head and, following a 45-minute phone call with Bateman, she was completely sold.
Erivo may not have been familiar with Gibney, but King fans will be. The character also appears in the author's 2014 novel Mr Mercedes and, in the 2017 Audience TV adaptation, is played by white actress Justine Lupe. The decision to change the character's race and background seems fitting for The Outsider, which trades in shifting identities, but it also gave Erivo a chance to make Gibney her own.
"I'm glad I didn't read the book before I did the piece, because I feel like it gave me a bit of freedom," she says. "It let me explore [the material] in the way that I needed to find her. She was totally separate and apart from anything else that I had seen. To my knowledge this person didn't exist, which meant I could play her how I felt she should be played."
In Erivo's hands, Gibney is one of the most intriguing and unique characters seen on the small screen in some time. From the moment local police detective Ralph Anderson (played by Ben Mendelsohn) first meets her in a dimly lit bar to elicit her help in tracking a child killer who, it seems, can be in two places at once, it is clear Gibney marches to her own beat. Logical, observant and highly intelligent, she thinks and behaves in ways that are markedly different to those around her, and finds social interaction intensely difficult.
"I approached her as if she's an everyday human being who happens to have qualities that are different to others," Erivo says about her determination not to present Gibney as an oddball or an eccentric. "It was key to get into the mindset of someone who happens to have brilliant qualities, but still has wants, needs and emotions like everyone else. She has to process things that for some people may be simple, but for her pose difficult questions. This woman is just moving through life, trying to make things clear for herself and others."
The power of introspection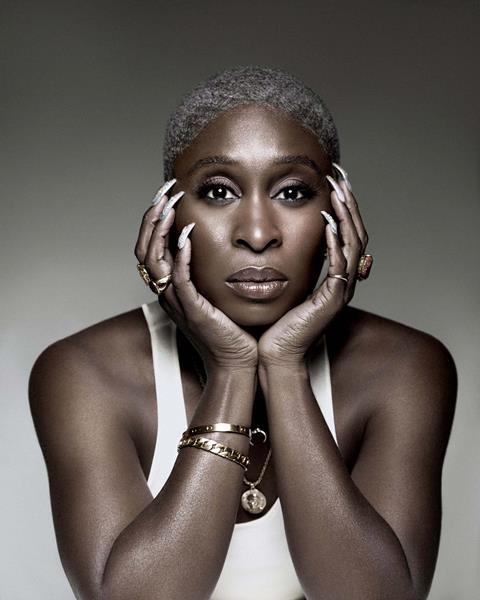 For Erivo, who has played physically demanding roles – most recently slave-turned-emancipator Harriet Tubman in Kasi Lemmons' biopic Harriet, which saw her nominated for the best actress Oscar earlier this year – The Outsider provided a welcome opportunity to play a more insular character.
"Holly isn't like anyone I've played before, and that's probably why I ran at it with my arms wide," she laughs. "You see what's in her head and her heart through the way that she moves. She's very still, but you see a lot in her eyes, and the way she moves her feet and little things she does with her fingers. The tilt of a head can feel like a huge move because she hasn't done anything else. I really enjoyed finding those details."
Also key to finding the heart of the character was Gibney's physical appearance, into which Erivo had "all of the input I could possibly dream of". She took her own hair stylist and make-up artists onto the show, and worked closely with costume designer Stephani Lewis.
"We all decided that [her outfit] needed to be a button-up shirt, a simple pair of pants and boots," she says. "There was never any black, never any denim, never any jeans. Her braids, which are very close to her skin tone, are usually in a plait. I wanted her to feel like she was separate and apart from where she was, and it was also like a uniform, that made her feel protected.
"I also wanted to make sure that people didn't look at her and automatically think, 'Oh, woman'," Erivo continues. "So you can separate her from her sex, and understand that she is just brilliant. She is brilliant before she is a woman."
On the outside
While Gibney may be on the case of a malevolent supernatural presence, being the sole woman on a team of men can be just as foreboding. That was something with which Erivo found some common ground. "You're on set and it's a very masculine environment, and that's going to affect the way you see things, perceive things," she says.
"I do think Holly is in a space where most men don't realise that she has the brain that she has, [they] are constantly doubting her. She's so used to it that she found ways to cope and function when she's in those rooms."
Much of the drama of The Outsider comes from the growing kinship between Gibney and Mendelsohn's detective Anderson, who is himself adrift after the death of his young son – one of the ways in which the screenplay, co-written by creator Richard Price and King, diverges from the novel, which had Anderson's son away at camp.
"This was my first time working with Ben and he was lovely," smiles Erivo. "He made sure that I had the space to work through things, and made it so easy for me to trust him implicitly."
Speaking to Erivo, it is clear just how much she appreciates the chance to get her teeth into such a complex character – something that is becoming a trademark of her career and, she hopes, the future of the industry at large.
"I have been lucky in that people are willing to have a conversation with me about the types of people I want to play," she reflects. "And I consistently challenge the idea of what a black woman can and cannot be. I'm not afraid to say, 'Hey, this might not be moving anything forward.' Even if my agents look at a script and think it might be a part for a white woman, I take a look and see if I can see something that I can play. We all need to think a bit wider."