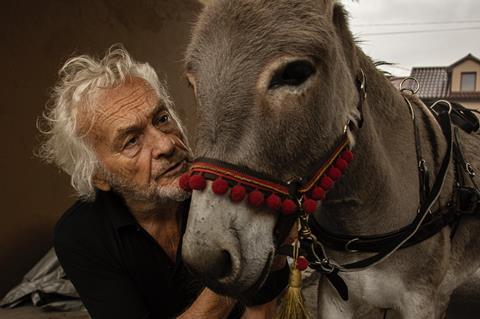 If Polish filmmaker Jerzy Skolimowski is not as prolific as his contemporaries, it may be because of his other calling. "I'm also a painter and one cannot do painting and filmmaking at the same time," he says. "Painting requires a totally zen-like attitude, while filming is the opposite. To be honest, I prefer painting. But I'm aware I have a talent so I didn't want to waste it, so I have to find the time to make films occasionally."
His latest, EO, is his first film since 2015's 11 Minutes and his sixth to play in Competition at Cannes, where it was this year's joint winner of the jury prize. The film is an existential road movie following the titular donkey who travels from a loving home in a Polish circus to a sad denouement in Italy; his encounters run the gamut of humanity including an aristocratic young priest returning to his family home and a dysfunctional relationship with his stepmother, played with brittle elegance by Isabelle Huppert. The film employs a dizzying array of filming techniques, making for a surreal experience anchored by the steady, bemused gaze of its furry protagonist.
Written and produced by Skolimowski and his wife Ewa Piaskowska, the project was inspired by another donkey film, Robert Bresson's Au Hasard Balthazar (1966) — the only film, says Skolimowski, that has ever made him cry. "We realised we were bored with a linear narration, telling a story from A-Z with the typical three-act structure," he says. "When I watch such a film, after 15-20 minutes, I know exactly what's going to happen and, unfortunately, most of the time I'm right."
Skolimowski and Piaskowska's first attempt at breaking with that structure was 2015's 11 Minutes, a multi-stranded drama about a group of disparate characters, which was Poland's official submission for the 2016 Oscars. "That film wasn't fully successful but it was a first step," says the director. "We got an idea that perhaps we could use an animal character in the leading role. It's risky but exciting. It meant we could eliminate a good part of the dialogue, which for me is the most boring and weakest part of a film, [partly] because it's often badly written. An animal character creates the possibility that instead of dialogue, we could use music."
EO marks the third collaboration with Polish classical composer Pawel Mykietyn, whose work on the film will be recognised at the upcoming European Film Awards with a prize for European original score. "I'm aware it may be a bit of a step down to go from his symphonies to a mundane film score, but he always finds a middle way where you can still hear the beauty of the full symphonic orchestra," says Skolimowski. "The idea was to illustrate what's going on inside EO's head, his inner monologue, to illustrate his joy, his fear, his surprise."
Hive mind
For Skolimowski, EO was a new filming experience because of the way he allowed the creative input of his team. "Usually, I'm a much more individualistic creator, because of being a painter I suppose," he muses. "Here, I was pushing my collaborators to the maximum."
This included cinematographer Michal Dymek, whose feature work includes Magnus von Horn's Sweat (2020). "When he came to me with crazy, extreme, unorthodox ideas, I pushed him further. DPs usually don't like to take such risks because they are terribly afraid that a bad director will use any mistakes in the film and the DP will get the blame. But Michal and I developed a great trust."
The result, which saw cinematographers Pawel Edelman and Michal Englert stand in when Dymek was not available, is a kaleidoscope of different lighting and camera styles, including strobe lighting, inventive camera angles, extreme close-ups, painterly long shots, aerial drone shots and moments of trippy hallucination. A recurring motif is the striking red filter used at pivotal moments in EO's journey.
"I'm a painter and in previous films I've experimented with colours, like Jane Asher's yellow raincoat in Deep End," says Skolimowski. "Yellow symbolises jealousy, a dominant theme in the film. Red represents danger or a warning sign, so very early on we decided red should be the leading colour in EO."
Executive producer Jeremy Thomas is also a longtime collaborator, dating back to Skolimowski's 1978 film The Shout, which was a Cannes jury grand prize winner. EO is produced by Poland's Skopia Film and Italy's Alien Films, with funding support from various Polish and Italian funds and cultural bodies. It has sold in multiple territories, including North America to Sideshow and Janus Films, the companies that together distributed 2022 Oscar winner Drive My Car. If that Oscar success repeats, EO would deliver only the second win for Poland, following Pawel Pawlikowski's Ida in 2015. So far, the best box-office outcome has been generated in France, with $886,000 at press time.
The magnificent six
Alongside the film's human cast, EO employed the talents of six Sardinian grey donkeys: Hola, Tako, Marietta, Ettore, Rocco and Mela. Working with the donkeys was an easier challenge than the complicated logistics and planning required to organise animal welfare and national bureaucracy as the production travelled through Poland, Austria, Czech Republic, Slovakia and on to Italy.
"I treated the donkeys like my pets," says the director, who read Juan Ramon Jimenez's 1914 prose poem Platero Y Yo, about a writer and his donkey, for research. "You use a softer tone and tender words with different intonation. When the crew was having lunch, I spent it with the donkey, whispering into its ears.
"Donkeys are stubborn but they aren't stupid," he continues. "Once we rehearsed a scene of the donkey walking down a lane and it went fine. When the cameras started rolling, the donkey took two steps and stopped. And no amount of carrot waving from behind the camera would make him move. Then we discovered a cable hidden a few metres in front of the donkey which he'd spotted despite the camouflage. There's always a good reason for their stubbornness."
The dreamlike opening scene was inspired by a touring Italian showman who the filmmakers tracked down on Facebook. "He was travelling around villages in northern Italy with his donkey, performing one trick — the donkey pretends to be dead, he performs CPR on the donkey, after which the donkey miraculously gets up," explains Skolimowski. "We asked him if his donkey would do the same trick with our actor and he agreed, but it had to be on his turf. So we had to build a big top in the village Torrita Tiberina near Rome to shoot the scene."
The film cranked up just before the pandemic forced closures in March 2020, and its shoot was interrupted again several times before finally wrapping two years later. How did Skolimowski keep up the momentum over such a long and staggered shoot?
"It wasn't difficult because the film had an aura of enthusiasm and the belief we were doing something special," he says. "We were thinking we would present it at Cannes and it would be a platform to reach wider audiences because we had such an important message about the defence of animals and that was always our main goal."
While Skolimowski does not employ a sledgehammer to ram home his message, he hopes the unexpectedly distressing end will have an effect. "I wanted to shock the audience with that last scene, for them not to leave the cinema with a smile. The greatest reward for me would be for some of the audience to stop eating meat and for some industrial meat production to end. The message — and Isabelle Huppert's presence underlines its importance because she is well known for her position on animal rights — is hopefully subtle."