How do we live our lives against a backdrop of hostility? This is the question posed by Eran Kolirin in Beyond The Mountains And Hills, his exploration of middle-class mores. Melanie Goodfellow reports.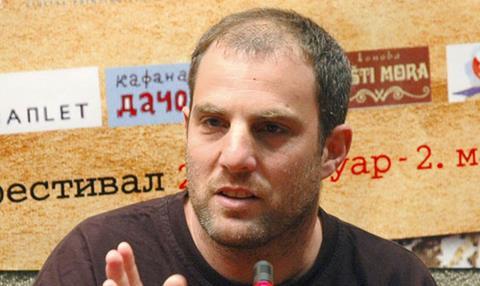 Eran Kolirin returns to Jerusalem Film Festival for the first time in nearly a decade with state-of-the-nation drama Beyond The Mountains And Hills, which is screening in the Israeli feature films competition strand.
Kolirin was at Jerusalem Film Festival in 2007 with the breakout hit The Band's Visit, the tale of an Egyptian police band that travels to a downbeat town in the Israeli desert by mistake. In between times, he made The Exchange, an existential exploration of modern life as a man chooses to assess himself from the point-of-view of an outsider, which premiered at Venice Film Festival in 2011.
His latest film is about a middle-class family living in a comfortable residential area on the Israeli border with the West Bank. All the family members are at personal crossroads: the father is trying to adjust to civilian life after leaving the army, the mother is dissatisfied with her job as a teacher and is beginning to fall for the flattering attentions of a young student, while the children are struggling to find their place in a difficult world.
Through all this, the Israeli-Palestinian conflict hums loudly in the background, affecting much of their day-to-day lives and their relationships with everyone around them.
"I wanted to capture a certain feeling throughout Israeli society right now, even if it's in the subconscious," says Kolirin. "It's about the uncertainty and fear that lurks underneath an imagined sense of sanctuary. The higher you build a wall, the more you hide behind your comfort zones, the further your subconscious travels. The souls of the characters are consumed with fear.
"I don't want to be a preacher of my political opinions, which are more hard-left than you can imagine — it's not about that. It's about people who are living here without any sense of a horizon — or sense of who is who — just continuously shrinking into their shelters."
Teenage daughter Yifat, played by newcomer Mili Eshet, is the only member of the family who attempts to connect with the Palestinians living in their area. But this is fraught with problems.
"Even when Yifat is trying to be an idealist, she cannot stand up for the values she believes in," says Kolirin. "She is also consumed by this fear that is much bigger than her. It's coming out of the ground, a consequence of the state this country is in. "I'm trying to capture an ambiguous and complex situation."
Alongside the impact of the conflict, Kolirin also touches on the disintegration of the socialist and collective values within Israeli society. The mother, he says, embodies a type of person who has been left behind in contemporary Israel.
"Israel used to be a communal country and now it's becoming an individualistic country, but people are not used to being alone. They don't have the tools to act as individuals," says Kolirin. "Rina [the mother, played by Shiree Nadav-Naor] is a classic Israeli beauty. She is the sort of girl who would have been part of the youth movement and one of the most popular girls in the class. Now in her 40s, she doesn't know her place."
An Israeli release date has yet to be set for Beyond The Mountains And Hills but Kolirin says the test screenings he has attended have already prompted debate at home. The picture has been sold to a number of international territories including the US, where Adopt Films is planning a wide arthouse release in early 2017.
Recurring themes
Kolirin is now gearing up to shoot an adaptation of Palestinian writer Sayed Kashua's 2006 novel Let It Be Morning. In his adaptation, the story revolves around a Jerusalem-based accountant forced to reassess his Palestinian roots and Israeli citizenship when he is trapped in his Arab home village by an Israeli blockade after attending a family gathering. The film will re-explore central themes of his past filmography, he notes.
"I've always been fascinated by the Kafkaesque situation of being lost and of how the ground can slip away beneath a person's feet. That was what happened to the commander of the Egyptian Police Orchestra, who got lost in the Israeli desert in The Band's Visit, and it is also what happened to a lecturer in physics, who got lost in his own life in The Exchange," he says. "It is at that very moment that the individual discovers himself, his identity, his sense of belonging."