SCREEN SUBSCRIBERS: A childhood obsession led Fabrice Giger to his ownership of influential sci-fi comic-book publisher Humanoids. He tells Jeremy Kay about the company's ambitious production slate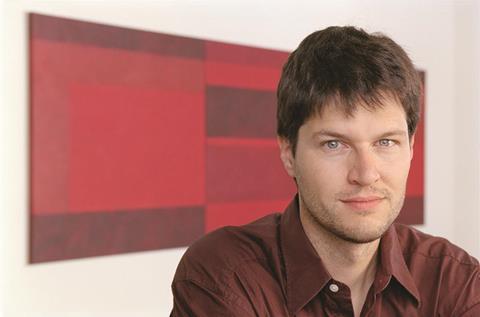 Two moments stand out when Fabrice Giger reflects on the pendulum of opportunity that has swung him through an eventful career to where he is now.
The first came in 1974. It would be many years before the youngster from Geneva would strike feature production partnerships with China's Jetavana and Full House from France, yet the passion was already there.
"I was nine years old and I was into comics," says Giger, sitting in a coffee shop close to his Hollywood offices.
One fateful day, while accompanying his mother on a shopping trip to a supermarket in a neighbouring town, Giger discovered a copy of Philippe Druillet's opus Delirius.
"He revolutionised sci-fi comic books in the '70s," says Giger. "George Lucas was inspired by him."
Alas, Mme Giger was not and she banned her son from reading it. Six months later Druillet teamed up with comic-book author Jean Giraud (aka Moebius) and Jean-Pierre Dionnet to launch Les Humanoïdes Associés (Humanoids) in Paris.
"That was my first tipping point," says Giger. The second would come 14 years later when the young Swiss entrepreneur hung up the successful publishing venture he had established with friends and relocated to Paris to take over the comic-book giant.
"We made a lot of money but I realised the advertising world was not for me. I wanted to tell stories."
Giger approached Humanoids owner Hachette and asked to buy the comic-book stable behind the cult Métal Hurlant property, among others. Hachette agreed finally to sell to Giger and his associates in 1988.
There was a successful dabble in animation before he sold the studios Sparx and Armada TMT Studio in Vietnam and, after the internet bubble burst, Giger admits to being burnt out.
He took his family to India for a year and returned circa 2007 to restructure the company.
"I realised we had great IPs," he says. "We have the ability to develop new content for the world. We're the only non-Japanese comic-book publisher in Japan. We're the only publisher of European properties to successfully publish in the US. So I realised we had something very powerful and could turn this into a mini-studio."
To this end Giger approached one of Hollywood's most famous genre producers as he sought to exploit his company's IP.
"I went to Gale Anne Hurd and we spent a lot of time together working on Sebastian X," he says.
Martin Campbell is attached to direct the graphic novel adaptation about an elite cop implanted with the memories of a notorious terrorist, and Voltage Pictures is financing and setting up the project.
Hurd and Giger are producing with his associate Pierre Spengler, who produced the original Superman franchise. Screenwriter Bill Marsilii, who co-wrote the Tony Scott-directed thriller Deja Vu, has just turned in the second draft.
Besides this, Giger's now US-based Humanoids has set up two slates, enlisting the help of renowned casting director Mary Vernieu.
The first is a three-film producing partnership with Full House, the producers who spun off from Wild Bunch and Films Distribution. In each case a separate company will co-produce.
The roster includes Bouncer, a western that Floria Sigismondi (The Runaways) will shoot in early 2016 in Colombia from a screenplay by Alejandro Jodorowsky and Francois Boucq. Muse, of Spring Breakers notoriety, is the producing partner.
Spanish titan Apaches is on board the Second World War vampire project Legion, which Nacho Cerda directs, while RKSS, the Canadian collective behind Turbo Kid, is writing and will direct the darkly comic The Zombies That Ate The World.
China's Jetavana, which is run by Ivy Zhong, is co-financing with various partners a slate of Humanoids adaptations in the $9m-$60m range.
The films will be English-language and set up as either China-Canada-Europe or Canada-Europe co-productions. Toronto-based Jeff Sackman is advising on Canadian partners and Jetavana will distribute in China via local players.
This slate features Savage Highway, the first Humanoids film to be announced, which Giger and Spengler will produce with John Woo's producer Terence Chang.
Rounding out this roster are the $60m space opera Metal and drama-thriller Miss.
And if Humanoids was not busy enough, Giger is preparing to release an anthology of US, European and Japanese comic-book art in which creators discuss their influences. The title? The Tipping Point, of course.