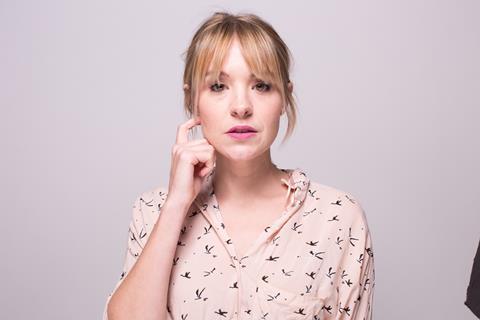 Texas-born, Los Angeles-based actor, writer and director Brea Grant, a familiar on-screen presence from TV shows such as Friday Night Lights, Heroes and Dexter, finds herself with not one but two feature films scaring up interest at this year's virtual edition of Montreal's Fantasia International Film Festival.
The festival, which runs until September 2, is showcasing the dark comedy horror 12 Hour Shift, the second film Grant has written and directed; and also the horror thriller Lucky, written by and starring Grant, and directed by Natasha Kermani.
12 Hour Shift details the story of an amoral nurse, illegal organ harvesting and a heist on a ward. Lucky tells the tale of a woman visited by a man trying to kill her at home every night. The films were selected for the Tribeca and SXSW film festivals respectively but both were downed by the Covid-19 pandemic.
Magnet is releasing 12 Hour Shift on October 2 in the US in theatres and via VoD, and Signature is releasing in the UK in 2021. The film screens again at Fantasia on Thursday (August 27).
Lucky is scheduled for rollout across the US, UK, Canada, Ireland and Australia/New Zealand via AMC's horror streaming service Shudder in 2021. It screens again at Fantasia on Friday (August 28).
Talking to Screen from Bulgaria, where she is directing a block of episodes of the sci-fi action show Pandora for The CW, about a young woman who loses everything but finds a new life at Earth's Space Training Academy, Grant details her love of gore, working during lockdown and the horror of being the only actor on a night shoot.
Which script came first, 12 Hour Shift or Lucky?
I wrote Lucky about four years ago and then 12 Hour Shift about two years ago.
But 12 Hour Shift ended up shooting first?
I shot 12 Hour Shift last year in March/April [in Arkansas] then I came home to LA, had three weeks off, and started Lucky here. It was crazy. I was editing 12 Hour Shift while shooting Lucky in Pasadena. It worked out. There were only a few days when I had to do both and I would look at cuts in the morning and then go to shoot Lucky later.
How did it feel having your Lucky script being directed by someone else?
It was a relief. I was working so hard on12 Hour Shift but I wanted to see Lucky see the light of day and there was no way I could do both. Natasha is such a visionary and she had such an interesting take on Lucky that I felt it was in such good hands that I never had to worry about it.
How did the backing come about for 12 Hour Shift?
I had done a short film with [US production company] HCT Media. After we finished that process they asked if I had any features. Lucky had already been optioned. I sent them three others and they really responded to 12 Hour Shift. My producers — Jordan Wayne Long, Matt Glass, Tara Perry — found completely independent financing for it.
Jordan Long is a director and producer, Matt Glass is a cinematographer and composer and Tara Perry is an actor and producer too. That's a multi-talented team to produce your film.
They are real renaissance people. I am not a cinematographer, I am horrible at FX and I cannot edit, but they can do all those things. It is very impressive.
What was it like shooting 12 Hour Shift for 18 days in Jonesboro, Arkansas, in a working hospital?
It was an active hospital that Tara Perry and Jordan Long found. They're both from Arkansas. With the indie filmmaker spirit, Jordan and Tara went and asked the hospital if we could shoot a movie there. It also qualified for the Arkansas tax incentive as it didn't require a minimum spend. The script was originally set in Texas, which doesn't have as valuable a tax incentive.
What was the most challenging aspect of each shoot?
You never have enough time. 12 Hour Shift was a really small crew. You never have enough people to achieve all you want to. For Lucky, it was a lot of long nights and physically draining scenes. One night I had 12 or 13 costume changes and I was the only actor there. That kind of night is so tough on everybody.
You're a true multi hyphenate. What gives you the biggest thrill – acting, directing or writing?
It would be writing or directing. Writing pays my bills at this moment. But I love directing too.
How would you describe the films you make?
I make genre movies. 12 Hour Shift has four elements: heist, thriller, horror and dark comedy but at its core it's a dark comedy. It should be performed, read and watched as a dark comedy.
Lucky is a surrealistic horror movie, a movie about violence against women. Lucky really relied on the question 'what would I do in this situation.' I have a plan, I know where the knives are, the baseball bat, where the things are that could help me if someone broke into the house. Maybe I've been listening to too many murder podcasts.
Blood, gore and sharp objects feature heavily in both scripts. Is there something you want to tell us?
I like genre movies. Gory movies! It's fun to shoot as an actress. You get tired of doing scenes where you're sobbing, so at least it's fun if you're covered in blood. My character in Lucky is not a crier, she would think it weak. I, Brea Grant, am definitely a crier.
Are you at all squeamish in real life?
No, not at all. The only thing that makes me want to crawl into a hole and die are snakes. I saw a lot growing up in East Texas, copperheads and water snakes.
Have you been able to continue working on through lockdown?
I've been pretty lucky. Since I'm a writer I can always write, so that's helpful. I've been working on a few scripts of my own. I was in a virtual writers' room on Zoom on a show called Unconventional [in LA]. It's the same showrunners as a show called Eastsiders which I worked on a for few years. I also co-wrote an episode of Pandora the show I am directing now [in Bulgaria].