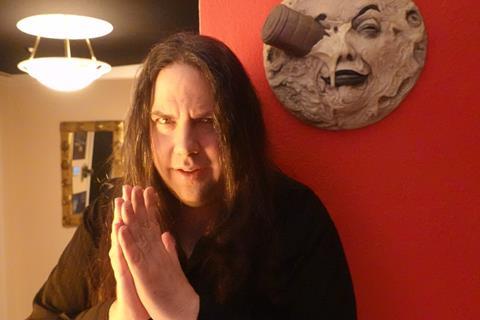 When the pandemic put the kibosh on Montreal's 24th annual Fantasia International Film Festival in July, co-director Mitch Davis and his team announced in April they were postponing until the end of August. Shortly after they decided to take the festival online.
Powered by Festival Scope and Shift72, the slimmed-down genre jamboree runs from August 20-September 2 – two weeks long instead of the traditional three – and boasts around 100 features compared to the usual 140-160. Neil Marshall's The Reckoning is the opening night selection.
The line-up of "live" virtual screenings and on-demand titles – limited tickets only available to Canadian audiences – will be accompanied by virtual Q&A's for all world and international premieres. There will be an enhanced focus on panels, and a masterclass from horror icon and recipient of the first virtual Cheval Noir lifetime achievement award, John Carpenter.
On the eve of the showcase genre event, Davis talks to Screen about why they took this year's event online, the benefits in doing so, and what to look out for. Click here for the full festival line-up.
How did you pivot to online?
None of us were really sure that we wanted to do a virtual film festival. We were speaking with Festival Scope and the Shift72 platform and getting assurances about what would and wouldn't be possible. It took a while until we felt we could be something that would be legitimately meaningful and exciting. We don't want to be another passive VOD experience for the audience, and I personally get really sad when I think about somebody's world premiere happening in absentia for the filmmaker – it seems like such an anticlimactic way to launch a work. So for the longest time we weren't really sure if we should postpone until later in the year or cancel outright, which would have been sad because our programming usually starts November the year before… we'd had so many submissions and we'd already committed to a number of films that we loved.
When did you realise you could build something meaningful?
It was two things. We talked to Festival Scope and pushed hard on the idea that we wanted the films to be like actual scheduled screenings, at least for the world and international premieres and brand new films. We didn't want it to be a situation where a brand new film is just out there and people can see it any time they want for two weeks. So much about a film festival is about momentum and anticipation, and a shared experience… So you have to be there and start within five minutes of the announced time or it won't start [on a viewing device]. And there's a press embargo on reviews. So everyone can start having their discussions online at the same time online at the same time and we can do a virtual Q&A right after the screening… it's still something meaningful and the filmmakers gets to hear from their audience right after the screening…. And then a lot of journalists that we're friends with at major outlets committed and said they would cover us like a proper film event. That was important.
Tell us how the Q&A's will work
We're doing the Q&A's for world and international premieres. We have a combination of real-time scheduled screenings, and then titles that are available as on-demand rentals for the films that were on the 2019 circuit but still haven't played in Quebec or Canada. And in other cases big festival films that played in January before the world ended. So for those titles have either already been acquired or where there's awareness, showing those as VOD screenings isn't really a problem. We might organise several Q&A's even for those films.
The Q&A's are going to be on Zoom and surprisingly, they're not able to just seamlessly transition the stream… The feature film stream will end and when people buy the movie, in the link it'll be clear where the Q&A will be… We'll mirror those Q&A's either on YouTube or FaceBook Live, although that will be a passive viewing experience – you'll only get to ask questions if you're on the Zoom Q&A.
How do you split the rental revenue?
Oh it entirely depends on the booking. If it's being booked directly from the filmmaker, the filmmaker's getting a box office split. If it's coming from a distributor, the distributor gets the money. Basically, we only take one party and then it's up to that party to pay the other party.
Were you worried you'd lose selections when filmmakers heard you were going virtual?
We thought that at least half the films had already committed would politely step back and say they needed to think about it and maybe just gently pull out, because when you finish a film that has a fairly big budget with known actors and some pre-existing awareness and strong commercial viability, the last thing anybody intuitively would think to do is put it immediately online and not sell it.
All our instincts say to put it online as late as possible, never put it online at the beginning of its life, so we really thought we were going to lose all our premieres and would go back to titles that made it onto our shortlist in 2019… To our shock tons of world premieres stayed on and by May and June, a lot of films that had been fence-sitters came through after realistically looking at where the landscape was headed.
What can we expect from this year's selection and what does it say about genre filmmaking today?
It's almost like there is a sense of prophecy happening in creative forces over the last few years. We have a number of films this year dealing with healthcare professionals, or that are entirely hospital-set… And then there's a number of films this year that just address isolation and the ways that people reinterpret things through distance. These are all films that have been shot in 2019. It really feels like it's a snapshot of now. It's very interesting that so many folks seem to be channelling this in advance as they could never have consciously been aware of what was coming.
Which films should audiences look out for at Fantasia?
I'm a big, big fan of Brea Grant's 12 Hour Shift, a black comedy crime thriller set in Arkansas in the late '90s, at the onset of the opioid crisis. Want to see a genre-bending cross between mixed martial arts drama and musical comedy directed by none other than Johnnie To? Trust me, you do, and Chasing Dream's your ticket. Just amazing.
I can't make a list of 2020 favourites without highlighting Johan von Sydow's doc Tiny Tim - King For A Day. It's inspirational, funny and heartbreaking to the extreme, an ultimate outsider story about the improbable superstar's unlikely rise and gut-wrenching fall, eight years-in-the-making, with Weird Al Yankovic performing the man's inner voice and appearances by Jonas Mekas, D.A. Pennebaker and tons of other departed greats.
On the more horrific side of things, we have The Dark And The Wicked, a relentlessly creepy new nightmare by Bryan Bertino, writer-director of The Strangers, starring Marin Ireland, set on a family farm where a man lays dying as occult forces begin to take over the household. A truly scary film, built on dream-logic with an honest emotional core and heaps of hard-hitting shock and invention
Is anything new about the programming?
We still have our sections. We have Axis for Animation, we have Camera Lucida for leftfield arthouse visions, we have a short film showcase, the jury competitions. What has changed is we'll have an enhanced focus on panels. Every day there are panel discussions. We have one on Afrofuturism, soundtrack restorations, genre film and political and social commentary. Usually we have four to six panels in the physical event, and now we're going to do one every afternoon.
What do you see as the benefits of a virtual event?
We're not stuck with having a fixed physical number of rooms… You can scale it to your needs. One of the reasons we last for so long is industry people could only travel in for one of the three weeks, and they'd tell us that we could do this whole festival in 10 days if we wanted to…. Well, we could if we didn't mind playing films all day long but there'd be this collision course and nothing would have a chance to find its audience, so we'd always restrict ourselves to having two rooms so you could ensure you'd never have type against type… So we wanted to maintain that for the virtual event and not have a real-time horror film play at the same time as another real-time horror film, or an action film play against an action film.
Are there any special dispensations for buyers?
If a company has given us other titles [in the past], we give them industry accreditation… We want to treat our alumni well and better serve the filmmakers. We use [festival submissions portal] Film Freeway for our raw submissions, and for the features coming through there we want to make sure they have the best possible likelihood of getting potentially a number of offers after the first screening so they can actually negotiate something that works best. So the more industry we can have here, particularly buyers, the better it is for everybody… The most important thing is making sure that the emerging filmmakers are really well positioned and served as best as possible.