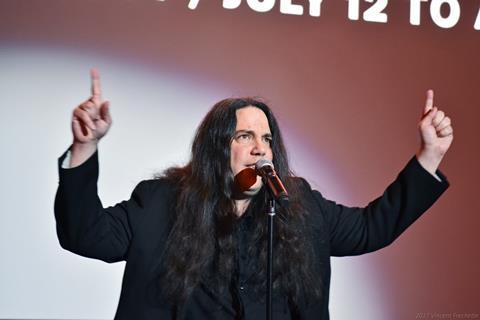 The almost entirely virtual 25th edition of Canada's Fantasia International Film Festival, running August 5-25, will boast a limited number of physical screenings in Montreal and a slightly larger overall programme than last year's 120-strong line-up.
Scaring up audiences from the get-go with the world premiere of Quebecois "zom-com" Brain Freeze, the festival will be accessible to audiences across Canada and feature a programme of screenings and premieres, panels and workshops on a platform created by Festival Scope and Shift72.
Artistic director Mitch Davis talks to Screen about the horrors of planning during the Covid-19 pandemic, genre filmmaking bursting into the mainstream and why scary stuff is the right stuff for him.
Are there a lot of pandemic-related or pandemic-influenced movies in selection this year?
Inevitably that theme is very prevalent in the submissions that we had and also in a few of the titles that we actively went after and scouted elsewhere. For the most part, it's something we've tried to avoid. If they're allegorical to the pandemic experience and they're told in broader or more interesting, less literal ways then it's always worth looking at.
How many submissions year did you get this year compared to last year?
Our submissions increased this year. We were at just under 1,600 submissions through [festival submissions company] FilmFreeway. It is a shockingly large number. I anticipated there could be a small drop this year because less people were actively able to make movies. It was tougher to shoot them for a million reasons. It was tougher to finance them, the Covid mandates that you had to follow to be on a set with any degree of possible safety were very expensive for indie films to be able to employ. Covid mandates were expensive for properly financed productions and very difficult for indies. Despite all of that there was so much creation happening.That's quite beautiful and in a way really inspirational.
What did you learn from last year's virtual festival?
This year it is mostly virtual still. We have about 20 films that are playing physically out of a line-up of around 120 titles. Tragically there's no safe way to do it. A virtual festival is not a film festival. It still has tons of great things to offer, but it's a different animal. We can't wait to get back to that full throttle next year.
Genre is infiltrating the mainstream more and more including festivals. Titane won the Palme d'Or and Get Out won an Oscar. How does it affect your selection process and power to get films?
Genre being in the top top sections of a big festival is, as a cinephile, the most exciting, fantastic thing to see. As a programmer, it's bittersweet because it tends to mean many of the companies who have a lot of affection for us will hold back from playing them on the genre circuit.
What is it about genre film that appeals to you?
I like films that make me uncomfortable, that stay with me and haunt me. The films that are like good music or good poetry, get under your skin, stay in you and resonate and force you to think about it more, to re-evaluate your response to it over time. There are five titles in this year's line-up that do just that: Ruth Platt's vicarage set supernatural tale Martyrs Lane; Josef Kubota Wladyka's Tribeca festival winner Catch the Fair One; The Righteous from Canadian filmmaker Mark O'Brien about a couple visited by a vengeful god; Perry Blackshear's stalker revenge tale When I Consume You; and Igor Legarreta's Basque vampire film All the Moons.
What should audiences look out for from this year's line-up?
I just love the Belgian film Hotel Poseidon. It's something so original, and so fresh, and very theatrical aesthetically. Other highlights among highlights are Bull, the tough-as-nails British revenge thriller from Bafta-winning director Paul Andrew Williams starring Neil Maskell and an utterly horrifying David Hayman, and Ghosting Gloria from Uruguay, a female-centred, sex-positive supernatural comedy romance from filmmaking couple Marcela Matta and Mauro Sarser. Genuinely subversive and really charming and unusual.