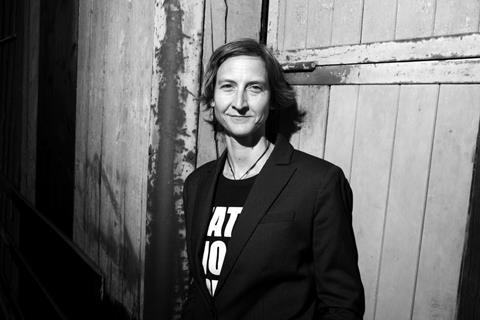 Time was of the essence when Annick Mahnert took over the reins at Frontières, the genre co-production market organised by Montreal's Fantasia International Film Festival.
When Mahnert's appointment was announced in April, pandemic lockdowns had come into effect around the world and discussions were underway to create a virtual event in July, and not dovetail with the rescheduled, virtual Fantasia that runs from August 20-September 2.
On the eve of the four-day market the Sitges-based Mahnert spoke to Screen about figuring out the best platform partners to build a virtual event, supporting new voices from underrepresented communities, and what to expect from some of the content creators.
Mahnert has worked in acquisitions and production and continues as a programmer at Sitges International Fantastic Film Festival programmer and director of international programming at Fantastic Fest in Austin,
Frontières will showcase 20 projects in advanced development seeking early financing. Featuring 10 female and 10 male directors, the projects – 10 from Europe and 10 from North America – they include work from Kjetil Omberg (Dead Snow), Graham Skipper (Sequence Break), and Quebec newcomer Chloé Cinq-Mars.
Programming includes panels, and three pitch sessions: the inaugural Indigenous Pitch Session bringing work from Canada, New Zealand and Greenland; the fifth Created by Women Pitch Session presented by Telefilm Canada with Women in Film + Television Vancouver; and The Shorts to Features Pitch Session.
For more information on the line-up click here.
Why did you stick with Frontière's original July dates rather than move to August with Fantasia?
It's a decision we made in late March / beginning of April when I had the conversation with Pierre [Corbeil, Fantasia director]. July is always a month where there aren't too many festivals around after Cannes and it's summer and at that time Fantasia was still planned to be at the end of July. I wanted to keep the dates because I knew people were planning those days before Covid hit. I think it was the right decision, because we have so many people attending virtually and I do think that if we had moved towards the end of August it would have been more difficult because we didn't know then if Toronto was going to happen, if Venice was going to happen, and you don't want to overlap with Venice.
How much time did you have to take the event virtual?
It went really fast. Lindsay [Peters, Mahnert's predecessor at Frontières] left and I had to adapt very quickly to new tools. For four weeks I was trying to learn all the software and understand how everything functioned. Fortunately because I did acquisitions before and I've worn several hats, I knew who the digital players were and knew Festival Scope, Shift72, and Cinando. When I had to make a decision about which platform would host the pitches I talked to the people at the Cannes Marché, who are partners with Frontières, and we decided to just do this on Cinando VL. It's a perfect platform because I was really looking for security to protect the pitches. Participants will have two days to watch the pitches on the platform.
The scheduling software [for meetings] actually was something new to me and we had the challenge of dealing with time zones from Los Angeles to New Zealand. Fortunately [Marcom] were working with Frontières before and they have a scheduling software that works like the one in Cannes, where you enter your own time zone and there's an algorithm that will match schedules for people and find slots.
What excites you about the programme this year?
We have a 50-50 [male-female directors], which is really great. And we have this indigenous panel and the pitching session, which is inspired by what Lindsey had put together with Arctic chills a couple of years ago concentrating on horror stories from the Arctic Circle. I wanted to extend this because personally I fell in love with New Zealand and there's a lot of amazing Maori stories there and I felt we needed to open up as a genre coproduction market to other communities and other minorities and other cultures… This is something that I would like to keep doing and I have a discussion with Telefilm Canada who contacted me yesterday about including people of colour, Asian people and so moving forward this is something that we'll look into.
How do you find those minority filmmakers?
It is not easy because somehow they don't come forward on their own. And so it's our job to go out and look for them. And so with Telefilm Canada, moving forward, I will try to have them help me find these filmmakers also in Canada, and we need to find ways to broaden that search… I really want to include more communities in Frontières. We've always been strong in Europe and North America, the US, and Canada. We have a lot of people who come back, which is great, and we have a lot of people who are newcomers for this edition, which is really exciting, from South America, from France, Switzerland, three projects from Norway.
Why did you want to keep the pitch sessions live?
It's easier to watch live [for the mentors who provide feedback] rather than comment on a video. We usually have four industry professionals per session and in the case of the indigenous pitching sessions, I wanted to have indigenous filmmakers meet their peers, so we have indigenous filmmakers talking to indigenous filmmakers who will basically give feedback. So pitch, and then we have about 10 to 20 minutes of discussion with the four mentors. I felt it's not up to us white men and women to judge a project that comes from a different culture. It has to be made by indigenous communities. The three pitching sessions are live – also Created By Women and Shorts to Features. With the shorts pitches we're doing the same as last year in Montreal: everyone will watch the short film live and then the filmmakers will have three minutes to pitch the feature-length version of their short film to a panel of five people.
And the meetings?
Everyone has two days to watch the pitches on Cinando and then via Marcom they have booked their meetings and have their schedules created for them, Marcom is integrated with Zoom, so you go into the platform and there's a logo with a camera and you click on it and it opens a Zoom window and that's a link that's unique to that meeting and it's shareable to someone else who wants to oi the meeting.
What's the tone of the projects in Frontières this year?
We have a few projects that really play on the psychological side and fear of the unknown. We have one from Quebec by Chloe Cinq-Mars called Forgetting Charlotte and it's about postpartum depression, but the way it's told is what really caught me. And we have another one also from Quebec by David Uloth called Plague Angel, which is about a boy who tries to protect his mother who thinks there's like an angel of death coming. There's a bit of everything this year, but I'm happy we don't only have typical horror stories or slasher films. These projects play into their culture as well. We have one in indigenous language that comes from Latin America and is in a language that is disappearing [Mateo Bendesky's The Fever from Argentina-Brazil].
Was there no time for content creators to submit projects inspired by the pandemic?
There's none. Honestly, I'm happy.
How many participants do you have and how did you choose them?
Right now we have over four days 665 meetings scheduled over four days, which is huge considering the time zones that we're working in. We would have doubled the number of meetings if we'd done a physical event because everyone is on the same time in the same room. I knew there were only so many time slots that would overlap for participants living in LA and participants living in Europe, so I had to give priority to projects, producers, sales agents, funding bodies, and financiers. I really wanted to make sure that the projects who were hoping to find co-producers or financiers were targeting the right people and not having meetings with a writer. I'm not trying to diminish the role of a writer, but when you do a co-production market you want to try and find someone who helps finance. That was the toughest decision I had to make… People understood and hopefully next year we'll be back in Montreal and then of course we'll be opening up again like we did last year.
Do you look forward to returning to a physical event?
I would never want to only do digital meetings because Frontières is built on in-person meetings and the family grew because people were able to meet over the four days we usually have in Montreal. Moving forward I am considering doing something hybrid for next year, because I think that there is a way to actually extend our network because there's a lot of people that can't travel or don't have the financial means to come to Montreal… so for example like conferences, panels, maybe some of the pitching, this is something that we could maybe look into offering virtually to people who cannot travel.