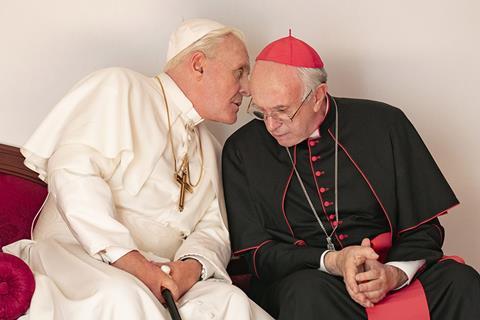 "I knew nothing about the Vatican," confesses Fernando Meirelles, director of Net­flix's feelgood awards contender The Two Popes, which has its Canadian premiere in Toronto on Monday (9). "I wasn't very interested in the politics of the Church. I'm Catholic myself, but a very bad Catholic."
Yet when producer Dan Lin handed him Anthony McCarten's script, about a series of conversations that took place in the Vatican in 2012-13 between then Pope Benedict XVI and the man who would become his successor as Pope Francis, Argentina's Cardinal Jorge Bergoglio, Meirelles was hooked.
The story of the transition of power against the backdrop of the Vatileaks scandal that exposed Church corruption is framed as a joust between two heavyweight theologians at odds over the future of the Church. Eventually Benedict, the aloof German played by Anthony Hopkins, reveals his desire to do the unthinkable and resign. He suggests the affable, progressive Bergoglio, portrayed by Jonathan Pryce in the lead role, would be right for the Papacy.
The two Popes met three times before Bergoglio, who had been critical of Benedict's tenure before they met, was elected Pontiff in 2013. "Of course we don't know what was said," notes Meirelles, who did not want the film to be overly cerebral, "but that's the brilliance of the script, because all the lines they say in the film are taken from interviews or books."
We learn that Benedict, who now lives as Emeritus Pope in a monastery within the Vatican, enjoys watching an Austrian police procedural called Kommissar Rex and is partial to drinking Fanta. Pope Francis loves to eat and indulges his passion for football.
Working with Hopkins — who headlined Meirelles' 360 in 2001 — and Pryce was a huge pleasure. "They liked each other — always making jokes, going out for dinner," says the Oscar-nominated director of City Of God. "And it helped — you watch the film and feel there's a connection between them. With these actors you don't need to direct much, you just let them do their thing."
The film shot in Argentina and Italy in 2017 and 2018. The Vatican was not involved in the production — Meirelles says it was correct politically to keep a distance — so they got creative. The production replicated parts of the Vatican at Rome's Cinecitta Studios, including a life-size Sistine Chapel that took two months to build, and used CGI for crowd scenes in St Peter's Square.
Meirelles worked with theological consultants in Italy and Argentina. The latter had been at Bergoglio's seminary in Buenos Aires and was not a fan. Pope Francis remains a divisive figure in Argentina over his role in the country's 'Dirty War' in the 1970s. Many say he did not do enough to oppose the junta, and while Meirelles' treatment is even-handed, he addresses the subject at length in The Two Popes.
For his part, Benedict expresses regret over his silence on the Church's sex-abuse scandal before he became Pope. Meirelles does not dwell on the matter, preferring to tell a story about a budding friendship. "What I like is this idea of two guys who [at first] didn't like each other but had to learn to listen," he says. "That was tolerance. Nowadays we don't like to hear people with whom we disagree; we prefer to kill them."
The conversation turns to political division in Brazil, and the refusal by far-right leader Jair Bolsonaro, whom Meirelles calls "a moron", to heed scientists' warnings about the fires devouring swathes of the Amazon. Meirelles is collaborating with his City Of God screenwriter Braulio Mantovani on a drama about climate change that he hopes to shoot next year. He is also a farmer, and is currently filming a documentary about soil.
For now, though, the focus is on The Two Popes, and the partnership with Netflix — the director's first time working with the streaming giant. "This is a way to get lots of people to see your film," says Meirelles, whose film garnered an enthusiastic reponse at the world premiere in Telluride. "It gets some play in theatres and then it goes on the platform. Everything has changed. There's no way back."
The Two Popes plays in Special Presentations today (public, Winter Garden Theatre, 9:15pm), September 10 (public, Winter Garden Theatre, 12:00pm), September 12 (P&I, TIFF Bell Lightbox, 11:30am), September 14 (public, TIFF Bell Lightbox, 9:00am)