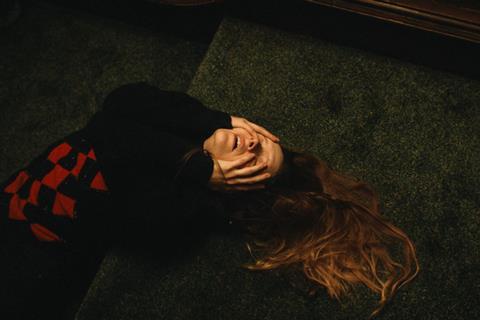 "I never thought I was particularly interested in religion, despite it always being around when I was growing up," recalls Rose Glass on her childhood, which involved an all-girls Catholic convent school, regular church trips and a grandfather who was a vicar. That changed when Glass went to the UK's National Film and Television School (NFTS) and began writing film scripts.
"It was interesting thinking about my otherwise normal, rational parents and grandparents, going to church, talking about god, saying weird stuff," says Glass.
The genesis of an idea was born — about a girl who hears the voice of god and falls in love with him — which Glass originally envisaged as a two-hander between the protagonist and the voice in her head, before the concept evolved into an exploration of wider topics. "At first, it wasn't anything to do with mental health — that emerged later," she says. "If the main relationship is between someone and the voice in their head, what drove them to that and what does that mean for the rest of their life?"
Placing the story in a modern context provided a contrast to well-known tales of people connecting with god. "There are lots of those stories, like Joan of Arc or multiple characters in the Bible," she observes. "Back in those days, you became a saint [if you spoke to god], but if you go around saying those things now, alarm bells start ringing."
However, the director saw more depth in these themes than the purely religious: "A lot of Bible stories are parables and myths. They're about understanding humanity and why we're here, themes that are universal."
Glass began fleshing out her idea after graduating from the NFTS in 2014. In the meantime, her short Room 55 — about an English housewife in the 1950s who experiences a night of sexual awakening in a mysterious hotel — had garnered interest from numerous parties, landing berths at SXSW and catching the eye of producer Oliver Kassman, who was working at Michael Kuhn's Qwerty Films.
Together, they pitched the concept for Saint Maud (then called Maud) to Film4, which boarded for development. After about 18 months, when they had a script ready to shoot, the BFI came in for production finance, with the entire budget coming from the BFI, Film4 and the UK tax credit. Experienced UK producer Andrea Cornwell joined the project, while Protagonist Pictures boarded for sales.
For the title role, Glass cast Morfydd Clark, while Jennifer Ehle plays opposite as cancer patient Amanda. Following an initial five-week shoot, Glass realised in the edit that she had been a bit frugal with Saint Maud's narrative. "I wrote new scenes because there were a couple of key moments where I realised I'd missed something," she recalls. Luckily, the producers were able to add an extra week of filming. Shooting took place primarily in London, with exteriors in the seaside town of Scarborough in northern England.
As the Toronto premiere approaches, Glass is conscious of the debate that has swirled around Venice Film Festival about the lack of female directors. Despite TIFF's better reputation for programming films by female directors, Glass is the only woman out of a 10-strong Midnight Madness selection. However, she frames her ambitions for Saint Maud and her career outside the context of being a female filmmaker.
"I don't want people to support me and my film because they want to be seen to be backing and programming films by women, rather than it being a good film," says Glass. "It makes me nervous when people start championing something because they feel they should, rather than if it's good. If you do that with something that doesn't hold up, it feeds into the arguments made by bigots and that's dangerous. If a woman makes a shit film, you should say it's a shit film."