PROMOTIONAL FEATURE: Now in its fourth year, Film London's Build Your Audience initiative is empowering UK producers to develop a tailored distribution plan for their projects.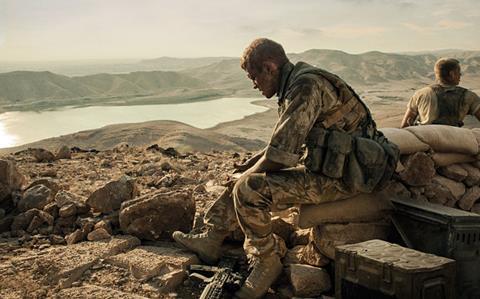 Launched in 2013, Film London's Build Your Audience (BYA) initiative, which is funded by Creative Skillset, is designed to help UK filmmakers understand their project's value and potential, and develop a brand and an audience for their film.
Through a series of workshops, talks and events, and with the involvement of a wide range of speakers and mentors, filmmakers are given the skills and support needed to be bold with their distribution ambitions, culminating in the production of a tailored release plan that exploits the most relevant routes to
market; whether it be traditional, hybrid or direct (see case studies below).
In this way, Build Your Audience enables its participants to bridge the gap between their project and their potential audience, and assemble the tools to help them build a successful, sustainable career.
The films it has supported include Atul Malhotra's Amar Akbar & Tony, which was given a number of screens by Cineworld across the UK in 2015; Justin Trefgarne's sci-fi thriller Narcopolis, which has been picked up by Altitude and Netflix; Desiree Akhavan's Appropriate Behaviour, which saw producers negotiate direct sales on international rights in 2013, with Peccadillo attached as UK distributor; and Jake Gavin's Hector, which was released by Urban Distribution in the UK and was picked up internationally in 2015.
"Filmmakers are required to respond to the disruption of traditional routes to market and exploit emerging distribution models," explains Adrian Wootton, chief executive of Film London and the British Film Commission. "We know financing projects has always been challenging, but attracting an audience to pay to see your film is an equal, if not greater, challenge, and one that's often overlooked.
"We're helping filmmakers understand their niche within the marketplace and recognise their film's specific audience. We introduce them to industry experts who can help them deliver a bespoke distribution plan. Just like our feature film programme Microwave, the course reacts to the challenges of the industry today, and helps filmmakers understand how to triumph over the distribution challenges of the future."
Applications are now open for Build Your Audience 2016, which runs from June to late July in central London. The team is seeking 10 projects that either have 50% of their funding in place or are at picture lock, with the ambition for half of these to be feature documentaries. Successful applicants will take part in three two-day training blocks, during which industry experts will talk candidly, sharing their success stories and their mistakes.
The course will culminate in an opportunity for filmmakers to pitch their bespoke marketing and distribution strategy, developed with the help of a dedicated consultant.
To find out more information and apply, visit http://filmlondon.org.uk/buildyouraudience. Applications close on May 4, 2016.
Case Study | Nina Forever
Traditional distribution
For Jeva Film's Cassandra Sigsgaard, producer of Chris and Ben Blaine's horror-romance hybrid Nina Forever, Build Your Audience (BYA) helped realise the team's ambitions of a strong festival launch and run, followed by a targeted theatrical release.
"Firstly, BYA focused our strategy and positioning for the film and, secondly, it really opened our eyes to new and developing distribution models and what could be possible in terms of reaching audiences directly," says Sigsgaard.
After launching the film at SXSW in 2015, the team received a great deal of interest from US and UK distributors before deciding to go with Epic Pictures for both US distribution and international sales.
"Their strategy for the release was to time it as an anti-Valentine's movie, which felt like very smart positioning, as we were never a traditional horror and would have sat more awkwardly in the traditional Halloween window," Sigsgaard says.
On the back of this deal, the film sold to Studiocanal in the UK before winning best film at Film4 FrightFest and playing a full roster of UK festivals. While Studiocanal focused on the home entertainment and VoD campaign, Sigsgaard continued with the theatrical tour strategy they had developed
during BYA.
"This focused on working with universities to run masterclasses and other talks around the student screenings," she says. "Studiocanal were happy to work with us on that, promoting the film and building PR presence."
Sigsgaard credits the support of BYA as essential not just in the success of Nina Forever but to her ongoing career.
"BYA has given me a much stronger understanding of distribution," she says. "In particular, it has highlighted the ever-changing models that are available to independent filmmakers, and which will serve some films so much better than pursuing traditional routes.
"It has been very clear from the start that following non-traditional models will be hard work but that this can ultimately lead to greater rewards, as long as you are smart about what your film is and how it is positioned."
Case Study | A Syrian Love Story
Direct distribution
Elhum Shakerifar, producer of the Bafta-nominated documentary A Syrian Love Story, applied to BYA precisely because she knew the project's distribution would be challenging.
"We went through so many hurdles trying to get the film made that it seemed wise to anticipate that finding distribution might also be difficult," she says.
"We thought that the film would have an event-driven release focused on Q&As and post-screening discussions, which is what it eventually came to be.
But we didn't find a distributor to work with and so managed everything ourselves entirely from core positioning to booking the cinemas, managing press, publicity, outreach and communications."
Although the film had a broadcast deal with the BBC, which co-funded alongside the BFI, UK distributors found a film about Syrian refugees too risky a prospect for cinema. Shakerifar, however, was undaunted.
"I am both a documentary producer and a programmer specialising in films from the Middle East and North Africa," she says. "I know the exhibition landscape well and there was no doubt in my mind that there was an audience for A Syrian Love Story. What BYA gave me was the space to reflect on how to best position the film and what I needed to have in place to actually reach the film's primary audience.
"It also gave me the confidence and energy to consider direct distribution."
This approach saw the film enjoy a small sold-out run of Q&A screenings, and a BBC broadcast just 10 days later. (It has since been re-screened by the channel, a first for any Storyville documentary.) Word of mouth and a strong critical response resulted in almost two million people watching the film between September and October 2015, and various awards nominations including both BIFA and Bafta.
"In documentary you are often working for years on very specific subject matter and building audience all the way through production," says Shakerifar.
"BYA gave me the tools to better understand how producers can position themselves in a saturated but changing distribution market, and the confidence to know and use the fact that we have crucial insight into our primary audience and how to best connect to them."
Case Study | Kajaki
Hybrid Distribution
For Paul Katis, writer-director of Bafta-nominated war drama Kajaki, involvement in BYA came at a crucial moment in the film's lifecycle. Having developed the film since 2010, Katis attended the scheme before writing his information memorandum (IM) to raise capital for production.
"Embedded in the IM was the idea that we were going to raise £1.2m [$1.7m]; £1m [$1.4m] to make the film, and £200,000 [$300,000] to have our own P&A fund," says Katis of his decision to make direct distribution part of his plan. "The rationale behind it was that a lot of British movies get made and never see the light of day. At least this way we could guarantee to get it into the marketplace. BYA was integral to incorporating that concept into the IM with confidence. We'd known about direct distribution, but would we have had the confidence to put it in a report without them? Probably not."
Katis was also keen for Kajaki to be seen theatrically, and so struck a deal with Vue Cinemas to have a road-show release across the UK in November 2015. This hybrid strategy proved successful, helping the film broker deals with the BBC and Netflix. Katis credits BYA for opening his eyes to all distribution possibilities.
"The key thing BYA gave us was the ability to take control of our own destiny," he says. "All independent filmmakers will tell you that every time we're turned down by any funding body, or sales agent, or distributor, or whatever, it hurts. What the BYA course taught us is that you can do it without them. Therefore the only person holding you back is yourself.
"If you're making a film, you have got to know more than just your skillset as a filmmaker," Katis adds. "You have to know what the environment is, and how you can make your film happen. To do that, you might as well learn about the ecosystem that supports us, not least because it's changing so fast."