Now with $35m to invest annually in UK film-making, Film4 chief David Kosse and his team talk to Matt Mueller about their new strategy and what it means for international film-makers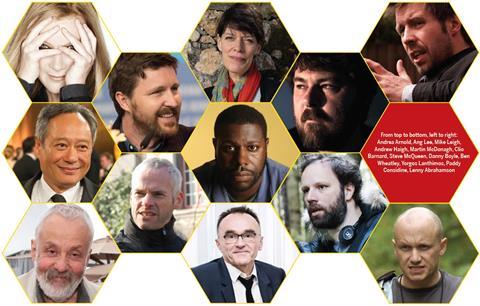 "Now is the time to take a strong stand on investing in British film, and for Film4 to have an ambitious take on that," David Kosse told a gathering of the UK industry, brought together at a central London watering hole before Berlin to celebrate Film4's record awards-season haul (22 Bafta nominations, 15 Oscar nominations) and to hear the company's chief executive announce a substantial budget increase for 2016, from $21m to $35m (£15m to £25m).
Coming a little over a year into his tenure, the hefty boost in production investment represents a big vote of confidence from parent company Channel 4 in Kosse's vision for its feature film division. He joined in order to apply more commercial acumen to the company's slate and output. Besides representing a welcome (and well-timed) shot in the arm for the UK film industry, it sets out a strategy for Film4 to enjoy more of the spoils of its labour in future. Kosse, a shrewd industry mind who joined Film4 from Universal, where he had presided over the studio's flourishing international division, recognised Film4's decades-long winning streak of developing innovative and distinctive film-making talent and projects (from Andrea Arnold to Steve McQueen and Trainspotting to Ex Machina) wasn't always paying back financially. In other words, others were making money on the films and talent that Film4 had nurtured.
"We're choosing the projects, we're developing the projects, we're investing in the projects but our position in many of these projects isn't where it should be," Kosse told Screen on the day the investment boost was announced. "Had we taken a bigger position in a number of those films, we would have made more money when the film was successful, and not lost much more when the film wasn't successful. It's making the odds better.
"We had a little bit of a broadcaster formula in terms of investments, which was development money, a little bit of equity and a licence fee," he adds. "I said, 'That's fine but we could also figure out what is our best play for this project. Not just enable the film to be made but enable the film to be made and us to participate'."
Alongside (and included in) the increase in investment for 2016, Kosse announced two significant deals — first examples of the "bigger plays" he is keen to implement in future. First is a 50/50 co-financing deal with Fox Searchlight on In Bruges writer-director Martin McDonagh's Three Billboards Outside Ebbing, Missouri, produced with Graham Broadbent and Peter Czernin at Blueprint Pictures, which goes into production in North Carolina in April. With Searchlight distributing worldwide, Kosse hopes the deal will act as a template, allowing Film4 to take a stronger position at the start and benefit from the success of a worldwide rollout when it occurs.
The other was a four-picture deal with FP Films, the production company set up by The Inbetweeners creators Damon Beesley and Iain Morris, and Entertainment Film Distributors (EFD) to develop, produce and finance four comedy features over the next two years, with Film4 and EFD sharing all rights. It's a clear strategy to build a revenue engine for Film4, and a smart one considering the two Inbetweeners films delivered $106m (£75m) between them from the UK box office.
"Putting that together is a much bolder play than we would have been able to do without this new investment," says head of distribution and brand strategy Sue Bruce-Smith, who adds that further significant co-production deals will be announced "very soon".
Kosse and Bruce-Smith, along with head of creative Rose Garnett, all stress the new investment will allow Film4 to operate a cross-subsidy model, enabling bigger stakes in more commercial films on their slate while remaining true to Film4's public-service remit — to continue backing distinctive, edgy material. "It gives us a huge freedom and a huge confidence going forward to put that strategy into place," says Bruce-Smith, "and to help fund the riskier, more remit-driven projects."
"It also allows us to keep level with our film-makers' ambitions," adds Garnett, who works closely with deputy head of creative Sam Lavender. "Because we can offer them more, we have a more persuasive argument for why they should stay here and keep making films with Film4. Everybody will do what they need to do [to get their film made] but it's nice that Lenny [Abrahamson] or Yorgos [Lanthimos] can come up with an idea or a film of a level of ambition and that we can still participate in a meaningful way."
All three executives cite the "virtuous circle" of Film4 investment, with the money that returns helping to seed the next generation of talent — the future Clio Barnards and Ben Wheatleys. The ultimate goal is for Film4 to operate as a more self-sufficient division of Channel 4 while continuing its role as one of the funding backbones of the UK industry. (It is unlikely that the ill-fated standalone studio model of FilmFour Ltd, which closed in 2002, will be repeated.) The end game for Channel 4, meanwhile, is likely to be privatisation.
"We are in an interesting place right now," said Channel 4 chief executive David Abraham at the February gathering. Abraham added he was "hopeful" the increased investment — which has only been approved for 2016 — could be locked in for the next three to five years (based on internal ROI projections, the Film4 braintrust share that confidence). But there are fears the creative risk-taking that has long been the hallmark of both the channel and its film arm could be at risk if the company were to be privatised. How long would shareholders be willing to underwrite those creative risks before demanding "safer" bets? The Channel 4 board's approval of the 66% increase in Film4's budget must surely be driven in part by a desire to seize the initiative.
That should ensure Film4 can be part of the commercial life of projects that bubble to the surface from its development slate — which has always enjoyed a healthy share of the overall Film4 budget (but won't increase this year) — and attract global interest from potential co-production and co-financing partners. "It's about helping the film-makers to have the biggest ambitions for their project," says Bruce-Smith. "Getting them comfortable with perhaps taking a bit of a leap into a different kind of model."
From a creative point of view, that means giving film-makers choices in how their projects are built — "what level of collaboration they want from other people, what level of involvement they want from different financiers", says Garnett. "It's about what the most comfortable fit is for each project. Is it a project that wants the best possible distribution at the end of it, or is it a project that is so finely tuned that it will need a very light touch from all the partners?"
International attention
The 2016 investment is naturally prompting approaches from new quarters: producers and companies interested in tapping into the Film4 pipeline — including some from China. As well as supporting UK talent, Film4 has also backed international film-makers, including Greek director Lanthimos on The Lobster and his upcoming projects The Favourite and The Killing Of A Sacred Deer, which are both in development. Film4 is also in development on Dark River, Barnard's follow-up to The Selfish Giant; Bart Layton's heist drama American Animals; Andrew Haigh's 45 Years follow-up Lean On Pete; Garth Davis's Mary Magdalene project; and Danny Boyle's sequel to Trainspotting.
All are expected to go into production this year, while projects are also being developed with McQueen, Mike Leigh and Abrahamson (with whom the company has a first-look deal).
While distinctive and edgy film-making and strong support for the UK film industry will continue to be the integral drivers for the company, Kosse hopes a wider spectrum of projects will emerge from the Film4 stable. "The Film4 brand is pretty elastic," he says. "It encompasses Trainspotting and Shallow Grave as well as Tyrannosaur and The Selfish Giant. And clearly The Inbetweeners, which was seen by more people in the UK than a lot of our films put together. I would say it's expanding. We've got to make sure we have that open house."
COMING SOON: Anticipated Film4 productions in the pipeline
AMERICAN HONEY (post-production)
Andrea Arnold's first US-based feature stars Shia LaBeouf and newcomer Sasha Lane and is hoping to complete in time for Cannes.
BILLY LYNN'S LONG HALFTIME WALK (post-production)
Ang Lee directs the adaptation of Ben Fountain's novel starring Screen Star of Tomorrow Joe Alwyn. Sony Pictures has worldwide rights.
FREE FIRE (post-production)
Ben Wheatley's thriller about an arms deal gone wrong stars Brie Larson and Cillian Murphy.
UNA (formerly Blackbird) (post-production)
Rooney Mara and Ben Mendelsohn star in theatre director Benedict Andrews's debut.
HOW TO TALK TO GIRLS AT PARTIES (post-production)
John Cameron Mitchell's sci-fi, about a teenage girl who falls for an alien, stars Nicole Kidman and Elle Fanning.
THREE BILLBOARDS OUTSIDE EBBING, MISSOURI (pre-production)
Martin McDonagh goes into production in North Carolina in April on his third feature, which reunites him with Seven Psychopaths stars
Woody Harrelson and Sam Rockwell. Film4 is co-financing with Fox Searchlight.
JOURNEYMAN (in production)
Paddy Considine's second feature as a director is set in the world of boxing. Considine also stars; Diarmid Scrimshaw produces.
LEAN ON PETE (in development)
Andrew Haigh reunites with producer Tristan Goligher for his 45 Years follow-up, which was well received by buyers at EFM.
THE FAVOURITE/THE KILLING OF A SACRED DEER (in development)
Film4 is in development on two Yorgos Lanthimos projects: historical drama The Favourite and supernatural thriller The Killing Of A Sacred Deer.
AMERICAN ANIMALS (in development)
Director Bart Layton follows up The Imposter with this heist drama, which will go into production in mid-2016.
PETERLOO (in development)
Mike Leigh's large-canvas drama of the Peterloo Massacre is in development and seeking financing.
MARY MAGDALENE project (in development)
With Garth Davis directing a script by Helen Edmundson and Philippa Goslett, and Rooney Mara (pictured) starring as the biblical figure, production is scheduled for this year.
TRAINSPOTTING 2 (in development)
The long-awaited sequel to Trainspotting reunites its original creative team, producer Andrew Macdonald, director Danny Boyle and screenwriter John Hodge, as well as the main cast including Ewan McGregor, Johnny Lee Miller and Robert Carlyle. Sony Pictures is financing the sequel.
WIDOWS (in development)
See-Saw Films and Film4 are developing Steve McQueen's New Regency-backed heist thriller, which the director is co-writing with Gone Girl author-screenwriter Gillian Flynn.