With the spotlight shining firmly on mainland China's huge film market, how do Hong Kong studios and producers see the future of their industry? Screen spoke to some of the territory's leading players to find out.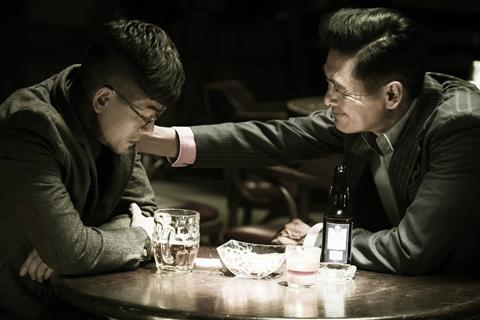 When looking at the Hong Kong film industry in recent years, it's sometimes tempting to see it as having been integrated into the mainland China industry. Most Hong Kong films are co-productions with China, several big Hong Kong directors — including Tsui Hark and Peter Ho-sun Chan — have offices in China, and leading producers spend their time shuttling between the filmmaking hubs of Hong Kong and Beijing.
But the reality is much more complicated. In business and regulatory terms, China and Hong Kong are still regarded as separate entities, and in cultural terms, Hong Kong has a distinct identity that goes way beyond speaking a different dialect of Chinese. While Hong Kong people may sometimes feel overwhelmed by China's rapid economic growth and rising cultural influence, it would take generations, not just a few boom years on the mainland, for that identity to be erased.
Weighing up the options
At the same time, Hong Kong producers can't ignore the fact mainland China is the biggest and most natural market for their films. They have two routes into that market: Hong Kong-China co-productions, which enjoy the same terms as domestic Chinese productions, and as imports under the Closer Economic Partnership Arrangement (CEPA).
Launched in 2003, CEPA enables an unlimited number of Hong Kong movies to be imported into mainland China, but as the revenue-sharing arrangements are less favourable than for co-productions, this route is rarely used.
As co-productions are usually successful at the China box office, all the big Hong Kong production companies have focused on this model for the past 15 years. In 2018, the top five Hong Kong-China co-productions at the China box office were Dante Lam's Operation Red Sea, which grossed $576m, Raman Hui's Monster Hunt 2 ($356m), Felix Chong's Project Gutenberg ($183m), Soi Cheang's The Monkey King 3 ($114m) and David Lam's L Storm ($64m). All five of these films were directed by Hong Kong filmmakers.
However, the focus on mainland China has been at the expense of the Hong Kong market. Under Chinese regulations, co-productions must use one-third mainland cast and a story related to China, but Hong Kong audiences are resistant to films with a strong mainland flavour.
Last year, Hong Kong-produced films had a market share of just 13% from 53 releases in their own territory and the highest-grossing title Agent Mr Chan, which took $5.7m, ranked outside the top 10. Despite its massive mainland gross, Project Gutenberg only took $4.4m in Hong Kong as the second-highest grossing Chinese-language film of the year.
From the perspective of local studios, it's been a choice between producing for a box-office market that was worth $8.9bn in 2018 or the $250m market of Hong Kong.
But with China's rapid growth, the balance of power in co-productions has been shifting. In the early days, around 70% of the finance would come from the Hong Kong side, but with a flood of investors in the mainland industry, it's now the Beijing-based producers who are taking a majority share. And while China used to rely heavily on Hong Kong talents, in recent years the industry has built its own stable of bankable directors and stars.
At no time has this been more evident than the recent Chinese New Year holidays. While Hong Kong-China co-productions from filmmakers such as Stephen Chow, Tsui and Cheang have traditionally topped the box office during this period, this year the biggest successes were mainland films — in particular sci-fi epic The Wandering Earth, which has grossed $660m and counting. While Chow's The Mermaid broke records when it took $550m over Chinese New Year in 2016, his new holiday release, The New King Of Comedy, has grossed $93m.
Meanwhile, international markets are not providing much respite. For decades, Hong Kong producers have exported their crime thrillers, martial arts and action movies, but seismic shifts in international distribution have made it difficult for everyone selling foreign-language product, and sales of Chinese movies have declined in recent years.
There are titles that sell widely, in particular the Ip Man series starring Donnie Yen, some of Hong Kong's crime thrillers and action comedies involving Jackie Chan. But it hasn't helped that the films that seem to work with mainland audiences are locally flavoured comedies, romances or patriotic action films that are unlikely to resonate with audiences outside China.
Voice from the top
With Hong Kong studios facing challenges on multiple fronts, Screen International spoke to some of the industry's production chiefs to see how they're adapting to the changing landscape and what they believe the future holds. Their answers are inspiring and encompass development of new talent and distribution models, expanding the southern Chinese market for Cantonese-language movies and helping mainland studios explore international markets for their films. While the China market is intensely competitive and, due to shifting regulations, at times problematic, it still provides an opportunity for the Hong Kong industry if approached in the right way.
Hong Kong's government is also pitching in with additional funding and training initiatives. As one producer noted, its film industry has faced bigger challenges, including piracy and the collapse of its export markets in the 1990s, and somehow it survived. While nobody is expecting a return to the glory days of the 1980s, producers see a third act for the industry through collaboration, reinvention and good old-fashioned entrepreneurial expertise.
Spotlight: talent initiatives
A new generation of directors working on smaller films is emerging in Hong Kong
Against all the odds, Hong Kong studios are still investing in smaller-budget movies from new directors that are not aimed at the mainland market. Funding programmes launched by the Hong Kong Film Development Council (HKFDC) and Johnnie To's Fresh Wave short film competition are also helping new talent to break through.
HKFDC runs two initiatives: the Film Production Financing Scheme (FPFS), which has financed 33 projects since 2007, and the First Feature Film Initiative (FFFI), a competition that awards grants to both student and professional filmmakers to make their debut films. Recent successes from the FPFS include Sunny Chan's Men On The Dragon, which grossed $2m at the Hong Kong box office last year.
Launched in 2013, the FFFI has financed projects such as Wong Chun's award-winning Mad World and two films premiering at Hong Kong International Film Festival: Oliver Chan's Still Human and Lee Cheuk Pan's G Affairs. HKFDC secretary general Wellington Fung says the FFFI has proven to be "a workable scheme because we don't just focus on the director but the whole team behind each production".
Several established Hong Kong stars and producers have been supporting these filmmakers — Anthony Wong starred in Still Human for a discounted fee.
"A lot of producers are willing to guide these filmmakers through writing and production, but the films are still very much the director's own vision," explains Golden Scene sales & acquisitions manager Felix Tsang.
In a positive move for local filmmakers, the Hong Kong government recently announced plans to pump an additional $127m (hk$1bn) into the two funding schemes. The number of FFFI winners will be doubled to six each year, while the total amount of funding will increase by almost 50%. In addition, the total amount of investment in each FPFS project has been raised from $760,000 (hk$6m) to $1.1m (hk$9m).
While some of these films have been able to recoup their modest budgets at the Hong Kong box office, the next step is to expand their market at home and overseas. "Hong Kong audiences just need to be a bit more adventurous and trust that local films are making a return to form," says Tsang.