The founders of Paris-based sales outfit Films Distribution talk to Melanie Goodfellow about their diverse slate, which includes foreign-language Oscar hopeful Son Of Saul.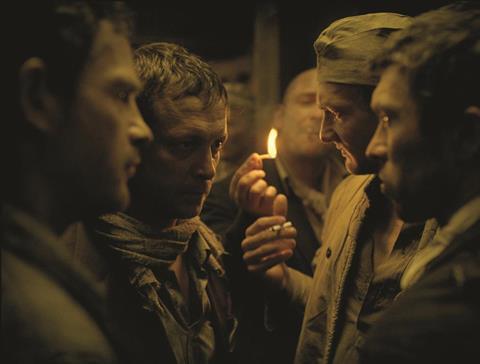 Films Distribution is in the Oscar race for a seventh time in its 19-year history with Hungarian director Laszlo Nemes' Son Of Saul, which is on the nine-picture longlist for best foreign-language film. It is a strong favourite to garner a nomination on January 14.
Nicolas Brigaud-Robert and Francois Yon's Paris-based company launched Nemes' Holocaust drama at Cannes last year and the film has been wowing festival audiences ever since. Another title on the Oscar longlist, Ciro Guerra's Colombian entry Embrace Of The Serpent, is sold by Berlin-based sister company Films Boutique.
Films Distribution is handling three further international titles that were submitted for Academy consideration by their countries: Austria's Goodnight Mommy, Ethiopia's first entry Lamb and Lithuania's The Summer Of Sangaile.
"These four movies are the tip of the iceberg and a consequence of the huge amount of work that's been going on for years. It didn't just happen. I'd love to pretend we're geniuses and that we simply have great taste but there's more to it than that," says Brigaud-Robert.
Between them, he and Yon boast more than 40 years in the film and TV business. They met at Boston University in the late 1980s when both were studying for a masters degree in broadcast administration. On their return to Paris, they worked for various companies including Lumiere, Panavision and UGC DA.
Tailored slates
They set up Films Distribution in 1997, with Sébastien Beffa and Valéry Guibal joining soon after as partners. The company now handles 20 to 30 titles a year, adapting its slate to each market. The AFM selection included horror thriller Scare Campaign, and the company is launching four French titles at the Rendez-vous including comedy drama Good Luck Sam, starring Sami Bouajila, about Algeria's first winter Olympics contender.
Then it's on to Sundance where the company is representing Assad Fouladkar's Beirut-set Halal Love (And Sex) and Anne Fontaine's convent drama Agnus Dei, the first non-English-language title to play in the Premieres section for more than a decade.
"Our content is eclectic but whether it's a period drama or genre work, all the films we take on have one thing in common, which is that there is someone behind the movie bringing something new, sometimes radically new," says Brigaud-Robert.
As the company approaches its 20th birthday, the industry veteran says he and Yon remain heavily involved in the sales side.
"We've both been doing this job for a long time but we continue to sell," he says. "People give you their business because it's you. It's you they want to call them after Toronto or AFM, not an assistant. It's important to remain close to the market." This approach makes it difficult to scale up, he admits. But he adds they have managed to expand the business by supporting the creation of Films Boutique, by former employee Jean-Christophe Simon, as well as Pamela Leu's Brussels-based outfit B For Films.
All three companies pool their knowledge and use Films Distribution's Paris-based back office. "We've got a network of about 10 people following film-makers and projects," Brigaud-Robert explains.
It was Films Boutique's head of acquisitions Gabor Greiner who brought Son Of Saul to the attention of Films Distribution. The company signed the project on the basis of an un-subtitled rough cut in the lead-up to Cannes, where it screened in Competition and won the Jury's grand prix. It sold to a slew of territories and gained the endorsement of Shoah director Claude Lanzmann. "Whatever happens, Laszlo's movie is a great movie that will go down in cinema history, whether or not it wins the Oscar," says Brigaud-Robert.
Films Distribution
Foreign-Language Oscar Nominees
The Missing Picture (2014)
War Witch (2013)
Monsieur Lazhar (2012)
A Cat In Paris (2012*)
Days Of Glory (2007)
Merry Christmas (Joyeux Noel) (2006)
*Best animated feature