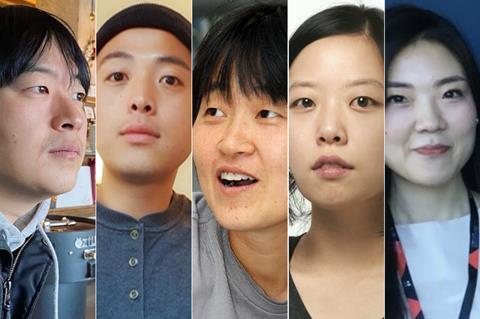 Continuing in its mandate of discovering and introducing new talent, Busan International Film Festival has a raft of hot new Korean filmmakers in this year's line-up, five of whom have feature directorial debuts receiving their world premieres, which Screen profiles here.
Jung Wook
Funded by his alma mater, the Korean Academy of Film Arts (KAFA), Jung Wook's directorial debut feature Good Person comes after a string of well-received shorts. The suspense mystery is making its world premiere in Busan's Korean Cinema Today – Vision section.
Good Person follows a high school teacher navigating the ins and outs of how to deal with his students' misdemeanours and eventually the disappearance of his daughter.
"I like films that look sharply into the dilemmas characters have. I wanted to look at how fragile a person can get in the face of a complicated problem," Jung says, noting how "good person" is a phrase that is knocked about a lot but seemed strange enough to him to take him to thoughts of how a person would cope with a kidnapping, for instance.
"I think we need stories that make the person watching them reflect upon themselves," he says. "So far, I've been working in the independent film sector where opportunities to get support are limited, budgets are tight and shooting is tough," he says.
"I'd also like to try my hand at commercial filmmaking," he continues. "I think what's important is deciding what you are going to do, and then sorting out whether the scale of that film is suited to an independent or a commercial production."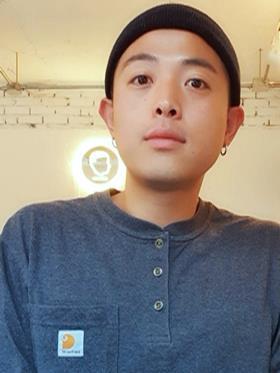 Kim Ji-seok
Originally a copywriter for an advertising agency, Kim Ji-seok started learning about production when he went on set to watch commercial shoots. Now he works at Dolphiners, a video production team where he makes advertising and films.
And There Was Light is his feature debut which is making a world premiere in Busan's Korean Cinema Today – Vision section. "The images I make are slow-paced. Commercials can't be like that, but the films I like are like that," he says.
The film follows a suicidal man suffering from periodic alcoholic amnesia and a hard-drinking woman who inserts herself into his life pretending to be an old girlfriend he has forgotten. They leave on a road trip at the end of which he hopes to finally commit suicide – if he can remember to. The film was produced on a shoestring budget over two shooting days in Seoul and three in Gangwon Province in early February.
"It was like a 'feat of strength' show, the way we shot it. The actors and cinematographer got along well and we prepared a lot in advance," he says. "I want to tell intimate stories and I'm interested in [understanding] people and the foolish things they do," he says. "My role models are directors such as Zhang Lu and Hong Sangsoo – they don't do large-scale films but keep on steadily telling their stories."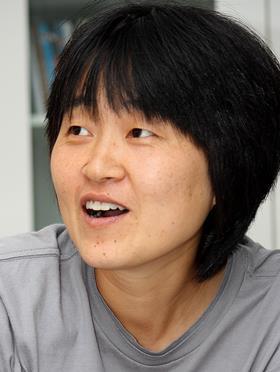 Lee Ran-hee
Having started out producing and acting in stage plays, Lee Ran-hee got to learn all about filmmaking in her thirties when she was cast in films like the commercial hit Welcome To Dongmakgol and independent feature Geo-Lobotomy and shared accommodations with the cast and crew.
"I like that a film is a record and that you can take it to meet other people," she says. She made a string of critically-acclaimed shorts including A Perm, which was in Berlinale shorts competition in 2010.
Making its world premiere in Busan's New Currents competition, A Leave is her much-anticipated feature debut as a director. Inspired by people she met shooting shorts, A Leave follows a 49-year-old laid-off worker who has spent five years staging a sit-in protest with his colleagues who, when he gets time off, takes a temporary job to pay for his daughters' school fees and a winter coat.
"I'm interested in people who are poor and weak, but nevertheless don't lose their dignity," says Lee. She hopes to keep making and sharing films that examine the human condition and related social issues. Although this can be challenging to get production financing for, she is studying critically-minded international masters who do similar work, as well as ordinary people around her going about their lives who inspire her.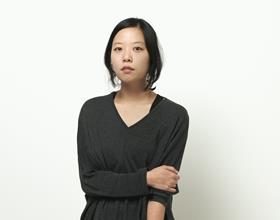 Lee Woo-jung
A graduate of Hanyang University with a major in theatre and film, Lee Woo-jung has acted in independent shorts and features and been a commercial film editor since 2006. The critically-acclaimed short films she directed include See You Tomorrow (2011), which won Busan's Sonje Award and went to the Berlinale's shorts competition. She also directed Living In Seoul as part of the omnibus feature Seoul Love (2014), produced by the Seoul Independent Film Festival.
Her first feature film as a director, Snowball, is making its world premiere in Busan's New Currents competition. The film is based on Lim Solah's untranslated coming-of-age novel whose Korean title would roughly translate to Best Life (the same as the film's Korean title) about three high school girls who run away from home and experience traumatic cracks in their relationship.
Producer Hyung-dae Kim, who also produced the Baek Seungbin's 2018 Rotterdam Tiger Competition film I Have A Date With Spring, proposed the novel adaption to Lee.
"I made this film looking into my nightmares and fears. I think there are more people with nightmares and scars than you think, and that it would be good to be able to make films where you can be swept up in those nightmares and scars, and then have them wrapped up in a chapter," she says.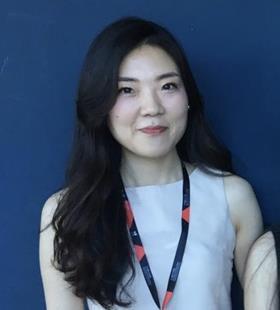 Lim Jeong-eun
A graduate of Konkuk University's film production programme and Dankook University's Graduate School of Cinematic Contents, Lim Jung-eun grew up watching three films a week from her neighbourhood video rental store. After making a raft of award-winning shorts, she is bringing her feature directorial debut Our Midnight to world premiere in Busan's Korean Cinema Today – Vision section.
Our Midnight follows a down-and-out actor, whose long-time girlfriend has left him for someone with prospects, and an office worker, who is dealing with pressure and alienation at her company after reporting her boyfriend there for date violence, as they encounter each other on a Han River bridge known for suicides and go walking about Seoul.
"He is trying to hold onto his dream of acting to the end, and that's similar to me with filmmaking," says Lim, who says she wants to keep making films that are cinematically beautiful with stories that examine individual's subtle feelings in the midst of bigger social issues.
"I'm not specifically targeting an international audience but these days we have so many platforms like Netflix so more audiences can see your films. Like director Bong Joon Ho said, we all use the same language of cinema," she says.