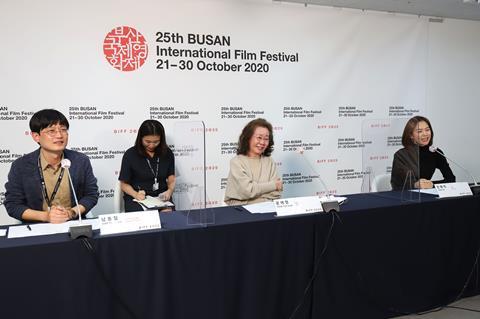 Operating a downsized, safety-oriented Covid-19 pandemic edition, the 25th Busan International Film Festival (BIFF) managed to sell out 90% of its screenings by the morning of Tuesday, October 27.
In fact, 72% of screenings were sold out the same day that online ticketing opened on October 15. By October 27, the festival had sold 90% of its 19,909 available tickets.
As previously announced, BIFF is screening each of its 192 selected films once, using the Busan Cinema Center with its five screens as its sole venue, socially distancing seats to sell only 20-25% of its total seating capacity, and selling tickets exclusively online so that audience members can be tracked and contacted if necessary – in case of any Covid-19 cases arising at the festival.
This, of course, is a far cry from the total of 189,116 admissions the festival had last year when it didn't have to cancel red carpets or outdoor events and could book all the seats in its 37 screens at six theatres. But audiences and filmmakers alike have expressed thankfulness and gladness that the festival is opening at all.
At a Zoom press conference for the Oscar-tipped Minari on October 23, Korean-American director Lee Isaac Chung said: "I wish I could be there. Busan is like a home festival for me. It's sad but I'm glad you all can watch the movie."
Programme director Nam Dong-chul expressed how he had originally imagined the Gala Presentation of the film in Busan, having the director and stars Steven Yuen, Han Ye-ri and Youn Yuh-jung (the last two of whom were in Busan on-site, with plastic screens between each of them and Nam) on the red carpet at the Busan Cinema Center with an audience of 5,000, but "at least we will be able to share it with 600 audience members tonight."
Han reiterated her colleagues' thoughts and said: "It would have been great if we could have had a full house and Steven and Isaac and the two lovely kids, but I'm also thankful that we are having the 600 audience members. I cherish this experience working with everyone and hope this Covid-19 pandemic passes soon and we can meet with many audiences in many theatres."
Asian master filmmakers also sent in video messages of hope and support to the festival. "The history of film has always been one of overcoming huge challenges and obstacles," said Park Chan-wook, while Jia Zhangke said, "Even a pandemic cannot stop our passion for communicating through cinema."
Hirokazu Kore-eda said: "I do not believe we will stay disconnected like this. We will be reconnected in any shape or form". Lee Kang-Sheng encouraged viewers to "Continue to work towards your goals and dreams."
Hybrid Q&As
As with the press conferences and a masterclass with Mira Nair, the festival has been utilising video calls mixed with on-site participation.
"So far all the online Q&As have been successful. So many more overseas directors wanted to do them than we anticipated, and the audiences in the cinemas have been very active in participating," says Nam. "They send in their questions through an online chat room and there are so many, we can't even get to them all. But people can click on what they 'like', which makes more popular questions rise in rankings so the moderator can get to common questions more conveniently."
The online chat room questions method was first brought in to avoid passing around microphones (and germs) in the cinemas this year, but Nam says it has the added effect of avoiding people who "hold onto the mike talking about their thoughts on the film and then adding a preposterous question at the end of their comments."
The festival also managed to arrange with overseas filmmakers to hold simultaneous screenings – for instance, director Kathy Uyen's A Window on Asian Cinema section title Sister Sister screened in Busan and in Ho Chi Minh City at the same time on October 21.
BIFF saw 90% of the Haneulyeon theatre's socially-distanced seating capacity taken up for the international premiere of the LGBT crime mystery. Meanwhile in Vietnam, the filmmakers held a private screening for cast, crew and acquaintances at the Galaxy Nguyen Du. An enthusiastic Q&A followed through a live video call with the filmmakers in Ho Chi Minh and the audience and moderator in Busan.
"It was innovative for us and people loved it – our audiences and especially the filmmakers who couldn't come to Busan," says Nam.
"It's actually a very strange experience to have a festival with so many quarantine measures and trying so hard not to have people gather, but the citizens of Busan seem to approve because otherwise they would feel anxious [about another outbreak possibly happening]. And people who love films say they are happy as long as they can get their tickets. They've been saying they are happy with the selection and that the seating arrangements are pleasant," he adds.
One difficulty for the festival this year is that they were unable to bring in their usual volunteers – numbering 700-800 strong in a normal year. So the festival staff are handling everything from QR code checking to ticketing. They've hired security guards for gates in case of emergencies but for the most part, BIFF's 150 staff members are handling everything themselves.
"It seems to be going well and we're over the critical point, but we have to make sure everything goes off without any problems to the very end," says Nam.
Asia Contents Awards
The 2nd Asia Contents Awards were streamed live on Sunday, October 25 on the BIFF YouTube channel with 3,682 viewers recorded tuning in at one point. The ceremony was hosted by actor-singer Nichkhun and Kim Sae-yeon (the latter also hosted last year). It also featured live performances by Korean girl band Lovelyz and Kim Jae-hwan, who sings the original sound track from Crash Landing On You.
The top Best Creative award went ex aequo to Dai Ying for iQiyi's Chinese mystery thriller The Bad Kids and Mo Wan-il for JTBC's Korean drama, The World Of The Married, based on the BBC drama Doctor Foster.
The Bad Kids also picked up best newcomer (actor) for Rong Zi-shan, while The World Of The Married also took best actress for Kim Hee-ae.
Singapore's Last Madame and South Korea's When The Camellia Blooms both won best Asian drama.
The nine jurors for the final selection included Yao Chen, who won last year's best actress award, Chinese director-actor Stephen Fung, professor Joo Chulhwan from Korea's Ajou University, Ruel Bayani, head of international productions and co-productions at the Philippines' ABS-CBN, and professor Terawaki Ken from Kyoto University of the Arts.
The Busan festival awards ceremony will be held the evening of October 29 with local filmmakers on hand and overseas winners sending in video messages.
The traditional Closing Night ceremony has been cancelled and instead, closing film Josee, The Tiger And The Fish, Tamura Katoro's animation remake of Inudo Isshin's 2003 cult hit, will screen with video messages on October 30 at the Busan Cinema Center's outdoor BIFF Theater.