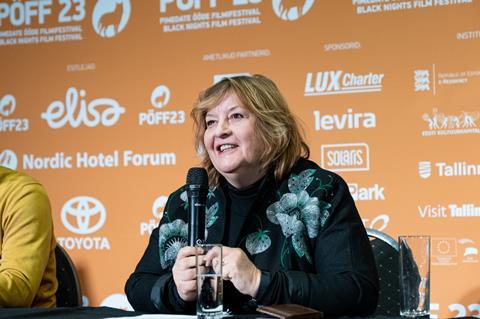 It is the Monday of the second week of Estonia's Black Nights Film Festival (BNFF) and festival director Tiina Lokk-Tramberg is full of energy.
The festival opened on November 15 with the local premiere of Adam, the debut film of Moroccan filmmaker Maryam Touzani and heralded a line-up that includes some 30 world premieres. They include Croatian director Jure Pavlovic's Mater, screening in the first feature competition and neo-noir Now is Everything directed by Ricardo Spinotti and Valentina De Amicis, which is screening in the Rebels With A Cause competition.
International premieres at Black Nights include Lukasz Kosmicki's Cold War thriller The Coldest Game starring Bill Pullman and Lotte Verbeek, and Hüseyin Tabak's boxing drama Gipsy Queen, a Germany-Austria co-production, both in official selection.
Screen caught up with Lokk-Tramberg to talk about why filmmakers are now approaching the festival to be included, what Black Nights offers the international industry and what she would prioritise if she had a larger budget.
What is new at Black Nights this year?
The Current Waves section in which we are expanding world cinema. Also the #Trending section that now covers more lifestyle-based topics. We are also creating an experimental film section called Artists Film International that will have art films, such as those that might be seen at the Whitechapel Gallery in London or even the Un Certain Regard section in Cannes. Curators from the Whitechapel Gallery as well as Estonia's Kai Art Centre are involved. This is still early days.
What themes have emerged from the films at the festival this year?
The issue that stands out to me this year is the number of personal stories. For example, the world premiere of Hector M Valdez's Malpaso tells the story of an albino living in the Dominican Republic, and, another world premiere, Fatos Berisha's The Flying Circus, is the real-life story of a group of actors who attempted to cross Balkan borders illegally during the height of the Serbian war.
What does it mean for a festival like Black Nights to be classified as ' Class A' by FIAPF?
It is much easier to select world premieres for competition and therefore our selection is better. More and more we are getting movies from strong filmmakers. This year for the first time, big names approached us. It was unexpected. They wanted to be part of our competition even though they had already had a world or international premiere elsewhere.
What requirements do you have for a film to be in competition at BNFF?
An 'A list' film festival is supposed to promote new films, new countries and new filmmakers. If a film has premiered at a major festival such as Toronto (TIFF), we are happy to get a second screening for the competition. Or for Asian movies, I understand it's important they are in Busan after Toronto, so then it is okay to come here after Busan. It is a case- by- case basis.
Have you noticed more films coming from the Baltic region?
Yes certainly from Estonia and Lithuania. Both countries have had the same [industry] developments. They have official support from film institutes as well as private incentives from distributors as they are supporting more films. So the number of films made is higher. I am not saying the quality is better, but I am happy there is a wider landscape and people are working. Budgets are not rising, maybe private money would help with that. At the same time, the films are more diverse, and I like that.
Please talk a little about this year's retrospective called 'Sizzling Arabia' which celebrates 10 years of Arab cinema.
This is one of the biggest Arab retrospectives by an international festival in Europe. Arab cinema portrays real issues we all deal with in a different way. And it is interesting how the film world [in the region] has been born again after war and revolutions, especially places like Sudan where filmmaking was non-existent. Filmmakers are now speaking out and it is powerful.
I think cinema in Europe can be very 'constructed' - there are rules, and we use actors and scripts. [In the Arab world] they are making films about real life with real people. It makes it so strong emotionally, and the artistic quality is so good. We have the same issues - like in Maryam Touzani's opening film Adam where a woman must determine the birth of her child. These are universal issues – such as women's rights, immigration, war – in all cases, we are all dealing with these same issues.
The documentaries in the section are wonderful examples of this. Iraqi Odyssey shows a unique point of view on the Iraq War, The Cave speaks out about Syrian victims in an underground hospital and Talking About Trees is centred on Sudanese filmmakers in the 1980s who are determined to bring film back to Sudan.
How are you developing the industry events at Black Nights?
The industry section has become like a festival in itself, it's huge now. It almost needs a separate organisation. The TV section is interesting this year. We started a co-production market 15 years ago for feature films and we had different kinds of forums. We are doing that now with television, such as the script pool for TV projects and a works in progress event. We would like to introduce a co-production market for TV series next year.
Are you growing the co-production market for feature films?
We have the same size market, but a better selection of films. The quality is higher, and the production market is getting more and more international.
As a seasoned festival director, what do you believe to be the best way an event like Black Nights can support female filmmakers?
We don't focus on quotas here. It's a question of how we can make better conditions for women to make movies. This is the key. We have to think of ways to make women more successful at festivals. Like supporting mothers and providing services where children can be looked after. This is something we looked into this year, but we didn't have the funding. If I had more money, I would support this more.