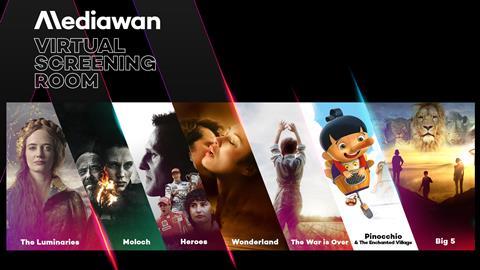 Paris-based audiovisual content platform Mediawan is launching an exclusive screening and distribution platform for international broadcasters to showcase content and to attract buyers from traditional and non-traditional broadcasters.
The launch is a proactive and speedy response to the challenging marketplace caused by the Covid-19 global pandemic that has pushed traditional market meet-and-greets and festivals online to become virtual online events. The platform has a dedicated portal found at http://screenings.mediawan.com.
The company was founded by French producer Pierre-Antoine Capton, telecommunications tycoon Xavier Niel and investment banker Matthieu Pigasse in 2015.
"With no prospect of any physical events in sight due to the current health context, we needed a new, innovative way to introduce our top programmes to our partners and re-create some of the intimacy of these exclusive one-on-one screenings," explains Valérie Vleeschhouwer, managing director of Mediawan Rights.
As one of Europe's biggest independent audiovisual content platforms, Mediawan's fresh offering provides a destination platform for buyers eyeing the myriad flagship programmes produced or distributed by the company.
Third-party series to screen in the new-look secure space include France Television's time-travelling romantic thriller Wonderland, starring Olga Kurylenko and Pierre Deladonchamps, Arnaud Malherbe's six-part series Moloch, starring Marine Vacth for Arte, and Olivier Gourmet's post-WW2 drama The War Is Over, produced by leading Italian outfit Palomar for RAI.
There will also be premium documentaries available such as Heroes, and also Kubrick By Kubrick and Banksy Most Wanted, both part of the 2020 Tribeca festival selection. Buyers will also be able to discover projects including Pinocchio & the Enchanted Village, a 13-episode, 52-minute animated series in production by ON Kids & Family, and Big Five, an English-language series (10 26-minute episodes) and 90-minute TV special in development, to be directed by Gilles de Maistre.
A fully integrated business
Mediawan's activities encompass the production of drama, documentary and animated original content (Mediawan Originals and Mediawan Animation), distribution of audiovisual content (Mediawan Rights), and publishing of channels and digital services (Mediawan Thematics).
Mediawan Rights is one of France's biggest players in international distribution and co-production of content. With a diversified catalogue of more than 13,000 hours of programs and agreements with all the major international players, Mediawan Rights is a key partner for all major producers and broadcasters, linear or non-linear, globally.
The programmes in the screening room:
Wonderland is Hervé Hadmar's new TV series, produced by Cineteve and France Televisions. It is a romantic thriller, a story of a trip back in time from today's Paris to Biarritz, France, in the early 1960s, a tale of two people (Pierre Deladonchamps and Olga Kurylenko) who never should have met and the consequences of their fateful encounter.
Moloch is a fantasy thriller starring Marine Vacth (Young & Beautiful) and Olivier Gourmet. The TV series, produced by Calt Studio and Arte, follows random people who spontaneously combust for no reason. Suicide? Murder? Supernatural phenomenon? The series aims to make audiences shiver and quake, to be addictive, thrilling, haunting, terrifying.
The War Is Over is the new Palomar series. It was a massive audience success for RAI when in aired in Italy last January. The story begins shortly after the liberation of Italy by the Allied forces. Inspired by real characters and real events, it tells us about brave adults and young people who slowly return to life.
The Luminaries is the BBC One adaptation of Eleanor Catton's award-winning novel. Starring Eva Green, Eve Hewson and Himesh Patel, the series takes the viewer to New Zealand during the 1866 gold rush. The Luminaries brings fresh energy to the Wild West genre.
Heroes is a feature-length documentary intertwining the stories of five famed auto racers: Mika Häkkinen, Felipe Massa, Tom Kristensen, Michele Mouton and Michael Schumacher. It is directed by Manish Pandey, the writer of the award-winning documentary Senna.
Pinocchio & the Enchanted Village is ON Kids & Family's new animated series, adapted from Carlo Collodi's masterpiece. It is for the whole family, both moving and funny, where the world of childhood meets the world of fairy tales.
Big Five is the new project from de Maistre (Mia And The White Lion). Shot in an actual South Africa wildlife reserve, the series will follow five teenagers, each gifted with a power from one of the savanna's Big Five animals. It is a family series starring Daniah de Villiers (Mia) with a 90-minute pilot followed by 10 26-minute episodes. The series is produced by Mai Juin Productions and Mediawan Rights.

Created in late 2015 by Pierre-Antoine Capton, Xavier Niel and Matthieu Pigasse, Mediawan is one of the main independent European studios producing premium content.