Actor-director Dany Boon tells us why he gave the starring role of his action comedy Raid: Special Unit to a woman.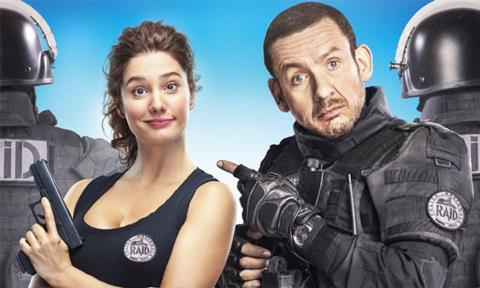 Dany Boon was among the stars hitting the latest edition of Unifrance Rendez-vous with French Cinema this year (Jan 12-16) to promote action comedy Raid: Special Unit (Raid Dingue) starring Alice Pol as an accident-prone trainee trying to win a place in a macho elite police unit.

It was a role Boon, who directs and co-stars as a sexist, tough-nut trainer, was originally supposed to play.

"I originally envisaged the lead as a man, not a woman, and I was going to play the role. It's an idea I've been thinking about for a number of years. I've always wanted to do an action comedy in the vein of one of Francis Veber's films with Gérard Depardieu," says Boon, alluding to hit collaborations such as The Fugitives and La chèvre.

Boon switched to a female lead after working with Pol on the 2014 comedy Superchondriaque.

"It was Alice's funniness on the shoot which got me thinking. I had a sense there was something missing and switching the role to a woman gave it that something extra," says Boon. "I think it's the first time an action comedy in this vein has been made in France with an actress playing the the main character."
Hitting the road
Boon is currently on a whistle-stop tour of France and neighbouring Belgium and Switzerland with the film ahead of its general release by Pathé on Feb 1.

"It's a lot of work but I love meeting the public. When you turn-up and present a film in person it really makes a difference. It helps to promote the film via word-of-mouth buzz and usually I have a lot of fun."

He is also hoping to head to China later this year where the film has been acquired by the Red Apollo Group which is also mulling a Chinese remake.

"You have to travel with your films abroad. There's a real appetite for French cinema internationally but you need to promote your films," he says. "I think this is one of the weak points in French cinema - people don't travel enough with their films which is a shame."
Behind-the-scenes producer
Boon also took a co-producer credit on Raid: Special Unit through his company Les Productions du Ch'timi which produced the feature alongside France's Pathé, TF1 Films Production and Brussels-based Artémis Productions.

The company also has a stake in a second Rendez-vous title, actor and stand-up comedian Jérôme Commandeur's directorial debut My Family Already Adores You - a comedy about a quiet computer geek's nightmare weekend with his crazy future in-laws on the Ile de Re.

"I produced Jérôme's one man show at the Olympia," says Boon referring to top Paris music and comedy venue "And when the run had finished, he came to me saying he wanted to make a film. We started developing it from there. A lot of the things I take on as a producer are through personal association or because I fall in love with the project."

He and his wife and collaborator Yaël Boon, also recently invested in Stéphanie Pillonca-Kervern's drama Fleur de Tonnerre starring Déborah François as real-life 19th century serial killer Hélène Jégado.

Boon boarded the production, coming out in France this Wednesday (Jan 18), through his agent Cécile Felsenberg who also represents François.

"They lost an investor at the eleventh hour. I said send me the script, fell in love with it and decided to help them out with the missing piece of finance," says Boon.

Asked whether he might star-in or shoot a drama one day, Boon seems surprised at the question: "Me? As a producer, why not? If it were a project that interested me. As an actor, or director, I'm not sure. I'm not saying no but I like to make people laugh."
Upcoming Projects
Boon's next production will be the comedy Une Jolie Ch'tite Famille in which he will star as a Paris fashion designer desperate to hide his proletariat, northern French origins.

The film is due to shoot this summer between the French capital and Boon's native Nord-Pas-de-Calais region (recently amalgamated with neighbouring Picardy and officially renamed the Hauts-de-France).
It will be his first time shooting in the region - the backdrop and source of inspiration for many of his one man shows and his record-breaking 2008 hit Welcome To The Sticks - since the 2010 comedy Nothing To Declare.
International Projects
Boon and his wife, who recently moved back to Los Angeles from London, are also involved in a number of international projects including Spanish director Fernando León de Aranoa's Escobar.

Starring Javier Bardem as the drug kingpin and Penelope Cruz as journalist Virginia Vallejo, who was his lover in the 1980s, the film is currently shooting in Colombia. The Boons are executive producers.

The previously-announced Fox-backed ensemble, airport comedy The Ambassadors, which was to have been Boon's English-language directorial debut, however, is "frozen", he says.

"It's one of the reasons we moved to London but while we were working on it the head of the studio changed and everything stopped. We've tried to take the project back but the studio says they still want to do it. It's complicated. It's effectively frozen."
Despite this setback, there is little chance Boon will be taking it easy anytime soon. Aside from his cinema commitments, he and his wife are preparing a new one-man show - Dany Boon Des Hauts-de-France - which will tour France at the end of the year to mark the 25th anniversary of his career as a performer.