George MacKay spent seven months rehearsing and filming for his lead role in Sam Mendes's 1917. The actor tells Screen why he relished the immersive experience.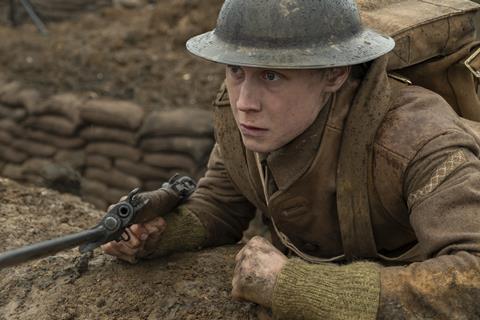 When George MacKay walked into casting director Nina Gold's office to record his audition for First World War epic 1917, he knew very little about the project. The screenplay was not being released and he was given only a couple of pages for the scenes he would be performing as lance corporal Schofield. Even so, recalls the actor, "I remember thinking, 'I know this man.' Or at least I know an interpretation that I'd like to give."
It was only when MacKay met director Sam Mendes for the next stage of the audition process that he learned the special nature of the project: that the film would be presented to the audience in one continuous shot; that individual scenes would run up to eight or nine minutes; and that extensive rehearsals would be needed to refine these ambitious shots, taking his total time commitment on 1917 to seven months. MacKay's reaction: "So exciting — just because it gets so ambitious. It's a new way of working. Sam explained how rehearsal-heavy it would be and it would be like a play, in a way."
The actor's third audition paired him with Dean-Charles Chapman (Game Of Thrones), and both would ultimately be cast as the two young soldiers tasked with taking a message to another British battalion in time to avert an attack that would almost certainly end in the massacre of 1,600 British soldiers. The two actors had never met before but subsequently bonded on research trips to France and Belgium — one with the production, another under their own initiative — as well as the four months of rehearsals. "We were just together all the time, pretty much all day, every day," says MacKay.
Both men were chosen by Mendes as faces with whom audiences would be relatively unfamiliar — although 27-year-old MacKay has been working steadily for 16 years since appearing as Lost Boy Curly in PJ Hogan's 2003 feature Peter Pan, with notable roles including Matthew Warchus's Pride (2014) and Matt Ross's Captain Fantastic (2016).
For Schofield, Mendes says he conceived the character as "quite old-fashioned, dignified, a kind of understated heroism. Grammar-school boy, not a natural talker. It was an idea that is beautifully embodied by George."
Shoot and move
During the extended rehearsal process, Mendes worked intensively with the two young men and department heads to precisely align the words in the screenplay with the movement of the actors and the dimensions of the sets and locations. As MacKay explains: "Usually you craft a film's rhythm in the edit." But that luxury would not be available to 1917 — "and because these guys are always on the move", he continues, "the length of the scene and the rhythm of the scene dictate the length of the set. The corner needs to come on the line that it needs to come, and the line needs to come where the corner is. There is no lead element and they have to be worked out together from scratch."
The film shot from April to July 2019 in locations all around the UK and mostly in the chronological order of the screenplay. "It was a joy," says MacKay. "It was the most collaborative and mutual experience I've ever had in a job. It's like a dance when you're doing the scene, because you affect the way the camera moves."
Each scene was shot, on average, more than 20 times, says the actor. For continuity, Mendes shot only when it was cloudy, so they would continually rehearse during sunny periods. "We were doing it all the time," he says. "There was a real stamina to everyone involved. To be honest, no-man's land was really hard; in all of the gear, you're slipping in the mud. You do one take, walk back, they [the filmmakers] give you a note and you just go again. You never stopped and it was an amazing day. Sometimes it was exhausting but it's actually really energising. I remember Sam [Mendes] saying at the end, 'You're going to have to level with the fact you will never be as fit again.'"
MacKay is aware that the unusual shooting style of the film — which was released in the US on December 25 via Universal and is due in the UK on January 10 via eOne — will be the one fact many audience members may know about it in advance, but feels the true emphasis should lie elsewhere. "The film has the danger of drowning in its context and its making in terms of, 'It's a war movie, in one shot,'" he says. "Whereas it's more about the human experience, and love, and stretching yourself in service for something greater than you — something rooted in a love of a friend or the love of a brother or a love of home. It's a very human film. All the technicality that's gone into it, the technical achievement and brilliance, is all in service of trying to put across something purely emotional."
MacKay considers himself fortunate that his intense experience on 1917 followed a similarly memorable one on his preceding film, Justin Kurzel's True History Of The Kelly Gang, in which he plays 19th-century Australian outlaw Ned Kelly.
The actor had auditioned for the director before on another project, but the process differed to play Ned. The audition included a scene with his character's mother that played out like a date between two lovers, and a monologue where the energy was kept at a heightened level — with UK casting director Des Hamilton "essentially starting to fight with me" — and bursts of press-ups instructed by Kurzel. "It was the best audition experience I've ever had," says MacKay.
Kurzel had built four weeks of rehearsal into the schedule, which climaxed with the young actors who play the Kelly Gang forming a punk band, writing a set of songs and then performing at a gig in Melbourne. The film had its premiere at Toronto International Film Festival in September, and begins its international rollout in Australia on January 9, via Transmission Films.
Part of the process
Since wrapping 1917 in July, Mac­Kay has yet to commit to another role. "I'm just reading things at the minute," he says. "I genuinely don't know [what I will do], which is an exciting place to be. The immersive experience that was Ned, and 1917, which was the most three-dimensional experience I've ever had… I'm mindful of the unique nature of these experiences and how special they are. I'm trying to be grateful and level about the fact they are special experiences but also they are forming a way that I'd like to work. I'm learning I like being involved from as early on as possible because of what that teaches you and the understanding you have with it. I don't know what story would be the right [one to tell] but as a method of work I'd love to be part of that."