Sam Mendes has the theatre to thank for his ability to follow up his James Bond movies Skyfall and Spectre with a film of such major ambition and scale as 1917. "The first thing I did after Spectre was take a year off, because I was wiped out," says the director, who then recharged his creative batteries directing Jez Butterworth stage play The Ferry­man at London's Royal Court in 2017, followed a year later by Stefano Massini's The Lehman Trilogy at the National theatre. "If I had gone straight from Spectre, I wouldn't have made this movie."
By the time The Lehman Tri­logy opened, Mendes had already embarked on the creative journey for 1917, which is inspired by his own grandfather Alfred's stories as a military messenger during the First World War. The idea of a film about the conflict had been germinating with Mendes for a long time, but he always felt the need to overcome the challenge of what his producer partner Pippa Harris calls the "stasis" of the war, where "people were fighting over these tiny amounts of land and barely moving". Adds Harris: "The idea of setting something that was going to be a propulsive, exciting movie against that backdrop just seemed a really tough ask."
The breakthrough came when Mendes learned about the German army's tactical retreat to the heavily fortified Hindenburg Line in March 1917. He envisaged a story where two young lance corporals would be tasked with delivering a message to save the lives of 1,600 men - traveling through land formerly occupied by the Germans to reach a battalion that mistakenly believes the enemy is on the run and vulnerable to attack. "That suddenly opened up the war for us in a way that you had distance to travel that wasn't trench, mud, trench," says 1917 co-writer Krysty Wilson-Cairns.
With the notable exception of Steven Spielberg's War Horse, which was based on existing intellectual property (and grossed $178m worldwide), recent First World War movies have tended to be relatively modest, arthouse-inclined propositions: weary tales about a conflict that is largely viewed by history as a pointless and tragic waste of human life. Mendes and Harris — childhood friends who together run London-based Neal Street Productions — knew their film would have to offer something different to achieve the required budget, just north of $90m.
Luckily, Mendes had something in mind: he would present 1917 as a single continuous shot, as the two young men (played by George MacKay and Dean-Charles Chapman) travel through a devastated landscape, facing significant episodes of peril as they rush towards their destination. "There aren't many non-franchise event movies that can go and play in the biggest screens," says the director. "There's Gravity, Life Of Pi, Dunkirk, The Revenant, and that's the audience you're looking for. I was very clear with the studios from the beginning that I wanted to make a movie movie."
Writing partner
Mendes's continuous-shot conception would make the creation of the screenplay a distinctly novel undertaking. The filmmaker knew all about Wilson-Cairns, a 2014 Screen Star of Tomorrow and 2013 screenwriting graduate of the National Film and Television School. Wilson-Cairns' spec script Aether landed her a writing gig on the third season of John Logan's Penny Dread­ful, which is executive produced by Mendes and Harris. She went on to write two screenplays for Neal Street (one based on Gay Talese's 2016 New Yorker article The Voyeur's Motel), neither of which proceeded due to rights issues.
Now, Mendes was calling on the Glasgow-born writer's services once again. "He called me up and was like, "third time's the charm!'" says Wilson-Cairns. "I did a little dance when he told me. As a woman, and a younger woman as well, you're rarely going to be asked to write a war movie like this. It just doesn't happen. Luckily that didn't even factor into Sam's head. The very last thing he said on the call was, 'Oh, by the way, it's all going to be one shot,' and he hung up on me."
Mendes describes Wilson-Cairns as "a big war nerd" — an interest she inherited from her own grandfather — and soon the pair were seated at his kitchen table with piles of books and maps, working out the story beats. The screenwriter travelled to northern France in late March 2018, and had a first draft ready in April. e pair worked together on another draft, and that was the version Harris and Mendes pitched to the studios.
The inability to write using cuts initially felt like "a straitjacket", according to Wilson-Cairns, who also co-wrote Edgar Wright's upcoming Last Night In Soho and has multiple other screenplays in development with a range of studios and producers. But she soon found the 1917 structure to be liberating, and describes it as "like a ribbon".
The major challenge was building a credible emotional arc within a compressed time frame. "Take two consecutive hours of your life — do you have a beginning, a middle and an end, interesting characters dropping in, and a couple of action set-pieces? No," observes the writer. "There's a notion of how far you can travel, emotionally and physically, in that time period. As a writer, you have to be pushing around the edges to feel like, 'OK, this is too far; this is where you push into the unbelievable.' It was important to get the believability of this journey."
For Mendes, while he has always worked closely with writers on the screenplays for his films, 1917 marks the first time he has taken a co-writer credit. "I just felt like I knew how to tell it," he explains. "But I also thought the writing of this and the making of it are the same thing. I needed to write my direction into the script and have an idea of where the camera would move as I was writing."
Going to market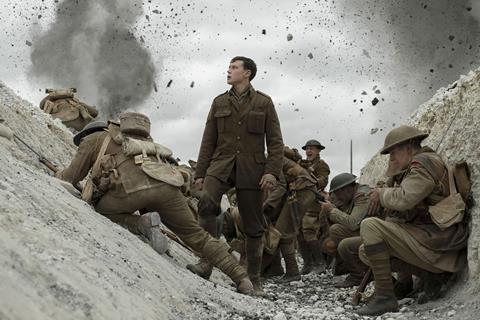 Harris and Mendes sent the screenplay to six studios in May 2018, and three came back saying they wanted it. Mendes had previous relationships with DreamWorks (American Beauty, Road To Perdition, Revolutionary Road) and Universal Pictures (Jarhead), and had worked at those companies with both Spielberg (DreamWorks principal and Amblin Entertainment executive) and Donna Langley (Universal Pictures chairman).
"Sam immediately felt very at home at Amblin," explains Harris. "Steven was incredibly enthusiastic about the script, very curious about it and excited by it. And I think Sam thought, 'Well, they're offering us the budget, it's not going to be cast-contingent. Why wouldn't we go with them?'" The film is backed by DreamWorks Pictures (an Amblin Partners label), and co-financed by Brian Oliver's New Republic Pictures with Madrid-based Mogambo. Universal Pictures and Amblin distribute internationally, with eOne distributing in the UK through its output deal with Amblin. Universal released in the US on December 25, and eOne follows in the UK on January 10.
Mendes was given complete freedom in casting his two young leads, ultimately settling on Mac- Kay and Chapman: "I wanted young men who probably aren't stars, and I wanted people that the audience has a relatively fresh relationship with and don't know whether they're going to live or die."
His backers did, however, suggest it would be good to see some names in the film's many brief supporting roles, with whom the two young soldiers interact during the course of their mission. "I said, 'Listen, I would want to do that anyway, because what you want in those scenes is gravitas and authority,'" says Mendes. "And the reason Benedict Cumberbatch and Colin Firth and Mark Strong and Andrew Scott are well-known is because they're bloody good."
Although these names - also including Daniel Mays and Richard Madden — would be needed for relatively brief shooting times, the opposite was true of MacKay, Chapman and key crew. The continuous-shot conception meant the space and the sets had to be constructed to match exactly the timing of the dialogue and the movement, which in turn necessitated four months of rehearsal. Replicas of trenches were built from cardboard at Shepperton Studios for the young actors to move through, while director of photography Roger Deakins rehearsed the shots, and production designer Dennis Gassner sculpted the sets to the precise dimensions required.
Meanwhile, Harris and supervising location manager Emma Pill were looking for the exact landscapes required by Mendes — and soon abandoned hope of finding them within the M25 region encircling London. "It's fine for me to write, 'they go from a quarry through a wood downhill to an orchard and a farmhouse. And they come out of the farmhouse and there's a barn. Oh, and by the way, the plane that they see dips below the level of the land and has to come back over,'" says the director. "Now you've got to find that, and then you've got to build it, and it has to feel like it's been there for the last 200 years."
Studio backing became a vital asset during the long months of pre-production — a period that in most independent productions is plagued by cash flow issues. "It gives you the confidence to make decisions and get things going," says Harris. "In my experience when you're working on an indie film, you just can't do that because you can't commit to a massive studio build and you can't put the down payment for the studio space. With Amblin, there was never any doubt the money was going to come through."
The shoot began on April 1, 2019 for 65 days, filming mostly chronologically, and using locations in the UK including Salisbury Plain, Bovingdon Airfield in Hertfordshire, a disused Oxfordshire quarry, Govan Graving Docks in Glasgow and the river Tees in Durham. Producer Callum McDougall — who has extensive experience working on major productions including nine James Bond films — did the heavy lifting on the production logistics. Producer Jayne-Ann Tenggren, whose background is in script supervision and who worked with Mendes on Spectre, played a vital role on a film in which the physical spaces had to precisely match the screenplay — without any facility to create cuts within scenes. (Scenes running up to nine minutes in length are blended with invisible cuts.)
The ambition of 1917 might have daunted Mendes had he not previously made Skyfall and Spectre, the latter opening with a bravura single-shot action sequence in Mexico City. "Those films gave me the confidence to do this and not be scared of the big bangs, as it were," says the director. "And also marshalling forces to a very specific end.
"There's a lot of people involved, but wanting a kind of unity in the crew, which I didn't find on Bond because you're working with many units and you're shooting multiple cameras. But here I was taking a lot of that and shooting single-camera, beginning to end, with a very tightly knit core crew, many of whom I've worked with before."