As Haifa presents its 32nd festival (Oct 15-24), Wendy Mitchell talks to artistic director Pnina Blayer about what makes the event unique.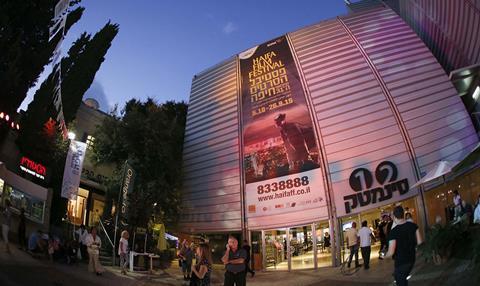 The unique appeal of Haifa International Film Festival reflects the attraction of the city itself. "Haifa is the most sane city in Israel and a rare gem, because we are one of the few places in the region where Jews and Arabs live together, side-by-side, peacefully," says festival artistic director Pnina Blayer. "Not only is there co-existence between ethnic and religious groups in our city but also between secular and religious Jews. That spirit of co-existence and tolerance are values the festival promotes wholeheartedly."
The event - now in its 32nd year - not only showcases diverse work, but encourages different communities to work together through initiatives such as the Mix programme, in collaboration with Gesher Film Fund and Israeli Screenwriters' Guild, which mentors mixed Jewish and Arab film-making teams.
The festival's open approach extends beyond Israeli films and guests to the international stage. "We pay close attention to building our artistic schedule on ideals of pluralism and diversity in terms of the topics of films and also new strands in international cinema," says Blayer. "We reflect the multiculturalism of our area and place a strong emphasis on Eastern European and Mediterranean cinema."
Blayer joined the festival at its inception in 1983 and has been artistic director since 1988. Some 50 films were shown at the inaugural edition; that number has risen over the years to nearly 200 films in 2016. The festival's growth is supported by its backers, Israel Film Council, the Ministry of Culture & Sport, the Ministry of Tourism and the Haifa municipality.
The festival's industry offering has also grown in importance over the decades. Now, about 300 local and international industry guests attend the Cinemarket Haifa, receptions, masterclasses and other industry events including a marketing forum about Israeli cinema.
This year's festival also launches virtual reality screenings, in partnership with DocVR workshop and Steamer Salon, both on behalf of the digital media programme at the Steve Tisch School of Film and Television at Tel Aviv University.
Gender equality
For the first time in the film festival's history, half of the Israeli features in competition are directed by women, and the documentary competition boasts more female directors than male.
"The result came about organically. My first and most important factor in selecting a film is its cinematic value," says Blayer. "However, there is no doubt that as a woman, I'm very proud that the Israeli cinema competitions reflect an equal number of male and female artists. It is a special source of pride in light of the fact that over many years the female voice was lacking from the map of Israeli feature films. Also, it's important for me that our festival will give a platform to debuts of Arabic film-makers, especially Arabic women directors."
The female directors in the Israeli competition include Hagar Ben-Asher with The Burglar, about a 17-year-old girl who is living on her own when her house is burgled; Rama Burshtein with Through The Wall, a romantic comedy about a bride trying to find a new groom in 30 days; and Maha Haj with Personal Affairs, about several generations of a family in Nazareth.
Another key female film-maker recognised this year is Michal Bat-Adam, who will receive an award and screen her latest film, The Road To Nowhere. "After so many years of work as both an actor and director, we felt she deserved to receive a special award and recognition for her contribution to Israeli cinema," Blayer says.
Global line-up
This year the festival will present an impressive 85 local films. "Israeli cinema is in a strong position, both locally and internationally," Blayer observes, pointing to festival prizes and international deals for numerous Israeli titles. "For many years, Israeli cinema focused on the Israeli-Palestinian conflict. In recent years, what characterises Israeli cinema is a focus on personal stories reflecting the reality of the Israeli experience."
The festival has three international competitions: the Golden Anchor (films from the Mediterranean), Tomorrow's Filmmakers (first-time features) and Between Israeli and Jewish Identity (see below). There are also Israeli competitions for features, documentaries and shorts. Live music and outdoor screenings are also strong draws for audiences - the festival attracts up to 300,000 spectators each year. Haifa also programmes classic films because, as Blayer says, "the history of film is very important to understanding current cinema". This year's titles include Taxi Driver, Blazing Saddles and Closely Watched Trains.
International guests will include Valeria Bruni Tedeschi with Like Crazy, Sebastian Koch with Fog In August, Mohsen Makhmalbaf with The Nights Of Zayandeh-Rood, Lola Doillon with Fanny's Journey, Brian Cox with The Carer, Martha Fiennes with Nativity and Arthur Cohn with The Garden Of The Finzi-Continis. Previous guests of the festival include Willem Dafoe, Harvey Keitel, Sophie Marceau, Joseph Fiennes, Paul Giamatti and Elliott Gould.
Film-makers from home and abroad praise Haifa's welcoming vibe. Producers Estee Yacov-Mecklberg and Haim Mecklberg, whose credits include The Human Resources Manager and Sand Storm, tell Screen International: "We premiered most of our films at Haifa just because we love the festival so much. The beauty of the city is part of it, the great selection of international films, the very interesting international guests, the always-challenging Israeli films competition and the very festive premiere receptions too. But what draws us back to Haifa time and time again is the feeling that it's all about the film-makers."
A perfect combination
Lauded Israeli film-maker Tom Shoval will screen one of his films in Haifa for the first time, an exciting prospect for the director because he has been a regular festival attendee since he was a teenager. "Part of my great cinema discoveries were there, so I owe the festival a lot for my cinematic education," says the director, whose credits include Youth. "Also you can't believe how romantic Haifa is during the festival. This combination of Haifa and cinema is just perfect."
Shoval's new short, Justification, will play in the festival's short film section. He says it is the "bittersweet and strange journey" of a young woman in Tel Aviv who gives money to a beggar for her bus fare, and then suspects her motives.
"When a beggar asks you for money, this awkwardness, the suspicion and the power struggles that accrue in this little moment - that was always fascinating for me and I wanted to explore it cinematically. The film addresses larger themes of class gaps and the value of money - mainly in the power of money to give justifications for our more primal motivations."
Exploring identity
For 2016, Haifa International Film Festival is launching a competition entitled Between Israeli and Jewish Identity. The line-up includes Israeli director Hadas Ben Aroya's People That Are Not Me, which also played at Locarno.
"It reflects the challenges of Generation Y in Tel Aviv, who yearn for intimacy in Israel's biggest city and at the same time are terrified by it," says festival artistic director Pnina Blayer.
"My intent in this competition is to showcase, on the one hand, films that deal with Jewish identity and, on the other hand, films that focus on a specifically Israeli experience," she adds. "These are films that shed light on [the] Israeli experience but don't always connect to the Jewish identity."
Between Israeli and Jewish Identity titles:
Beyond The Snowstorm (Ger) dir Levin Peter
Fanny's Journey (Fr) dir Lola Doillon
Finding Babel (US-Ukr-Rus-Fr) dir David Novack
Jerry Lewis: The Man Behind The Clown (Fr-Aus) dir Gregory Monro
Letters From Baghdad (US-UK-Fr) dir Zeva Oelbaum, Sabine Krayenbuhl
Night Song (Fr-Can) dir Raphael Nadjari
People That Are Not Me (Isr) dir Hadas Ben Aroya
Scarred Hearts (Rom-Ger) dir Radu Jude
The Tenth Man (Arg) dir Daniel Burman