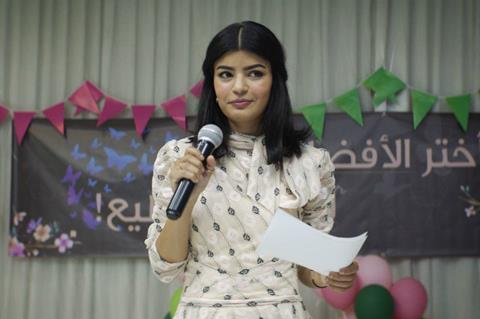 Haifaa Al Mansour's drama A Perfect Candidate is screening in TIFF's Contemporary World Cinema after world premiering in competition at the Venice Film Festival in August.
The first major film to come out of Saudi Arabia since the 2017 lifting of its 30-year ban on cinema, the drama captures the winds of change blowing through the country.
It is Al Mansour's second feature shot in her native Saudi Arabia, after her 2012 breakthrough film Wadjda about a young girl desperate to ride a bicycle.
Feature film debutant Mila Alzahrani stars as a young female doctor who becomes the first woman to run a candidate in local elections in her conservative small town.
In another allusion to the changes afoot in Saudi Arabia, the protagonist's father, a celebrated traditional musician sets off on his first national tour in decades, following the re-introduction of live concerts as part of the country's reforms
The new feature was produced by Al Mansour Establishment for Audiovisual Media and Wadjda producers Berlin-based Razor Films in cooperation with Norddeutscher Rundfunk.
It had the support of the German national film fund FFA Filmförderungsanstalt and regional fund Medienboard Berlin-Brandenburg, Mitteldeutsche Medienförderung and the General Culture Authority of Saudi Arabia. Match Factory is handling world sales. Its next TIFF screening is on Sept 14.
The director talks to Screen about training new Saudi crew on set, how she has tried to ensure the film will be seen by local audiences and contributing to the dialogue around the place of women in Saudi society.
How was shooting A Perfect Candidate different from shooting Wadjda?
For starters, I didn't have to sit in a van. Accessibility was really good. We were able to shoot in small towns and people were welcoming, whereas before there was a lot of resistance. We had one incident where someone who was very conservative tried to stop the shoot but we called the police because he was being obstructive but incidents like that were rare.
It's early days for the Saudi film industry but were you able to employ many Saudi crew?
We trained a lot of people. Most the heads of department came from Germany but we hired Saudis as assistants and for training positions. It was challenging finding people. A lot of commercials are now being shot in the country so crew exists but as an independent film production, we couldn't offer the same rates. We ended working with some amazing young talents, however, who we'd hire again.
The film is backed by General Culture Authority of Saudi Arabia, were there any content stipulations connected to their involvement?
As a filmmaker, I respect boundaries. I'm not a person who thinks that boundaries don't exist. I know they exist and I will work with them and hope to make them wider. I'm not going to just ignore them. I want to be heard back home and for people there to see the film, to see themselves and the challenge of being a woman in politics, to make them more sensitive to these issues. It's important for me to create a dialogue. Saudi Arabia is a religiously conservative place and I worked with that. We see the father, for example, praying regularly. The film's showing you can be religious and celebrate culture and art too.
Who was your target audience, Saudi spectators back home or international audiences?
I make films for everyone. I'd never make a film that could not travel. When I was writing the film, I was thinking about the jokes and aiming for humour would work with audiences at home and internationally. The Saudis watching the film here were cracking up and enjoying the music. They were invested in the story and saw themselves. I hope Western audiences will also identify. I bring in a universal theme of a young person trying to assert. This is a story everyone can understand.
Was it important for you to celebrate Saudi culture in this feature?
I love Saudi Arabia. It's where I am from. It shaped who I am. I love the culture, I love the food, the coffee, those small shots with cardamon. I even love the intense heat. All the songs in the film are songs my mom one sang to me… they're part of me.
If you were to ask me, however, if I love the way woman are treated in Saudi Arabia, my answer would be, 'no'. I totally disagree. I think women should celebrate their bodies and nobody should tell them how to dress or not to dress. That is very important for me and I'm trying to bring that into the film. I don't want my sisters to suffer or be discriminated against. I hope to contribute to the dialogue.
Related to that, the film follows a young woman who tries to change the status quo. It is a wonderful story but at the moment in Saudi Arabia, there are a number of women in jail for trying to do just that. How do you feel about that?
I believe you have to work within boundaries if you want to be effective and heard back home. To bring about change you need to push bit by bit so that every day you make the margin a little bit bigger.
Personally, I want to be heard and I want to touch people and I want to take people with me on a journey. But the Middle East is a complicated place, it's not like the West. Change happens in a different way and you really need to navigate it and be pragmatic and smart. It's important and that is my take on the whole thing.
Expanding on that point, there's debate in the international film industry on whether to attend the inaugural edition of the state-backed Red Sea Film Festival in Jeddah next year. Many professionals want to support the emerging cinema scene but do not want to be seen as endorsing the Saudi regime in doing so, what would your advice be, should they attend?
Of course, you should go. You should never give up on art. In a place like Saudi Arabia, to see an actress on a red carpet without a veil, having the time of her life is very moving [tears well in her eyes]. Sorry I'm crying but it's important not to give up on art. You can do other things but art is what creates a fundamental change in a culture and we want to create a civilisation. Civilisation does not come overnight and will not come back without music, theatre and films.