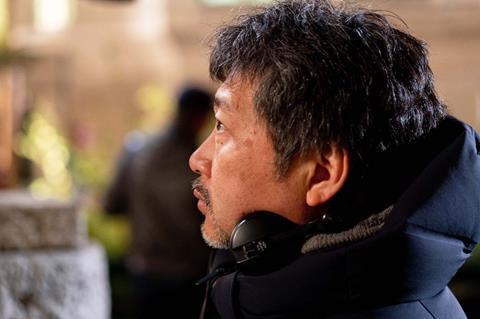 After an exceptional few years in an already world-famous career, during which he won the Palme d'Or at Cannes and made his first film in France, Japan's Hirokazu Kore-eda is being honoured as Asian Filmmaker of the Year at this year's Busan International Film Festival (BIFF).
Speaking to Screen International in the run-up to BIFF, Kore-eda says he feels a strong attachment to the festival: "I made my directing debut about the same time as the festival started, and our histories overlap significantly. I've been watching as the festival becomes an important centre for Asian cinema while making movies myself."
Kore-eda's second feature, After Life, screened in Busan's New Currents section in 1998 after premiering in Toronto.
In addition to his 2018 Palme d'Or winner Shoplifters, highlights of Kore-eda's more than two decades-long career include Nobody Knows (2004), which won the Cannes best actor award; Cannes Jury Prize winner Like Father, Like Son (2013); Our Little Sister (2015), which won San Sebastian's audience award; and legal drama The Third Murder (2017), which swept the Japanese Academy Awards. Shoplifters was also nominated for best foreign-language film at this year's Oscars.
One of the threads running through all these films is an exploration of the truth and its often illusive nature. "If the truth does exist, it may be something humans can never reach," Kore-eda says. So it's appropriate that his most recent work – which premiered as the opening film at Venice and screens in BIFF in Gala Presentation – is entitled The Truth (La Vérité).
Marking the first time Kore-eda has worked outside of Japan, the film stars two of France's most celebrated actresses – Catherine Deneuve and Juliette Binoche – the latter of whom inspired the film's creation, by suggesting to Kore-eda back in 2011 that they should work together some day. Binoche stars as a woman who travels to Paris with her husband (played by Ethan Hawke) and daughter to visit her mother (Deneuve), an actress who has just published a memoir, which turns out to be not entirely truthful.
Kore-eda is known for his thorough preparation – The Third Murder involved months of mock trials with real lawyers – and for The Truth he wanted to ensure his script, adapted from an unproduced stage play he had written in 2003, felt authentically French. To this end, he also decided to work with an entirely French crew. "If I'm going to make a movie in France, I might as well go all in."
He says that working overseas made him feel refreshed as a filmmaker: "I've been making films in Japan for almost 25 years, and you could say I've grown tired of it, to an extent. Working in a whole different environment was very stimulating.
"Most of the cast and crew I use in Japan are familiar with my style of direction," he adds. "But working with new people was like going back to the beginning. I had to properly put my directions into words again."
Those words were aided by an interpreter, whom Kore-eda credits with a great deal of the project's success. He says that the experience left him ready and willing to make another film overseas, but a US film, for example, would depend highly on finding a great English-Japanese interpreter.
One reason Kore-eda may be feeling a bit of filmmaking fatigue is because of his blistering pace. He has been averaging about one film a year for the last decade. "If I wanted to, I feel like I could keep going at this pace for a few more years," he says. "But it is dangerous. I feel like there's still growing I need to do as a filmmaker. I might need to stop for a year or two and soak up the things I lack."