Five former Stars - writer, producer, director and two leads - discuss their collaboration on the Channel 4/Netflix hit.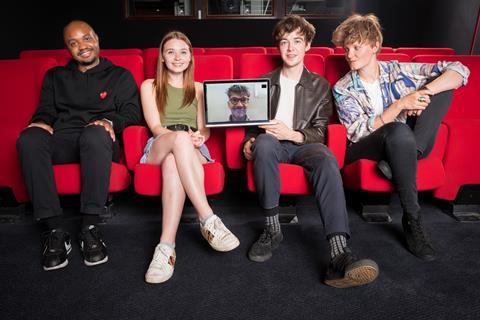 When The End Of The F***ing World made its unassuming debut on Channel 4 in October 2017, no one could have foreseen how the offbeat show about a pair of adolescent misfits would capture the imagination of audiences outside of the UK.
Yet, after it began streaming on Netflix in January 2018, international viewers quickly responded to the story of troubled teens Alyssa and James, who embark on an ill-advised road trip across middle England in search of freedom from the emotional trappings of home.
In celebration of the fact that so many of the show's key talents are Screen Stars of Tomorrow, we sat down with director Jonathan Entwistle (class of 2010), producer Dominic Buchanan (2012), writer Charlie Covell and stars Jessica Barden and Alex Lawther (all 2015) to discuss the making of this surprise small-screen phenomenon. And while news of the greenlight for the second series broke just days after the gathering, it was clear they all believe this particular story has plenty more mileage.
It's great to see five of Screen's Stars of Tomorrow come together to create The End Of The F***ing World. How did it all begin?
Jonathan Entwistle (JE): I found a self-published version of the comic book in Gosh Comics on Berwick Street and thought it was really cool. The name of the guy who wrote the book, Chuck Forsman, was written in pencil on the back of the book. I emailed him, and he sent me all of the ones he had written up until that point.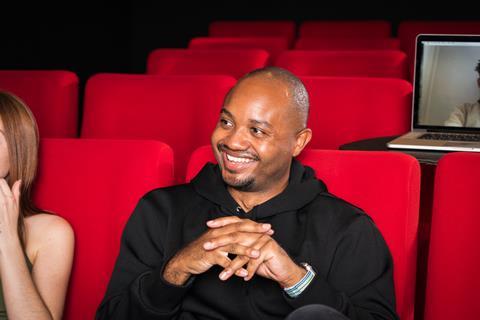 Dominic Buchanan (DB): I was at SXSW with my first film [2012's Gimme The Loot] when you emailed me saying you wanted to talk to me about something and shared one of the comic books. Essentially, as a producer, I said, "I think I know where I can take this and get some money for development."
JE: It's important to know that we set out to make a movie. We made a short film [TEOTFW, 2014], we got some funding from Film4 and we tried to package it like a movie. It became evident early on that the powers that be felt there was no movie to be made. So Dominic and I were stuck with this thing that we knew was good, as the industry was changing around us. We were both obsessively watching Game Of Thrones and Breaking Bad, and we decided that television was an option for us. That happened to be at the same time Netflix was arriving on the scene.
DB: It was in 2015 that we said, "Let's try it as a TV show." Charlie's name came up because Clerkenwell [Films, co-producer] were great fans of Banana, which she'd written for Channel 4.
Charlie Covell (CC): You guys sent me your short film and the comic books. They were mainly from James's perspective, but you could see where the story was going. I loved it and I really wanted the job. Thankfully, they liked the scripts.
Jessica Barden (JB): You were writing [the script] when we met at the Stars of Tomorrow reception in 2015, and we spoke about it. But although I had been in the short film, I never presumed that I would be in [the TV show].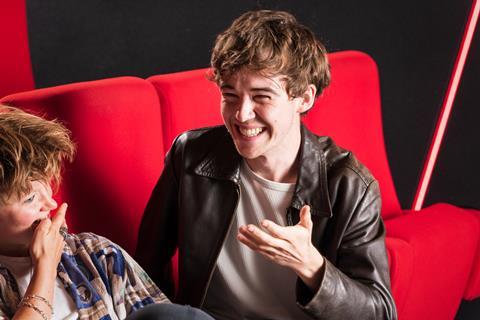 Alex Lawther (AL): I had one audition in London, and then I didn't hear anything for ages so I thought the project wasn't happening. Then we [points to Barden] happened to be in Los Angeles at the same time, and I was invited to another audition, and Jess was there too.
JB: Then we went clubbing and got covered in dry ice! We actually had an Alyssa and James situation in LA, where we were like, "We don't know anyone else here, let's hang out."
Much of the story is told through voiceover and flashback. How did you find that format when you were making the show?
AL: I did a whole week [of filming] and said, like, five "okays" and a "maybe". But there was always the thought that there were so many dramatic links to be made in the voiceover.
CC: He was trusting his future self, that he'd do a good job in the voiceover. With Alyssa, her voiceover is much closer to what she's doing in the moment, whereas James is speaking in the past tense, and he's an unreliable narrator. I remember John saying that Alex needed to remember what the voiceover would be, but he's actually playing something that is kind of contrary to that. He's going to come and undercut himself all the time.
AL: You've hit the nail on the head. It was always about remembering that word "undercutting". We worked out there was a real humour in playing away from what was written in the voiceover.
Did you do the voiceover before or after you shot the scenes?
AL: I was about to say, "No, we did all of it afterwards," but actually we did it daily.
JB: We had to go and sit in someone's car to do it. That was for the assemblies, then at the end we did most of it again.
CC: And I rewrote bits, or added bits. If we'd cocked up a bit and it wasn't clear, we could be like, "Oh, we can paper that over."
JE: That was part of the process. We realised as we were shooting that being able to write the voiceovers on the fly actually took the pressure off what we had to shoot. One of the most complicated things was that this is a show about a boy who thinks he's a psychopath, but he's not actually a psychopath. It's essentially an impossible task for an actor to do. Because inside he has to perform something that's the direct opposite of the thing [the character] is thinking inside his head.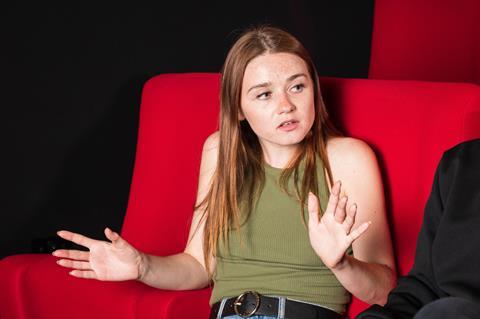 JB: When I finished this job, I was like, "Oh my god, I never want to do another job ever again," because it was so hard. [As Alyssa], I just tried to say everything in the most obnoxious way. And then remembering that, she's actually just really sad.
DB: For audiences, what we picked up on as it was released was that these characters grew on people through the way Charlie wrote them, the way they evolve in that story.
CC: With James, at first you're like, "Oh, some guy wants to murder a girl, I've seen that before." But obviously it's not. He would rather say, "I'm a psychopath," than admit that he has never got over his mum committing suicide. He would rather be a psychopath than admit he can't deal with his grief.
JE: Nobody has made a show about teenagers where instead of the drama being like, "Oh my god, who's going to take me to the prom?", it's, "Oh my god, why did you stab that guy in the neck?" We were out there shooting Fargo, Twin Peaks; we didn't apply the same kind of mindset to [a normal] teen drama, which is, essentially, what they pegged us as. One of my biggest fears for the show was that it was going to be pretentious in some way, shape or form. It's something that you would think might be very inaccessible, with characters that were arrogant and murderous and all the things that the UK television handbook tells you not to make for television. We actually went out and made it unashamedly. And it worked.
Charlie, did you have those film influences in mind when you were writing the script?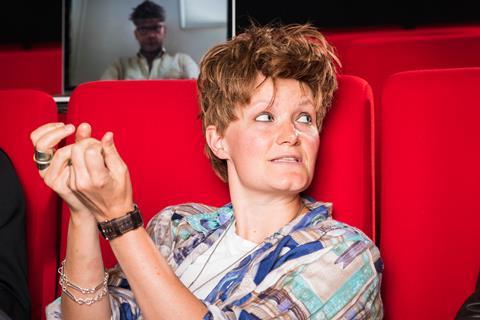 CC: Definitely Twin Peaks and Fargo and, if you watch Thelma & Louise, you will see it's kind of a road map for the story. For example, we initially had [James and Alyssa's] petrol station robbery in episode two, and it never really worked. Then we were like, "In Thelma & Louise, they rob after they kill. Is that what we should do?", and we realised, "Yes, they have the licence to behave in that way after the murder, it doesn't feel like a big deal."
AL: I love that moment when Susan Sarandon's character [Louise], who's been strong and front-footed, as Alyssa is, can't cope anymore. And she has that kind of breakdown, and Geena Davis [as Thelma] sees her companion is in trouble and realises she needs to take charge. I really love that in The End Of The F***ing World too, where James comes into the petrol station and finally they start sharing responsibility for the danger that they're in.
The show has arrived in this golden age of [peak TV], and when the barriers between film and TV are shrinking. What's more exciting for you now: the big or small screen?
JB: I want to be in a film again, I want to work on a film set for three months and then have everybody go to the cinema and watch your film. But obviously I'm an actress and I'll take whatever I'm given. We've all been doing this for a good 10 years, we've had to adapt to how the industry changed.
DB: It still feels funny to say that I'm a film and TV producer. I would like to do more TV but, like Jess said, film is my passion. The way I produced that pilot short film [TEOTFW] was as if it was going to be an indie film.
CC: And people often watched [the series] in one go, like a film. That's what Channel 4 said, "Oh, you've snuck in an indie film."
JE: From my point of view, had this gone down the route of being a feature film, I think we would have done everything exactly the same — only no-one would have seen it. Right now, I don't see the point in making something that nobody is going to see. And what's exciting for me about television is that people love it, and they want to see what you make. How the show went out into the world with Netflix has proved that there's an appetite for smart television.
AL: I would absolutely be open to doing more TV. This is my first long-form TV thing so it was a toe in the water. But it was such a treat to have that amount of time to tell a story.
What would be your advice for this year's Stars of Tomorrow? How should they look to progress their careers and make the most of the opportunity it offers?
JB: If there's anything you can get from the process of making The End Of The F***ing World, it's just be patient. Don't have your head swayed by anything other than trying to be the best, whatever part of the industry you're working in.
DB: To complement that, I would say to stay positive, but also surround yourself with good collaborators.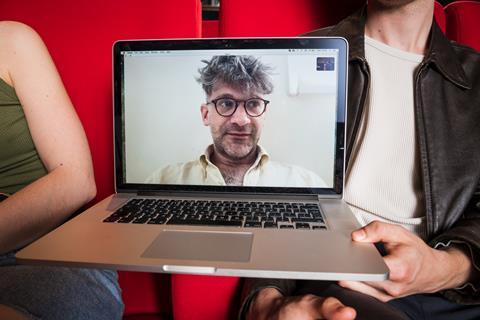 JE: And from a director's perspective, it's really important that modern directors understand the business. You need to know how to be nimble and move your project. It's also about knowing the market you work in, and knowing what is out there and how to utilise it to get your stuff made.
CC: Collaborate with people who share your vision, and don't be swayed too much by what people think will be popular.
AL: The big mantra between myself and Jess on set was, "What would Isabelle Huppert do?"
JB: She would be, like [adopts French accent], "I would not be friends with any of you! Just do your own thing, don't care about anyone else!"