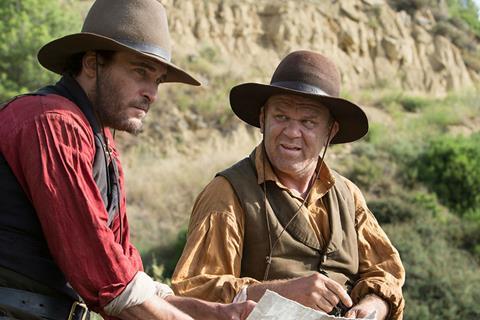 The Sisters Brothers is a film of firsts for John C Reilly – it was the first time he's served as producer as well as actor, and also the first time he's fallen in love with a horse.
The equine connection was with a Spanish horse named Pollito. "My safety was in his hands, his safety was in my hands, we were linked together," he says. "I used to go on the weekends and give him apples, I wanted him to have a sense of me as a presence in his life, not a person coming in shouting orders at him each day."
That sort of sensitive approach reflects the kind of character he plays in The Sisters Brothers: this moving not-quite-a-Western follows Eli (Reilly) and Charlie (Joaquin Phoenix), two brothers who are guns for hire in 1850s Oregon and California.
It was these "sensitive cowboys" that Reilly and his wife and fellow producer Alison Dickey fell in love with eight years ago. Dickey knew Canadian author Patrick deWitt from adapting one of his stories for another of her feature productions, Azael Jacobs' indie comedy-drama Terri (2011), and he let her read the Sisters Brothers before it was published.
She believed the story would make a great film, as well as offering an opportune role for Reilly. "They are 45-year-old men but they are like 12-year-olds. In one moment they are innocents and in another moment they are murderers, thrust upon this life they didn't rally choose for themselves. They are working things out for themselves, on horseback, in real time, in dialogue – which is unusual for a western," she says.
Reilly said he immediately connected with the character of Eli: "There are so many parts of this guy's psychological make-up that I could connect with, being brotherly, the world seeing you in one way and then feeling like you have a whole other reality going on inside you. This melancholy and wanting to be loved."
Reilly wanted to get involved as a producer to help ensure the film would get made. "I'm moving into this part of my career where I am starting to have more of a voice at the table in the very beginning of the project," says the actor, who also was deeply involved in the creative process of Stan And Ollie.
Calling the shots
When it came to attaching a director for the project, Dickey and Reilly approached a leftfield choice: Jacques Audiard, working on an English-language film for the first time after his string of acclaimed French films such as A Prophet, Rust And Bone and Dheepan.
Dickey says, "He's a very muscular filmmaker… and yet there is a delicacy to it too. He could handle the broad parts of the story as well as the nuances. Also, there is a lot of nostalgia about the American West, so he brought a very fresh eye."
Audiard started afresh on a new version of the screenplay with his writing partner, Thomas Bidegain. The director took on suggestions from his collaborators, of course, for example Reilly's hope that Phoenix could play his brother. Reilly says, "I knew from Joaquin's work he was really someone who was going to inspire me and challenge me. He had that visceral, dangerous energy that Charlie has."
Audiard also had the inspired idea to boost the roles of the characters of Warm (a prospector played by Riz Ahmed) and Morris (a detective played by Jake Gyllenhaal). Compared to the book, "they are much more present in the story, much earlier on," Reilly explains.
Even with the A-list cast and Audiard on board, it "took a village" to get the film financed, Dickey says with a laugh. In addition to the couple's company Top Drawer Entertainment, partners include Audiard's Why Not Productions, Page 114, Annapurna Pictures (which also distributes in the US), KNM, Michael De Luca Productions, France 2 Cinema, France 3 Cinema, AGC, Apache Films, Mobra Films and Les Films du Fleuve.
The film premiered in Competition at Venice and has since played Toronto, London and Zurich (where Screen spoke to Reilly and Dickey); Insiders MadRiver handles sales.
Reilly's only regret from the production might be having to say goodbye to his beloved Pollito. "I cried saying goodbye…I thought about adopting him, but he's in Spain, and I can't even keep a plant, how am I going to keep a horse?"