Director Karyn Kusama talks to Screen about securing Nicole Kidman for crime thriller Destroyer, challenging audience expectations and telling stories that transcend gender.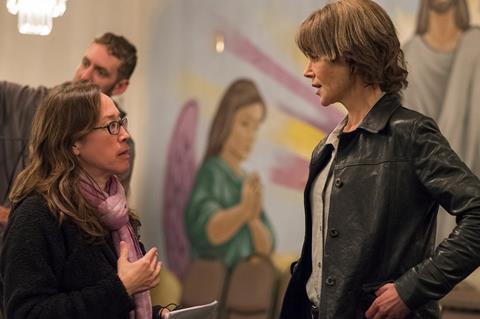 The final scene of Karyn Kusama's crime thriller Destroyer delivers one of the year's most quietly devastating gut-punches. In a grimy Los Angeles underpass, a stone's throw away from the twinkling skyline, spiralling police detective Erin Bell (a virtually unrecognisable Nicole Kidman) sits motionless in her car, contemplating the devastation she has wrought on her own life. It is a cathartic moment for both her and the film's audience, which has felt every step of Erin's painful investigation into a brutal murder — a journey that has forced her to confront both her difficult past as an undercover detective, and her failings as a mother.
That the film proves so immersive is thanks not only to Kidman's transformative performance, but the way in which Kusama has approached this twisting tale of revenge and redemption, slowly breaking open her protagonist's fractured psyche to reveal the trauma within. For Kusama, who once again teamed up with writers Phil Hay and Matt Manfredi with whom she made 2015 horror The Invitation, this intimacy was crucial from the project's earliest stages.
"Something Phil and Matt had always talked about is that, on a structural level, the audience should feel like they are watching the investigation of a crime," Kusama says. "As the movie progresses, we start to understand that this is a character investigating herself. I thought it would be interesting if we could bring the audience into her interior over time, to get closer to the source of her agony."
It wasn't long after Hay and Manfredi completed the first draft of the script in spring 2017 that the project came to Kidman's attention. "She was calling her agent from Cannes saying, 'I read this script, I have to meet on it,'" Kusama recalls of the actress's immediate interest. Kidman's attachment, however, led to some necessary narrative tweaks.
"Phil and Matt had originally indicated the character was in her late 30s, so we had to shift the script a bit to get to late 40s," says the director. "I felt like all the changes we were making deepened the experience of the movie, in that we weren't watching an ingénue in the past be a broken ingénue 17 years later. We were watching a grown, middle-aged woman who made a lot of mistakes as an adult. For me, it made it a much more rich and unexpected experience."
Kusama says Kidman's involvement not only helped the development of the character, but also galvanised the assembling of a largely female behind-the-camera team including DoP Julie Kirkwood, editor Plummy Tucker and production designer Kay Lee. This was, she says, a "conscious decision. I've often said that, the more, quote, 'masculine' the department head role is, the more imperative it is to be putting women in these positions".
Kidman, notes Kusama, also "excited a lot of interesting actors", including Sebastian Stan, Tatiana Maslany and Bradley Whitford, to sign on to the project. While they all turn in powerful performances, Kusama acknowledges Kidman is the star of the show, effortlessly inhabiting a difficult character who is both uncompromising in her appalling behaviour and increasingly sympathetic as her past is revealed.
"It was important that we feel she is challenging, but challenging in a way that you might come to understand," says Kusama of balancing the tone. "That audiences might be willing to put themselves in her shoes."
It's clear that challenging audience preconceptions is something Kusama has long been interested in, as demonstrated by films like 2000 debut Girlfight and 2009's Jennifer's Body. Yet Destroyer's unflinching female protagonist is proving so subversive that the director has been fielding myriad questions about taking on such 'masculine' terrain. She responds to an observation that the film is not inherently masculine, but simply an exploration of another facet of the female experience, with genuine enthusiasm.
"I'm so thankful that's how you see it!" she exclaims. "How we see womanhood in general is this divided, very binary experience. Of, literally, good and evil, mother and whore. And it diminishes us if we say that this kind of narrative is, itself, masculine. I do see Erin as part of, I hope, a larger narrative tradition, which is about the idea of simple conflict. Conflicts with nature, conflicts with another, conflicts with yourself. They are universal stories which if we assign gender to them, is really missing the point."
In terms of it being a filmmaker's responsibility to proactively present different viewpoints, Kusama is measured in her response. "It starts to feel like public service when you are asked to, quote, 'represent'," she says. "But I do believe that it's important that we burrow into a certain kind of personal specificity. That specificity is, in some respects, fulfilling the goal of representing. You have to be specific, in order to accurately represent your corner of the world. My hope is that, as artists, we occasionally feel empowered to stretch beyond what we think we know into areas we don't."
Emotional authenticity
Authenticity has always been key to Kusama, who spent several years immersed in the world of amateur boxing before making Girlfight, and it's a trait that lends Destroyer much of its visceral power. It's an undeniably devastating watch and, similarly, proved to be an "emotionally draining experience" for both director and star.
"Erin makes a very profound journey," notes Kusama, "and that is something I had to remain emotionally open to. The ancillary sorrow of her life, and all of her regrets and shame, it inevitably bled into daily life. It wasn't easy for Nicole to switch between the lighter, airier Nicole versus the much heavier, much more anguished Erin Bell. So she stayed with Erin, and so did I, during the shoot. She needed somebody to be there with her. That was part of my job.
"It was an intense space to occupy but as a director it's a privilege to tell stories that dare to challenge an audience emotionally, and to ask something of the audience," Kusama continues. "I wouldn't trade it for the world. But there's a reason I'm speaking to you now with the worst head cold of my life. It's all caught up with me. It's all landed right between my eyes."
Destroyer, which was fully financed by 30West, is released by Annapurna in the US on December 25 and Lionsgate in the UK a month later.