Every new Laika stop motion animated film demands something new. The studio behind Missing Link, Kubo And The Two Strings, The Boxtrolls, ParaNorman and Coraline aims do something practically, or in-camera, but bring cutting-edge technology into the process at the same time.
It has led to Oscar nominations for best animated feature for all its titles as was as a visual effects nomination for Kubo and the Two Strings in 2017 - only the second time an animated film had received that recognition from the Academy.
Since its inception, Laika has been innovating new methodologies to expand the universe of potential stories that can be told through stop-motion animation and today employs traditional stop motion, 2D, motion capture, 3D printing, CG, stereoscopic cinematography – whatever helps tell the story and establish character.
Traditional meets cutting edge
Laika's "hybridised" filmmaking process combines old-school methods with cutting-edge technology to push the boundaries of the medium and has distinguish the studio on the animation scene.
Brian McLean, Laika's director of rapid prototyping, says: "As far as the use of 3D printers in the filmmaking process on Missing Link, it was similar to ripping the engine out of a car and starting from scratch."
McLean, who was awarded the Scientific and Engineering Oscar plaque in 2016 and was part of the VFX team nominated for an Academy Award for Kubo and the Two Strings, adds: "For the first time in any Laika film, we actually embraced a full shot-specific animation philosophy where in past films - because we were 3D printing every single face - we oftentimes would reuse facial expressions for different shots throughout the film.
"But for Missing Link, we actually produced faces unique for every single shot. Instead of a facial animator having to pick from a library of pre-existing expressions, they had the opportunity to start with a clean slate. They would create custom animation, timings, reactions and responses based on exactly what the shot needed. And I think that was extremely important to allow that comedic timing to come through in our film.
"We ended up producing over 106,000 faces. To put that in perspective, our first film, Coraline, had about 20,000 faces for the entire film and our most recent film, Kubo and the Two Strings, had about 64,000."
Inspired by the Rankin/Bass Christmas Specials of the 1960s and 70s as well as Ray Harryhausen's King Kong, McLean says: "Laika has essentially resurrected this 100-year-old technique of stop-motion animation, but we're not afraid to fuse it with cutting-edge new technologies or create hybrid films with CG elements, all in the service of having this classic cinematic medium compete with its flashier CG cousins."
When considering the choice between stop-motion and a fully computer-generated feature, McLean says: "It's akin to asking an artist 'why draw or paint this still life or portrait when you can just take a photograph of it?' We think there is an artistic challenge to what we do…it's a bit of mystery when the alchemy of real light on real objects is transferred to the screen.
"I look at Missing Link and I feel very proud of the imagery that we have produced. And knowing that it's a team of over 400 artists and technologists that has brought those images to life only increases the sense of wonder that we all feel when we finally see it on a screen in a theatre."
McLean highlights how the studio combined fresh hardware with software to generate a "game changer" in terms of production on Missing Link.
"The range of characters and director Chris Butler's specific character designs - particularly Sir Lionel, Mr. Link and Adelina - drove the rapid prototyping department to find a brand-new 3D printing technology to make the faces possible," McLean recalls.
"We've used the same basic technology since ParaNorman to produce colour-infused facial parts, but starting on Missing Link we opted to turn to our long-time Rapid Prototyping partner Stratasys for a new technology. We used Stratasys' brand new J750 full colour 3D printers combined with the universal 3D printer driver 'Cuttlefish' from Fraunhofer, a German research institute.
"That strategic partnership among these three entities was unique to Laika; the unique hardware coupled with the Cuttlefish software created a huge game changer for us on this film."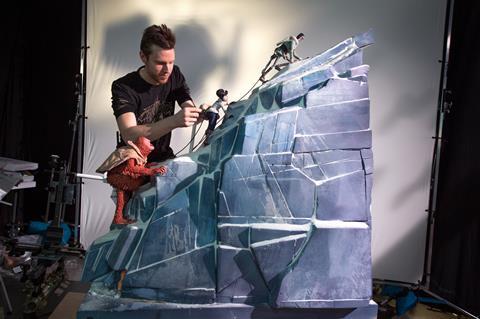 VFX challenges
The visual effects work on Missing Link was not dissimilar to the efforts made on epic superhero movies, according to Oscar-nominated VFX supervisor Steve Emerson.
"People tend to think of us in terms of traditional 2D animation or they think of us in terms of computer-generated animation," he says. "But the reality of the work that we're doing here is that it is live action because of the puppets and real objects/sets, etc. to which we apply photo-realistic visual effects. So, you know, we have actors just as a live-action film would have actors."
Emerson adds that Laika's actors were somewhat different to the norm.
"We shoot those actors on green screen sometimes," he explains. "The difference is that our actors happen to be 10 or 12 inches tall as opposed to six feet. And they're photographed over the course of weeks, one frame at a time, as opposed to capturing an acting performance on a live-action set.
"But the process itself of creating visual effects for this film is very much live action-based. So, everything is much smaller. Everything takes a lot more time, but it's a live-action visual effects workflow."
Comparing the leap from Laika's previous work to Missing Link, Emerson says: "On Kubo, all the action was set in mythical Japan. You are moving from environment to environment, but it's still very much unified by that Japanese aesthetic. In Missing Link, we're going from Loch Ness to London, to the Pacific Northwest and the Southwest of America, crossing the country to New York…across the Atlantic Ocean to end up on the Coast of France. Then it's onto a train to end up in India before arriving at the base of the Himalayas and that's before we even get to Shangri-La.
"It was important to the team, and certainly to our director, that the VFX department didn't just create generic digital 'extras' or environment extensions, that could be reused across all these cultures. Instead, we had to create unique costuming, unique characters, with different skin tones and facial features for each and every one of these different cultures. It was, by far, our biggest VFX challenge on this film."
Cracking the 'fur' code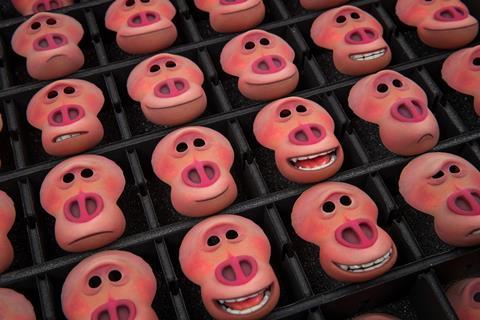 The puppet department, headed up on Missing Link by John Craney and Georgina Hayns, had its own set of challenges when presented with the character designs on the film, which were conceived by writer-director Chris Butler.
Fur is one of the hardest things to pull off in stop motion, which certainly presents a challenge to a film in which a fur-covered Sasquatch is the main character. Put simply, the puppet department had to crack the code on how the fur was to be created.
Weeks of testing with different fabrics ensued: all kinds of fake fur were tested and finally a solution was found that produced lifelike fur. But the 'fur' issue presented other challenges for the puppet fabrication department.
"Our Mr. Link character goes through many different environmental situations," says Craney. "We needed the fur to move, to be animat-able. That was one of our biggest challenges…but working together we came up with a solution."
Animation supervisor Brad Schiff says: "We did things with Link that have never been done before. Not only was there squash and stretch, but Link also has a breather and a belly mover. When Link sighs, he is actually inhaling and exhaling breath. He also has a belly mover so his large belly could bounce as he walks.
"He is a funny character and the way the puppet was created helps us communicate that humour. I don't think Link is the first puppet that has ever had a belly mover, but it's definitely the first time we had all these elements in one puppet."
Practical effects supervisor Ollie Jones, who along with Schiff was Oscar-nominated for VFX on Kubo and the Two Strings, says: "We've worked on lots of bigger puppets over the years including the Giant Skeleton in Kubo. For the elephant in the jungles of India, we again collaborated with the puppet department on the skin, which is very loose.
"When you see those legs moving, you can see a lot of stretch happening in the gussets of the armpits. A lot of silicone and mass had to be weighted against the actual armature. We implemented gas springs that helped to alleviate some of the tension, with some elements like the head, driven with a rack and pinion. That resulted in the ability to tilt the elephant's head without springing around."
Rigging also played a huge part in the climactic scene on the ice bridge in the Himalayas when Mr. Link – the film's heaviest puppet – is dangling from a rope. "It was an enormous collaborative effort with the puppet and VFX departments to support our heaviest hero character in that situation," Jones recalls.
"I'm not sure we've ever had a puppet swinging over a frozen crevasse supporting multiple other puppets on a rope. The rigging department created an enormous network of mechanical tethers to support that action, even artificially stretching Mr. Link as he swung like a pendulum."
Tailoring costume design
Laika's costume designer Deborah Cook felt a keen mandate to enhance Chris Butler's comedy through the film's costuming. "Looking at the characters, the dialogue, and the comedy factor in Chris' story, my job was to find components in costume that would really support that vision and bring out our characters' individual personalities," she says.
"For example, Link steals a suit from someone in the Pacific Northwest logging town. Being wedged into that suit is going to contribute to the comedy factor given how it fits around those lovable curves. It's very pinched under the armpits and the front of the vest is extremely tight, fur tufts are poking through in areas and the legs and arms are too short. It grips around that wobbly belly. That provided a comedic aspect to this costume. Finding those elements of the silly factor and the essential nods that support the narrative was imperative and a very rewarding process."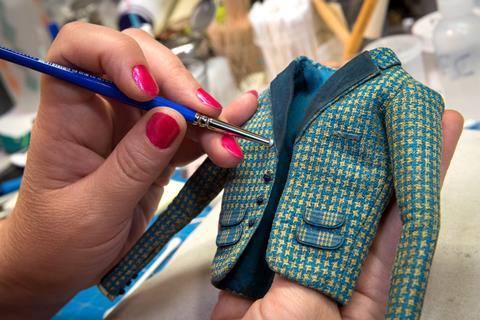 It builds on the work Cook achieved on Kubo and the Two Strings, for which she was nominated for the Costume Designers Guild award for excellence in fantasy film - the first time a stop motion animated film had ever been recognised by the organisation.
Sir Lionel's suit is another example of how costume reveals character, according to Cook who says: "The shaping of the hounds tooth pattern in his suit is very sharp, very elegant. It's tailored and sleek. It's kind of pinched and pointed in its pattern and that supports Lionel's personality, but also gives a formality and a 'city gent' aspect to his clothing. When you see his suit, you expect certain behaviour, as you do when Link appears in the ill-fitting suit.
Speaking about the character Adelina, voiced by Zoe Saldana, Cook says: "Her costume very much reflects that she is a rebellious woman. When we first see her, she's wearing a mourning dress following her husband's death. She wears a cameo that might have a lock of hair or a portrait of her husband that she is wearing close to her heart. But the colour of the dress is vivid fuchsia. It's not the Victorian dusky grey, navy or black that would traditionally be used for a mourning dress.
"The audience registers there's something underlying in the choice of colour in that dress that propels the story forward but also gives you a clue to her personality. She's trying to fight her way out of that mourning phase and move into a more adventurous way of life. Costume helps propel the narrative in a film."
As the character moves into a more adventurous phase, Cook explains: "Adelina's adventure suit is a swan-bill corset, which is super sucked in and tight, very curvaceous and a little racy and a very liberating progression from a Victorian corset or bustle which was very constricting, big and bulky, and hid the female form.
"She wanted to wear those pants. They're big, voluminous and agile. They would in that era but on the brink of still being considered underwear or gym wear for a woman, but she was not having that. She was very risqué and going to wear exactly what she wanted to have her adventure in life."

American stop-motion animation studio specializing in feature films. The studio is best known for its stop-motion feature films Coraline, ParaNorman, The Boxtrolls, Kubo and the Two Strings and Missing Link.