Theroux, director John Dower and producer Simon Chinn tell Screen about making their "ambitious cinematic documentary".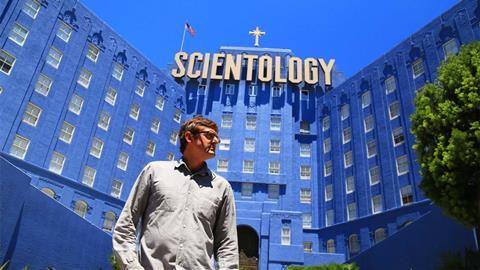 The idea behind Louis Theroux's My Scientology Movie was not promising: a 90-minute theatrical documentary about a famously secretive organisation that would almost certainly refuse all access. And yet from these unpromising beginnings, Theroux's debut feature has become one of the UK box-office success stories of the year, grossing $1.4m (£1.1m) to date.
Theroux's documentary specials and series for the BBC, including Louis Theroux's Weird Weekends and When Louis Met…, have earned him a huge following in the UK, and he has described making a doc about the Church of Scientology as his "Holy Grail". When he was planning the film with Simon Chinn, Oscar-winning producer of Searching For Sugar Man and Man On Wire, and writer/director John Dower (Thrilla In Manila), they needed to strategise how to explore allegations of violent abuse against the church's chief figurehead, David Miscavige, without being able to speak to any current members of the church.
Their approach was inspired by Joshua Oppenheimer's The Act Of Killing, in which Indonesian death-squad leaders re-enacted their gruesome crimes during the country's 1965-66 genocide in the style of Hollywood movies. A chillingly convincing actor, Andrew Perez, was hired to portray Miscavige and recreate alleged misdeeds, with these scenes directed by Scientology whistleblower Marty Rathbun, who claims he witnessed the incidents first-hand.
During the filming, however, events took a bizarre turn when Scientologists started following Theroux and his production team, claiming they were making a documentary about him.
Following its world premiere at the BFI London Film Festival in 2015, Altitude Film Distribution acquired the doc in March this year and released it in the UK on October 7 in 26 cinemas, before expanding. The innovative release strategy centred on a live Q&A with Theroux at London's Royal Festival Hall, which sold out in 24 hours, made $56,000 (£44,000) and was beamed via satellite to cinemas around the country. Altitude also taped the Q&A for cinemas unable to broadcast it live. The resulting pre-sales were so strong, according to Altitude head of distribution Hamish Moseley, that they knew the film would be a sizeable hit even before it was released. "Usually £250,000 [$317,000] is quite a serious hit for a theatrical doc," says Moseley, "so we were aiming for that. We never assumed it would do £1m [$1.26m]-plus."
Theroux, Chinn and Dower sat down with Screen International to discuss how they pulled together My Scientology Movie, and why the long road to find a UK distribution partner — combined with Theroux's 1.5 million Twitter followers — helped deliver its impressive box-office result.
How did you get the film off the ground?
Simon Chinn: It started with Charlotte Moore, who was Louis' big champion at the BBC. At that point, she was head of documentary and in the intervening period she's become the most powerful person at the BBC, the director of content. She was a good ally. Then I started talking to BBC Films separately; we were already talking to BBC Worldwide, who are big investors, so I felt they naturally should be a part of the project. It was a somewhat unprecedented coming-together of BBC Films and BBC Worldwide. The BBC were very supportive but they wanted us to jump through some development hoops. We basically started with a blank sheet of paper, so the development process was more about demonstrating that there was actually something to go out and film. It was about getting access to our principal characters, so one of the first people we met and got on board was [Scientology defector] Marty Rathbun. The BBC were happy to take a punt.
Was it always conceived as a theatrical feature?
Louis Theroux: You can have a 90-minute film on TV but it's not quite the same. I wanted this to be in cinemas; I aspired for it to have the ambition of a theatrical feature doc. For a long time in my own TV docs, we'd think, "This is so rich, it should become a 90-minute theatrical film." But it didn't happen and I realised that the ambition had to precede the actual making of it. We didn't stumble into it. We made a commitment to make an ambitious, cinematic documentary about a subject to which we had no access but through creativity and resourcefulness we delivered.
How did the fact it would be in cinemas affect how you made the film?
John Dower: Really small, boring technical things, like finding the right codec [a computer program for compressing video files] to shoot on, so it looks good when it's projected onto the big screen. Louis likes shooting stuff in cars because it has that confessional quality and it works very well with his interview persona, so I got my DoP [Will Pugh] to put up a very elaborate rig on the car which had a Sony F65 [digital cine-camera] shooting inwards and a EOS c300 shooting out. For a scene where Louis wanted to take us through the Scientology training routines, we decided to pose it on a set. One of our inspirations was the George Lucas film THX 1138, that white room and fixed cameras, to give it that slightly unreal sci-fi feel. The score [by Dan Jones] was recorded by the BBC National Orchestra of Wales. That makes a big difference when you're watching it in the movie theatre. People throw that word "cinematic" around all the time but one of the key things is having a fantastic score.
Was it difficult persuading distributors to come on board?
SC: [Having Louis] was double-edged. Persuading the distribution community that a film with Louis would translate and move from a TV audience to a film audience was quite a challenge, but the proof, happily for us, was in the pudding. I think the distributors who said no are now slightly regretting it.
JD: When the film screened at Tribeca Film Festival, I had a slightly drunken argument at dinner with a UK distributor who started saying, "Yeah, but Louis is too TV." I said, "Have you seen this film in a movie theatre? It plays so well."
What lessons could other UK documentarians take from My Scientology Movie?
LT: Having the ambition of the idea. For us, having me was helpful in some ways, but unhelpful in others. But having a really strong idea that takes it out of the realm of traditional doc-making, where you get that you're going to see something creative and different, not just the sort of access-based ramble. Make something with higher production values and make it more spectacular. A lot of docs also suffer from not having a third act. Certainly that's been the case with some of mine. They tend to peter out a bit. We knew that because we were driving the narrative, and I'm a protagonist throughout the film, we had a really nice build to it. Things start going off like fireworks towards the end.
SC: It's about putting on a show. Also, commercially you must have a subject that travels internationally. Scientology is that kind of subject.
What helped its box-office performance?
LT: Bizarrely, the long gestation of the distribution helped. Everyone seemed to know I was making a Scientology film and couldn't figure out why it wasn't out there. I would normally never [tweet] before I'd made a film, I'd go under the radar until I was ready to go. But there were many rules that we had to break during this and one of them was we needed to be public early on, almost to shake the bushes because we will be part of the story.
SC: The longer we failed to get distribution, the better it worked for us. We were inadvertently building the audience for the film.
JD: In this day and age, Louis' Twitter feed is a great promotional tool.
Finally, Louis, are the Scientologists still after you?
LT: They've gone quiet. They said they were making a documentary about me but it's not out yet! It's standard for them; they did one about [Going Clear director] Alex Gibney. It's a ruse because what they really want to say is, "We weren't harassing you and following you around and filming you unexpectedly, we were being journalists just like you."