The French city of Marseille and Aix Marseille Metropolis are reinventing themselves as a creative hub and want London to be part of their new story.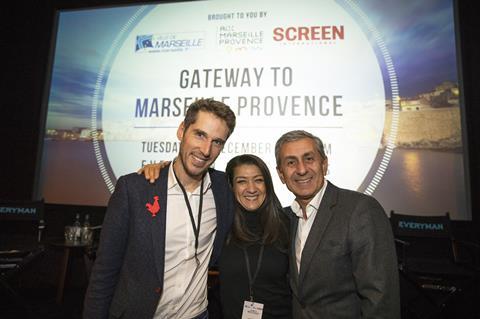 The warmth of the south of France filled the Everyman Cinema in King's Cross, London in early December as a delegation from Marseille showcased the Mediterranean port city's burgeoning creative industries at an event co-hosted by Screen. "We want to make you fall in love with Marseille as a place to shoot your films and also develop your technology projects and start-ups," said Didier Parakian, Marseille deputy mayor and president of the Aix Marseille Provence economic commission.
The fashion designer-turned-politician steers Marseille's economic strategy, and led the 20-strong delegation alongside deputy mayor Serena Zouaghi, who heads the city's cinema and audiovisual sector. The evening was part of an on­going drive to transform the city, and wider Aix Marseille Provence Metropolis, as a hub for the creative industries, with a special focus on the film and TV sector as well as new digital technologies.
Since the creation of a cinema and audiovisual office in 2009, Marseille has seen its popularity as a location grow. It hosted more than 500 separate shoots in 2017, making it the second most popular city location in France after Paris.
High-profile productions that have set down include Netflix's first French-language series Marseille, hit Chinese show Family On The Go, Taxi 5, and Kinology and TF1's Overdrive, starring Scott Eastwood. In a fresh coup, the city is soon to host US action title Den Of Thieves 2, starring Gerard Butler.
Many faces of Marseille
Parakian credited Marseille's growing appeal to multiple factors, including the quality of its crews and infrastructure, France's 30% tax rebate for international production, or TRIP, which can also be combined with a new local city incentive, as well as its sunny climate and multiple backdrops. "Marseille is unique — it's a French city, it's a European city, it's a Mediterranean city and it's also a North African city. It's every­thing you need it to be," he said.
Monaco-based producer and location manager John Bernard of Peninsula Film echoed these comments in relation to the upcoming Den Of Thieves 2, to which he is attached. Bernard recounted how US writer/director Christian Gudegast had been looking for somewhere in Europe where the production could "create a diversity of countries, people and looks".
"After several conversations, we both agreed the only place we would and could scout was Marseille. Within Marseille and the region, we can recreate Croatia, Montenegro, a little bit of Italy and southern Corsica," he said of the film, in which Marseille will also feature as a backdrop in its own right.
Other Marseille-based professionals speaking at the event included Sabrina Roubache, founder of innovative film production and finance company Gurkin Invest, and Atlas Vidal de la Blache, CEO of location services outfit La Prod du Sud.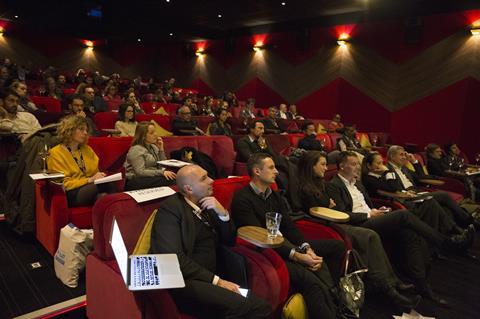 Both described Marseille as an open, can-do city, with fresh opportunities. "When you're in a city like Paris, there's more competition," suggested Vidal de la Blache. "It's a bit saturated. When you arrive in Marseille, it's like a free land and everything is possible."
These sentiments were echoed by Matthew Parker, a member of the inward investment team at Film London, who cut his teeth in the location business in Marseille and retains strong links with the city. "Marseille has the advantage of having a lot of space," he said. "It reminds me a bit of London 20 years ago, when a lot of old industrial spaces were being regenerated by artists and that gives the city a certain openness to experimentation."
UK actor Jamie Bamber, who relocated to the Aix Marseille area from Los Angeles two years ago before returning to the UK, spoke about the ease of living and working between the cities of London and Marseille. "It's one of the places on the Mediterranean that has been neglected by all the tourist brochures," said Bamber, whose credits include a long-running role in NBCUniversal's TV series Battlestar Galactica. "That's why it's such a wonderful place. You feel you discover it yourself."
The evening also promoted Marseille's growing digital technologies sector. This has sprung up in part due to the city being the continental European landing point for 13 submarine telecommunication cables, coming from as far afield as the Gulf, India and China. "For centuries Marseille was a key port on the world shipping trade routes. Today, those cables follow the same routes," said Marseille-based tech expert Mathieu Rozieres. "The fact they land in the city has given us an advantage for creating a start-up culture."
As well as being the CEO of digital content company Black Euphoria, Rozieres is also head of the Aix Marseille branch of the state-backed French Tech initiative aimed at fostering start-up hubs across the country. One of his ambitions is to encourage co-operation between local start-ups — working in areas such as VR, artificial intelligence and motion capture — and the local creative and cultural sector. He is currently developing a pilot project with Mucem, the state-of-the-art museum that opened in Marseille's regenerated port area in 2013.
"It will be a living lab allowing start-ups to prototype and then get near-immediate feedback from visitors," said Rozieres. "We're very keen to welcome in partners from outside Marseille and France to join us in this venture."
Speakers at the Marseille event were: