Oscar nominated in both the documentary and international feature categories, Honeyland has made its makers and its country of origin — North Macedonia — proud.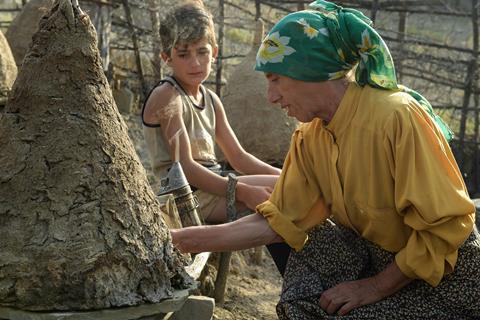 Tamara Kotevska and Ljubomir Stefanov have already made Oscars history long before the gold statuettes are handed out. They are the first Macedonian filmmakers to be nominated for an Oscar in 25 years; their film Honeyland is also the first to be nominated in both the best documentary feature and best international film categories.
"It's still unbelievable. For our country, this can change the prospects for Macedonian film," says Kotevska, still flabbergasted a few days after the double nomination for their debut feature was announced. "It's exciting to see what's waiting for us next."
The filmmaking pair had previously collaborated on 2017 documentary short Lake Of Apples, which was commissioned by the United Nations Development Programme, and following its completion had travelled to the Bregalnica river region in North Macedonia to research stories for another environmental short film. "That's when we came across Hatidze," says Stefanov, "and the rest is history."
Wild tales
The pair knew they had a fascinating protagonist in sixtysomething Hatidze Muratova, a member of the country's Turkish minority living in a remote mountainous village and one of a dwindling number of people collecting honey from wild bees. In addition to her work with the insects, she also had a special relationship with her bedridden 86-year-old mother Nazife, which evoked a Grey Gardens vibe.
On top of those strong story­telling foundations, unexpected drama began to unfold when the Sam family of nomadic herders moved in next door, starting their own beekeeping business and disturbing the delicate balance of nature that Hatidze had worked so hard to protect. In a quest to support his family of seven children, poverty-stricken father Hussein does not follow Hatidze's motto of "half for me, half for you" — leaving half the honey for the bees to continue thriving.
While that storyline seems like a gift from the filmmaking gods, it was not an easy shoot. The skeleton crew — Kotevska, Stefanov, cinematographers Fejmi Daut and Samir Ljuma, editor Atanas Georgiev and sound designer Rana Eid — shot in a village without roads, electricity or running water, sleeping in tents in extreme heat and cold. "We had to be enthusiastic to get through it," laughs Stefanov.
They shot for about 100 days over the course of three years, amassing approximately 400 hours of footage. Often, they separated into two small crews — "one with each family so we could cover everything", Kotevska adds. "We would talk about our approach before each shoot."
Using only natural light, they filmed mostly handheld, bee-on-the-wall style — apart from a single drone shot at the beginning of the film, which captured Hatidze scaling a rock ledge to reach a beehive. Inside the rustic stone cottage where Hatidze and her mother live, "the door, the window and the candle was all we needed for lighting", Stefanov says.
They took the unusual decision to edit the material visually without knowing what was being said in each scene — the filmmakers were not familiar with the ancient Turkish dialect spoken by their subjects. "We started building a logical story on mute and then waiting to see what the transcript would bring," Kotevska says. "We wanted to tell the story visually first."
When the transcript of the dialogue arrived, they were thrilled to see their editing approach had worked. "The film didn't go through many changes from rough cut to final cut," Kotevska adds. The documentary treats both families with respect — without any judgment on the poverty facing them — and even though Hussein disrupts the bees' ecosystem, Hatidze grows close to the Sam family's children.
Navigating the footage to craft the story they wanted to tell was helped by the directors' complementary backgrounds: Kotevska studied directing at the Faculty of Dramatic Arts in Skopje in Macedonia, while Stefanov came to filmmaking from his work as an environmentalist. "We have a lot of discussions and a lot of idea sharing," she says. "It's good to be from different backgrounds, it helps us to cover all aspects of the story."
Honeyland's themes of personal sacrifice, familial bonds, protection of the natural world and the end of old ways of life has resonated with wildly different audiences around the globe. "People in the US or India or China react the same way to Hatidze's story," says Kotevska.
At its world premiere at the 2019 Sundance Film Festival, Honeyland won the World Cinema grand jury prize and went on to screen at dozens of festivals including Hot Docs, International Documentary Filmfestival Amsterdam, New Directors/New Films, Doc NYC, San Francisco, Hong Kong, Seattle, Shanghai, Athens, Visions du Reel and Mumbai. On its path to Oscars glory, it garnered awards nominations including from the International Documentary Association, Critics' Choice, Cinema Eye, Producers Guild of America, Independent Spirit and Directors Guild of America.
Backers of the film include the Swiss Agency for Development and Cooperation, the Nature Conservation Programme in Macedonia, the Macedonian Film Agency, SFFilm Documentary Film Fund and SFFilm Invest, a programme of SFFilm and Cinereach. Submarine handled the US sale to Neon after Sundance, and Deckert Distribution represents international sales.
As the film has taken off worldwide, Kotevska and Stefanov say they are "still friends" with both families and contribute to them when they can. They helped Hatidze buy a house in a nearby village with award money they received from Sarajevo's CineLink when the film was presented as a work in progress, and donated a car used for the shoot to the Sam family. The film's website allows for donations so supporters can help Hatidze and the Sam family while receiving a sample of that famous honey.
Kotevska and Stefanov, who were on a writing break in Ecuador when the Oscar nominations were announced, hope to work together again, but are also shaping their own projects. Kotevska has a fiction feature planned, and Stefanov is working on a feature animation idea. They hope their historic Oscar nominations shed light on more stories from the region.
"We hope the world wants to see more from Macedonia," says Stefanov. "We hope this will be a motivation for filmmakers from our region.