How has the pandemic affected the kind of scripted shows audiences will be demanding? Screen talks to producers and executives about current trends in form and content for TV drama development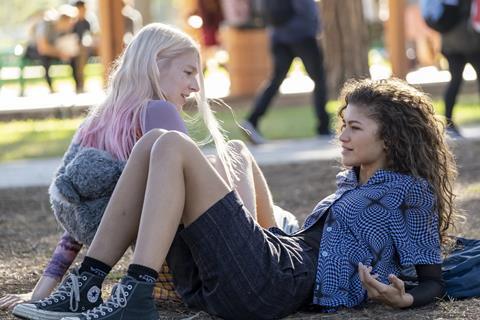 Talk to drama producers about how Covid-19 has affected their development slate and one thing becomes apparent: while a few existing series did quickly tweak story­lines to take account of the pandemic, there is no rush to nurture new shows with this particular subject matter. Unsurprisingly, another consensus emerges too: there is a strong development focus on projects that are variously entertaining, funny, romantic, escapist and optimistic.
Audiences have endured the pandemic for nearly 18 months so, the thinking goes, they will be less inclined to seek out downbeat or brooding content in the (hopefully) post-Covid-19 world. "There's little room for bleak at the moment," says Nicolas Brown, director of film and TV at Neal Street Productions, producers of Call The Midwife and Britannia.
By way of example, Neal Street has just optioned Kirsty Capes' debut novel Careless, a coming-of-age story about two teenage girls set in 1999 on a housing estate. "Tonally, it's joyous and funny," says Brown.
Das Boot executive producer Moritz Polter, who is launching a high-end scripted label in Germany with ITV Studios, has also put more emphasis on lighter, entertaining material. "When we talk to the streamers or broadcasters, we do get a sense that lighter material would get greenlit faster," he says.
Brown, however, points out the pandemic will not fundamentally change the nature of many dramas being developed by indies. The development process is a long one, he notes, and most indies are still working on ideas they had before the Covid-19 outbreak. Likewise, drama staples such as true crime, real-life stories and police procedurals will always remain in demand.
Moreover, Lorenzo Mieli, CEO of Rome-based The Apartment Pictures, a co-producer on The New Pope, My Brilliant Friend and Luca Guadagnino's We Are Who We Are, believes experiences of dark times do not necessarily lead to audiences seeking lighter fare, citing the success of Italian neo-realism in the 1940s and '50s in its home country. "You would have expected that people after the Second World War and fascism would have wanted comedies, but neo-realistic cinema was the most successful form of entertainment at the time," he asserts.
The pandemic has, however, encouraged producers to subtly rethink what they are developing as they gauge the mood of post-lockdown audiences. For some, this rethink is taking place amid concern audiences may want to break away from their screens after bingeing on content while stuck at home.
Alice Tyler, director of development at Chernobyl producer Sister, reckons audiences are grappling with content fatigue and overload, making it harder for shows to punch through. In her opinion, dramas need to have something to say and must "announce themselves" as different from everything else. "You've got to cherrypick what you develop, and it has got to be the best of the best," she says.
Others question what the post-pandemic world will look like and, specifically, how to reflect life in contemporary dramas. Even though audiences might not want to watch a drama about Covid-19, should contemporary scripts be set in a world where people may wear masks out of habit? Or should they completely ignore anything pandemic-related? Will the post-pandemic era be a hedonistic rerun of the 1920s Jazz Age, or a more subdued, austere time?
Tracey Scoffield, co-founder of Turbine Studios which co-produced Steve McQueen's Small Axe film series with Emu Films, BBC and Amazon Studios, believes there is a risk of writing something that quickly becomes dated, because the pandemic is still shifting and changing. "People are hesitant about how to tackle it," says the producer, noting the project she hopes to work on next is "slightly science fiction, set in the real world but slightly in the future". Adds Scoffield: "It's a relief I don't have to think how we factor the post-pandemic world into the story."
Time shifting
Another way to avoid the pandemic is by taking the period drama route. Rather than the bonnets and breeches of the 19th century, there is a distinct focus on what Brown describes as "near period" shows. These are dramas set in the lifetime of adult audiences, like the 1980s or '90s, as Russell T Davies' It's A Sin did so successfully. Recreating this pre-digital era on screen allows both adults and younger viewers to reflect on how much the world has changed in such a short space of time.
If not the near past, producers can always opt for "unknown time", says Polter, citing the movie Joker, which was slightly futuristic and retro at the same time. Other dramas, such as HBO's Euphoria, are unspecific about where they are set — giving them a more universal aspect.
All producers point to a greater focus on representation and inclusivity in the stories they are developing. "There's a continuing shift towards stories that haven't been told before," says Jamie Campbell, co-founder of Sex Education producer Eleven. Eleven recently ran script-editing scheme Duly Noted for ethnically diverse creative development professionals.
"A significant part of our focus is working with people whose stories have not been represented in the past, and whose stories, as it turns out, are some of the most exciting that you can conceivably tell," says Campbell, citing a project Eleven is currently developing, a crime drama based on real events set in South Africa with an entirely non-white cast.
A climate of change
Another focus is the environment, with the pandemic having raised questions about humankind's relationship with nature. Mieli notes that younger audiences in particular are acutely aware that climate change threatens the very existence of the world they are growing up in. In part they need relief from this, with funny and entertaining drama. But they are also looking for stories about climate change that are "non-pedagogical", that give them a sense of purpose and representation. "If I was a creator of series, I would spend all my time thinking about this," says Mieli.
Nina Maag, head of high-end streaming content at Bavaria Fiction, says its development slate has "definitely" changed over the past year, with a focus on escapist projects such as the reboot of sci-fi series Orion as well as fantasy, comedy and dark crime. "Viewers want to be whisked away on a dramatic adventure and entertained with strong, imaginative storylines," she says.
Mario Gianani, co-founder of My Brilliant Friend co-producer Wildside, says the pandemic has been an "accelerator" for some projects it has been developing. Among them is a series about Audrey Hepburn — born Audrey Ruston — written by Jacqueline Hoyt (The Underground Railroad). Starting with Ruston's early life growing up in Nazi-occupied Netherlands, Gianani describes it as a story of resilience followed by success, which may chime with contemporary audiences. Gianani is also working on a timely sounding project about "technology and the new world order", one where access to healthcare plays a crucial role.
Both Wildside and The Apartment are part of Fremantle and, with the super-indie group's backing, they independently finance development before going out to broadcasters and platforms with a well-established project. This development model has become popular in recent years, with indies paying to commission scripts so they can take fully formed ideas out to the market, giving them greater traction with buyers. Campbell says Eleven has also gravitated towards attaching high-level talent — be they actors or directors — at an early stage.
Form is also a key consideration. Tyler says half-hour shows have "punched through with audiences," citing the success of Normal People and I May Destroy You, and have unlocked new ways of telling stories. Notably, both are longer-run limited series (12 episodes) and dramas, rather than the comedies that traditionally play at 30 minutes. "We're constantly talking about what the right shape for something is at an early stage," says Tyler. Episodes running to 45 minutes are an option too. "You can tell a proper story, but there is a lightness there and a freedom from the demands of 60 minutes."
For similar reasons, limited rather than full series are a focus for many producers, aware the format is increasingly chiming with viewers who are reticent about committing to long-running series.
There are some differences between what buyers are looking for. A streamer like Netflix might opt more readily for a high-concept sci-fi or fantasy project — in part because it can afford to — while UK public service broadcasters have stepped up their focus on high-end shows that are set outside London.
Ultimately, though, most broadcasters and streamers are looking for the same kind of thing, say producers: a high quality, mainstream hit from a well-known or highly regarded writer. Except, of course, if it is about Covid-19.