A new style of Hindi-language cinema and TV drama is emerging as the boom in smartphones introduces India's billion-plus audience to different kinds of storytelling.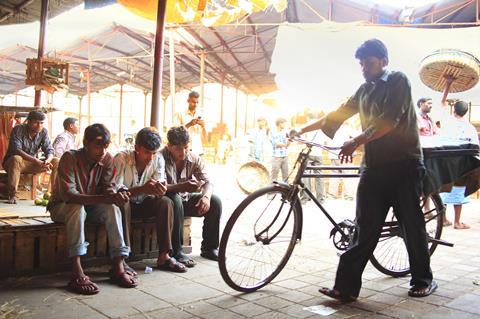 Drive around Mumbai at the beginning of 2019 and it seems the entire city is watching web series rather than visiting the city's multiplexes. Nearly everyone is on a smartphone and most of the huge outdoor billboards, which usually promote the latest Bollywood releases, are occupied by ads for original streamed drama series. In addition to Hindi-language productions from Net­flix and Amazon Prime Video, there are new offerings from local players such as Voot, Zee5 and Alt Balaji.
But while streaming platforms are spilling the ad dollars, the reality is that Bollywood is coming off one of its best years in more than half a decade in terms of box office, while English-and regional-language films have seen big gains. India's broadcast industry is also thriving, or at least not suffering from the catastrophic levels of cord-cutting seen in the US, despite the launch of more than 30 streaming platforms in the past three years. What is starting to change in India is the kind of content local audiences now want to consume.
While official figures won't be available until March, Hindi-language cinema produced a steady stream of hits in 2018, several of which were critically acclaimed. There were also some spectacular flops, such as Yash Raj Films' big-budget Thugs Of Hindostan, starring Amitabh Bachchan and Aamir Khan, but the results confirm the trend of the past few years that Indian audiences are becoming much more discerning and will no longer support a film on star power alone. This doesn't mean India's star system is over, but bad word-of-mouth on social media can kill a film on its opening day.
At the same time, several medium-budget films produced for around $3m-$5m have become decent-sized hits despite not playing into Bollywood formulas or featuring huge stars. Released last August, Amar Kaushik's horror comedy Stree grossed around $18m and was soon followed by Sriram Raghavan's crime thriller Andhadhun, about a blind pianist who becomes involved in a murder, which took more than $10m in October. A few weeks later, Amit Ravindernath Sharma's family comedy Badhaai Ho surprised the industry by also grossing around $18m.
"A good script with a huge star is still a lethal combination in India," said producer and former Disney India chief Siddharth Roy Kapur at Film Bazaar in Goa last November. "But today tastes have broadened, so that films with a great script but without big stars are doing much more business than they have ever done in the past."
Hollywood-style development process
What these hits have in common is a different style of storytelling, honed over a much longer development period than most Hindi-language films. "The film has a sensibility that's more Hollywood than Indian," says Ajit Andhare, COO of Viacom 18 Motion Pictures, which produced Andhadhun. "It doesn't have a typical hero driving the narrative and there's no conventional portrayal of romance between the leading lady and man."
The twisty thriller also keeps the audience guessing and doesn't end with a neat resolution, notes Andhare — script elements usually regarded as a huge risk by Bollywood, but which were clearly appreciated by a more cosmopolitan audience in the big cities. While it has slightly more mainstream appeal, Badhaai Ho tells a decidedly non-Bollywood story of a middle-aged couple who stun their adult children by announcing their mother is pregnant.
Audiences are also responding to the cast of these mid-budget productions — a new breed of actors who are a more natural fit for story-driven films. While these younger faces — including Ayushmann Khurrana (Andhadhun, Badhaai Ho), Rajkummar Rao (Stree) and Radhika Apte (Andhadhun) — are not complete unknowns, they have a more 'everyman' appeal than the larger-than-life stars of traditional Bollywood films.
"They have allowed filmmakers and writers to explore the kinds of stories they want to tell," says Priti Shahani, president of Badhaai Ho producer Junglee Pictures. "Over the past three years, there has been this shift as audiences look for entertainment that is rooted in a strong story. This new generation has their hits and misses, but it's always story-dependent."
Andhare believes the studios will still work with the older generation, and points to his company's recent ground-breaking work with major Bollywood star Akshay Kumar, but the emphasis has shifted: "We believe content and stars are an important combination and this needs to be meaningful. The audience is now looking at those two elements together, rather than simply responding to star appeal."
Impact of cheap data plans
When asked why Indian audiences have become more demanding, industry figures point to the boom in cable and satellite channels, available for a few dollars a month in India, followed by the rapid penetration of low-cost, mostly Android mobile phones.
The launch of telco operator Reliance Jio's cheap data plans in late 2016 accelerated this shift towards content being consumed online. This means Indian consumers are now exposed to a much broader range of international content, from short videos on YouTube and Facebook to shows such as Narcos and Game Of Thrones.
As in other territories, online viewing is expanding the overall audience rather than taking away from traditional media such as cinema and broadcast TV. "Given that India mostly has single-TV homes — around 95% only have one television — the phone has now become a TV screen for an additional four to five members of the family," according to Gaurav Gandhi, director and country head of Amazon Prime Video India. "Couple that with the fact you now have much cheaper data, not the case a few years ago, and everyone can stream without worrying about what will show up on their bill."
While it is mostly only the urban, middle-class audience that is consuming international content — and India's middle class is nowhere near as big as China's — this still represents a growing segment that is more open to different formats and styles of storytelling.
This audience is not interested in long-running soaps and mythological dramas, both a staple of Indian broadcast television, nor by the exotic locations of traditional Bollywood films. "As the population started to travel and experience a different kind of lifestyle, their expectations changed," explains Shahani. But this audience does want to see quality stories produced in their own languages and cultural context. So as streaming platforms have mushroomed in India, so has investment into local-language originals, also deemed necessary to attract new viewers in an intensely competitive landscape.
Netflix has so far launched or announced 11 original series in India, including crime thriller Sacred Games, cricket drama Selection Day and an adaptation of Salman Rushdie's Midnight's Children, along with around 13 original films. Amazon Prime Video has already launched a slew of comedy shows and six dramas, most recently gangland tale Mirzapur and the female-centric Four More Shots Please! about a group of modern women in the big city.
And the production boom is not limited to Hindi-language drama — streamers have also started producing series in regional languages including Tamil, Marathi and Telugu.
While Indian TV shows have traditionally been mass market, mostly produced by advertising-supported broadcast giants, programming is now being created for smaller audience segments for the first time. Amazon's Gandhi likens this to the rise of multiplexes, which resulted in the fragmentation of India's cinema audience.
"We never had premium cable or an HBO equivalent here, so we never had those high-quality but limited premium dramas," Gandhi says. "Now there's a huge change in the structure and tonality of the stories that are being told."
Unlike in most Western markets, Net­flix and Amazon face huge competition in India from local broadcasters and film studios, many of which have launched their own streaming services, supported by large libraries of Indian-language film and TV content, and which are also moving into the original production space. Among these, film producer/distributor Eros International recently announced it would spend $50m-$70m on 100 original IPs for its Eros Now streaming platform across features, series and short-form content. It has already launched two episodic series — Smoke, about drug dealers in Goa, and Side Hero, a comedy about a struggling actor — as well as made-for-digital feature Meri Nimmo.
"From a target audience perspective, 18 to 30-year-olds in India are still drastically underserved, and that's where we come in," says Eros Digital COO Ali Hussein. "The audience that television caters to, with telenovelas and voyeuristic non-scripted programming, is older and more women-oriented, and their kids are not watching those shows — they're not even listening to the audio."
India does have one thing in common with the West: web series production is attracting some of the film industry's top filmmakers and movie production houses. Anurag Kashyap and Vikramaditya Motwane co-directed Netflix's Sacred Games, while Excel Entertainment produced Amazon's Inside Edge and Mirzapur. Film director Rohan Sippy directed Eros Now's Side Hero and is currently working on a Hindi version of BBC comedy series The Office for Applause Entertainment.
But Eros International chief content officer Ridhima Lulla does not regard this as a talent drain — she believes it will have a positive impact on film writing as well as expand the overall pool of technicians, writers and talent. "It takes a few years to develop a quality web series, whereas with film scripts there's this pressure to shoot it and release in cinemas in the next few months," says Lulla, who is working with producer Siddharth Anand and Andhadhun co-writer Pooja Ladha Surti on a web series about human trafficking. "This medium is all about patience and it's giving us an opportunity to look at 10 other directors that we wouldn't consider for a theatrical film."
All the players involved in this space admit it is early days — Indian writers are still figuring out how to manage pacing and character development across six to 10 episodes — and as censorship is (currently) more relaxed than traditional media, web series writers have been a bit more preoccupied with sex, violence and swearing than perhaps they need to be. But it is an important stage in the evolution of Indian content that could align at least a portion of this billion-plus audience more closely with international markets.
Mass market growth
There is statistical evidence that, as the Indian market is so huge, these new forms of content are so far growing without damaging the country's other media segments. According to a 2018 FICCI-Ernst & Young report, revenues for theatrical features across box office and ancillaries are expected to increase 12% in the five years to 2020, while the TV industry will see growth of nearly 10%. While India's urban elite is tuning in to dramas about drug wars or female empowerment, the country is still adding around 30 million new viewers annually, mostly in smaller cities and rural areas, for traditional forms of TV.
And as these new shows are more in tune with international formats, their producers are also hoping they will expand acceptance of Indian content internationally. More than two thirds of Sacred Games' audience was from outside India, as was 40% of the audience for Amazon's psychological drama Breathe.
"We subtitle all our shows in multiple languages and do a day-and-date global release," says Gandhi. "We believe this results in category building, not just service [ie Prime Video] building, because if people see something great, they're inclined to watch Indian shows from other services as well."
Can India grow a subscription audience?
India has around 225 million online-video users, a figure expected to climb to 500 million by 2020, according to a 2018 FICCI-Ernst & Young report, but only a tiny proportion of them are paying subscribers.
The big question for India's streaming industry is whether an audience accustomed to accessing content for free from advertising-supported TV and OTT services can be convinced to start paying. Despite the entrance of subscription video-on-demand (SVoD) services such as Netflix and Amazon Prime Video, most Indian platforms are ad-supported (AVoD) services, with YouTube accounting for around 40% of revenues and the country's big broadcast groups, some of which are US-India joint ventures, also taking a hefty share.
As Indian broadcasters have always relied on advertising revenues, and in most cases wholly own rights to their own content, they have all launched AVoD streaming services — Zee Entertainment has Zee5, Star India has Hotstar (soon to be part of the Disney empire), Sony Entertainment Television has Sony Liv and Viacom 18 has Voot. Some are now trying to carve out a pay window, but monthly subscription rates are low — market leader Hotstar charges around $3 a month.
With its $6.90 monthly subscription charge, Netflix is firmly in the high-end bracket, while Amazon costs $1.90 a month (or $14.50 for the year) bundled with Prime shipping. Eros Now has a three-tier 'freemium' model with the most expensive tier costing $1.40 a month. While Netflix and Amazon do not break out subscriber numbers by territory, Eros Now recently reported it has 13 million paying subscribers globally but will not say how many are in India.
Growing the market
Even with India's large population, the focus on AVoD means that subscription revenue is growing much more slowly than in China. According to FICCI-EY, subscription income from both video and audio streaming services grew 50% in 2017 to $55.6m (inr3.9bn) and is expected to reach $287m (inr20.1bn) by 2020. In comparison, China's video-streaming subscription revenue is expected to reach $6.9bn by 2020, according to IHS Markit.
However, Indian industry figures are hoping that the rollout of fibre-optic broadband — an area that both the government and Reliance Jio are investing in heavily — will help grow a pay market as it should bring OTT services to a greater number of connected TVs, rather than the current emphasis on mobile delivery (India currently has only 18 million fixed broadband connections, compared to 345 million mobile broadband subscribers).
Eros Digital COO Ali Hussein is also optimistic about the launch of package deals such as Tata Sky Binge, which combines several OTT services for $3.50 a month. "What we're seeing is multiple OTT services being bundled together and offered to consumers at a reasonable price, which is actually a shade higher than average cable subscriptions," Hussein says. "It's a replication of cable services, but better quality and better targeted to customers."