The How To Train Your Dragon series finds an emotional end as its hero closes the final chapter on his coming of age. Screen talks to the filmmakers about the journey of Hiccup and Toothless.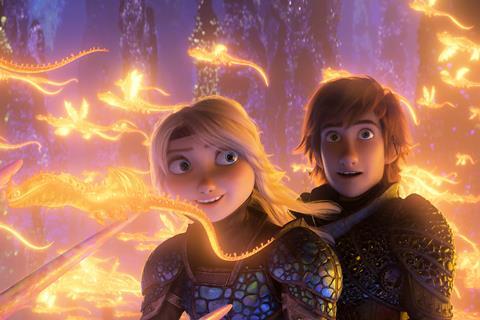 It was close to a decade ago that writer/director Dean DeBlois hatched a plan to end the How To Train Your Dragon franchise. After the first film proved a hit in 2010, taking $495m at the worldwide box office and earning an animated feature Oscar nomination, DreamWorks Animation was fired up for a sequel.
But DeBlois, who wrote and directed the original with his Lilo & Stitch collaborator Chris Sanders, had bigger ideas. "I generally avoid sequels because they so often lack purpose and feel like cash grabs," says DeBlois. "So I said the only version of this that would interest me would be to tell a coming-of-age story over the course of three films."
Breaking down the trilogy, the filmmaker says: "The first film represents the desire to assimilate, the second explores the passage of carefree abandon to the sobering consequences of adulthood, and the third is about gaining the wisdom to let go."
In line with that plan, the concluding film picks up the story of Hiccup (voiced by Jay Baruchel) and his dragon Toothless one year after the events of How To Train Your Dragon 2. With the clifftop Viking colony of Berk overflowing with dragons — liberated by Hiccup and his friends — the winged beasts need to find a new home.
But this adventure would be a farewell to Toothless and his fellow dragons, something DeBlois had been working towards since 2010. It was inspired by a conversation between the filmmaker and Cressida Cowell, the author whose book series inspired the franchise. "Cressida was working on the last instalment of her series at the time and was going to explain why dragons aren't here any more," he recalls. "Although our narratives are quite different, that felt emotionally gripping and a bittersweet ending worthy of exploring."
Return to the wild
Bonnie Arnold, who produced all three films in the trilogy, agrees that having an end point provided a major motivator for the creative team. "It was exciting for us to have the Hidden World at the end of this journey," says Arnold. "We looked at movies like Born Free, in which there is a special relationship between a human and an animal, and having them return to the wild."
This call of the wild was the Light Fury, a female dragon and mate for the Night Fury, Toothless. "She is something pure that hasn't been domesticated or corrupted by time spent with humans," says DeBlois.
While the Night Fury is a canny mix of cat and canine, DeBlois says they leaned solely into feline qualities for the Light Fury. "We looked at big cats, snow leopards, and studied that graceful movement," he reveals. "We also wanted her to be able to heat up her iridescent skin with a fire blast and turn mirror-like for a moment, adding to her stealthy qualities."
While the Light Fury is a wild aggressor, the story's villain is Grimmel the Grisly, a calculating character whose goal is to exterminate all dragons. "Grimmel doesn't do anything by physical force," explains DeBlois. "He's more of a chess player who loves the hunt and forces his prey into corners so they make desperate decisions. He is a bit of a sociopath."
F Murray Abraham was cast in the role after supervising animator Rani Naamani took an audio clip of the Oscar-winning actor's performance in FX comedy Louie and applied it to the Grimmel design. "We had not considered Murray but when we saw that test we realised he had exactly the right mix of sarcasm and humour," says DeBlois.
"Great villains have just that right mix," Arnold agrees. "And, let's be honest, you always aspire to make them like the great Disney villains like Scar [The Lion King], Ursula [The Little Mermaid], Hades [Hercules]. Those are my favourites."
The Hidden World had to take a technical leap from its predecessor in the series, looking more advanced while retaining the animated look that had first charmed audiences. "The interesting thing about animated sequels is that you don't want to stray too far from the originals," says Arnold. "You want it to feel like the same world but a little bit more sophisticated."
To achieve this, the production graduated from DreamWorks' render technology Moonlight to the company's significantly more advanced Moonray. Described as a "quantum leap forward", Moonray is faster, more interactive and better depicts light. A new DreamWorks shader platform named Moonshine was also employed. Both technologies were used for the first time on this film.
"I made several pitches to executives that if we released Hidden World in 2019 using the same technology that we used in 2014, we were simply not going to be relevant," says visual effects supervisor Dave Walvoord. "We could not have conveyed the story that Dean wanted to tell."
This included the portrayal of the Hidden World itself (see sidebar), which is a cavalcade of light and colour, and needed to provide a fitting home for the dragons. "The Hidden World would need to feel like an ancestral home for the dragons but not like another dimension or a different planet," says DeBlois. "Our new technology meant we could now render much faster and use light to create a vast space, geometrically built and populated with details and dragons — something we would not have been able to do at any time in the past. A true home for the dragons."
Journey's end
The Hidden World took $520m at the worldwide box office following its release in January, unable to match the impressive $621m made by How To Train Your Dragon 2 in 2014 but still more than the $495m generated by the original film in 2010.
But is this really the end of the adventures of Hiccup and Toothless? "I can say for me, personally, yes," says DeBlois with palpable relief. "We threw a dart into the distance and made our way toward it over the course of these 10 years. It is both super-gratifying and humbling."
The filmmaker is now working on a live-action adaptation of Treasure Island, which is in development with Universal Pictures and Mandeville Films, but is first set to write and direct a live-action feature for Paramount based around Hasbro's sci-fi toy line Micronauts.
But before moving forward, DeBlois casts another look back: "The biggest lesson I've learned is to surround yourself with the best people you can find and trust them to do an amazing job. Together, we have this sense of pride for having completed all three films the way we wanted. The bittersweet aspect is that we don't know when we'll work together again. But there is a sense of satisfaction for having achieved it."