What role does the LA Screenings play in the TV market calendar for international buyers and distributors? Screen looks at how the event is adapting to the rise in locally produced drama and the impending launch of a trio of global streaming platforms from studio giants.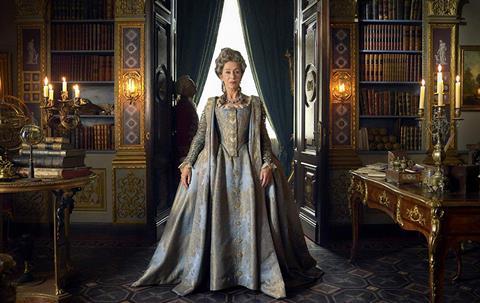 LA Screenings, which runs May 14-18, will serve as the launchpad for dozens of new dramas, among them Sky Atlantic and HBO's lavish tale of Russian ruler Catherine The Great and Sony Pictures Television's teenage spy adaptation Alex Rider.
Both are UK-produced high-end dramas: Catherine The Great stars Oscar winner Helen Mirren and is made by Origin Pictures and New Pictures, while the Alex Rider series comes from Eleventh Hour Films and is adapted by Anthony Horowitz, on whose books it is based.
That both internationally produced dramas are launching at the LA Screenings reveals just how much the market has changed in recent years, and its evolving role in the international drama landscape.
The LA Screenings used to be, and in many ways still is, a very defined event in the international TV calendar — one that sees US studios pitch new US shows to international buyers. The US studios screen the pilot episodes of their programmes that have been selected by the US networks to premiere during the autumn schedules. More than 1,500 buyers from around the world attend, all keen to snap up the show that may become the next Friends or NCIS.
With a focus on new shows and programmes rather than on catalogue sales, the LA Screenings is much more editorially led than markets like Mipcom and MipTV, notes Jason Simms, director of drama and comedy at the UK's Sky Vision. "In terms of the number and quality of the buyer, it's probably the best market there is."
Sony Pictures Entertainment president of worldwide distribution Keith Le Goy likens the week of the LA Screenings to the transfer window in Premier League football when executives are prepped to strike deals. "Buyers from around the world descend on LA and they're in the mood to buy. They are all looking for what could be the next The Good Doctor or The Blacklist."
A buyer, for example, may spend much of the day at Disney, screening the studio's newest series, before moving on to the likes of Sony, NBC Universal or Warner Bros. And the concentration of so many buyers and decision-makers in one place for such a short period of time is what has led to top international distributors such as Beta Film, Endemol Shine, Fremantle, Gaumont and Keshet to take part at LA Screenings too.
Veronique Verges, senior vice-president, Latin America and Spanish USA for Endemol Shine International, is taking dramas including Kudos's Deep Water and Endemol Shine Israel's Harem to present to Latin American clients, who will be out in force at the market this year. She says LA Screenings is perfectly positioned between Natpe and Mipcom and is a good midpoint to close negotiations and present new releases.
"Our attendance at LA Screenings is comparable to Natpe as both markets equally serve our needs in the Americas," she says. "Mipcom has always been our most international market and this is where the wider Endemol Shine Group covers its global business. Then MIP Cancun plays an increased role for our Latin American business but does not quite match Natpe or LA Screenings."
Le Goy says for Sony the LA Screenings is "the most important market in a world where markets are becoming less important because our business is now a year-round business".
He notes, for example, that Sony as well as a number of other Hollywood studios did not attend last month's MipTV. "We invest a lot more now in building an infrastructure, with offices in production and distribution around the world, so we can be closer to the market, creative talent, and to our customers and consumers on a daily basis, and not just once or twice a year," he says.
Global storytelling
The LA Screenings has evolved in other ways too. Studios no longer just showcase US network programmes due to launch in the autumn, but content they are making for cable channels and streaming services too. They also showcase programmes they are producing around the world, as well as domestic US dramas and comedies. Sony's slate this year includes psychological thriller The Reckoning, made by the Sony-owned Australian company Playmaker. "The globality of production and storytelling is an important part of the evolution of the LA Screenings," says Le Goy.
However, at a time of change for markets, 2019 looks set to be a pivotal year for the LA Screenings. This edition is taking place against the backdrop of the Disney and 21st Century Fox merger. "This year is going to be a very interesting market for the simple fact there are fewer studios," says Paul Youngbluth, director of consultancy Tape and a veteran attendee of the LA Screenings.
It is not just that there will be fewer studios. Disney, Warner Bros and Comcast are all prepping the launch of their own global streaming services, which may ultimately result in them offering less original content to international buyers. "It's pretty clear that many studios will be keeping their best content for their own streaming services," says Le Goy.
The independent distributors are looking on to see what it all means. "This year's iteration of LA Screenings will be particularly interesting as we might be able to gauge if the consolidation of studios and the launch of studios' digital brands around their catalogues will signal increased opportunities for the independent sector," says Verges.
All this comes at a time when the pre-eminence of the US studios and their output has been challenged by the rise of the streamers, with locally produced high-end dramas also taking some of the shine off the market in recent years.
The popularity of US drama on key terrestrial broadcasters around the world has also waned. Ten to 15 years ago, for example, US series were a regular component of the primetime schedules of the main five broadcast networks in the UK. Not so in 2019. "The landscape has changed," says Youngbluth. "The mantra has always been that local is best, but now it's actually being realised."
Not only are the streamers commissioning more local drama to drive subscriptions, but linear broadcasters are looking to meet the challenge head on by greenlighting more homegrown shows.
Pickier buyers
"US drama is a harder sell these days," says Youngbluth, adding the days of broadcaster output deals with US studios have virtually died out. He does note, however, that buyers are all still very keen to be kept in the loop about studio slates in case they produce the next big hit. Studio content also remains a very cost-effective way of underpinning schedules for many broadcasters, freeing up money to spend on more expensive local content.
Le Goy prefers not to pit US content against locally made content. "The best of the US will sit very comfortably with the best of the content that is created around the world," he suggests. "What buyers are looking for is great storytelling, full stop. They will be pickier, and rightly so, about wanting to identify the strongest shows coming out of the US and putting those in the same basket for consideration as shows coming out of the UK, Australia, continental Europe or Latin America."
For those independent distributors or producers attending, the key is to plan ahead as the priority for most buyers will be their meetings with the studios.
Now part of Comcast, Sky Vision will be screening with NBC Universal this year as well as basing itself at the H Club Los Angeles. "It gives us the opportunity to screen to the widest number of buyers," says Simms. "When you are a non-studio exhibiting at the LA Screenings, not everyone has time to make the trip."
With this in mind, it is a useful market to attend for producers of high-end scripted drama, particularly those looking for US partners. "If you want to engage with US networks, US buyers and international groups in a senior capacity, it's a good place to go," says Simms. "It's a question of picking a few days to go and making sure you've got your itinerary nailed down."
It is also a chance to screen a succession of new shows in a short timeframe, adds Youngbluth, allowing producers to quickly pick up on the latest trends in TV drama. "From that point of view, you learn an awful lot at a market like the LA Screenings," he says.