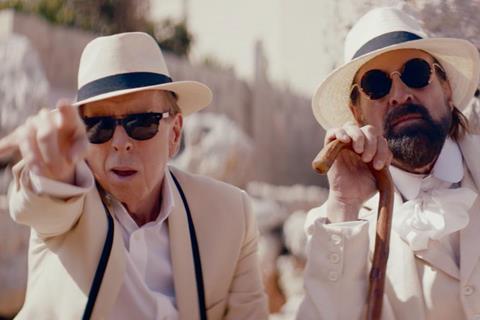 Matt Hookings and Chris Hardman are the producing duo behind Daniel Graham's black comedy, The Obscure Life Of The Grand Duke Of Corsica. Hookings and Hardman brought all their smarts from their earlier careers, Hookings as an actor and Hardman in visual effects.
AMP International is handling world sales at the Cannes virtual Marché du Film.
Timothy Spall (Mr. Turner, The Party) plays the brilliant and controversial architect Alfred Rott who accepts an unusual commission from an eccentric billionaire who calls himself 'the Grand Duke of Corsica', played by Peter Stormare (John Wick, Fargo).
As Rott navigates his way through an increasingly bizarre world on the Mediterranean island of Malta, he comes to realise the Grand Duke's mausoleum he has been asked to design is challenging him in a way he never imagined. When the Duke falls gravely ill as the result of a deadly new virus, Alfred and the Grand Duke form an unusual and unexpected friendship. A parallel story about the life of St. Francis of Assisi lends added complexity and richness to Graham's script which brings both pathos and humour to an eternal tale of corruption, greed, life and death.
Hookings and Hardman honed their craft on a slew of award-winning short films before making their feature film debut with the crime drama Winter Ridge in 2017. Hookings, the son of British heavyweight champion boxer David Pearce built a career as an actor and stunt performer on Hollywood productions before starting his award-winning production company Camelot Films. "We took our skills and experiences from the Hollywood films and applied them to our indie world of filmmaking," says Hookings.
Hardman brings 15 years of experience in Hollywood visual effects and is the founder of Hardman Pictures. For Hardman, it is the pair's "passion and persistent" attitude that drives their partnership.
Australian-born, UK-based director Daniel Graham had just made his first film, Opus Zero, starring Willem Defoe before he landed in Hookings and Hardman's inbox. "We loved the way Opus Zero looked and was directed," Hardman says.
Hardman and Hookings were intrigued by the script when they first read it which they describe as a "bizarre yet elevated drama". The trio first met in a London cafe in 2017 and immediately clicked, bonding over a shared love of film noir, Humphrey Bogart, Mickey Rourke and the great Orson Welles.
"I loved the script; it was bonkers and funny and intriguing" says Hookings. "I told Daniel that if we committed to this, we'll make it happen, 100%. We always deliver and go above and beyond."
Hookings began assembling the finance and brought back some of the original private backers on their previous films. Alliance Media Partnership (AMP) then boarded as sales agent and offered an advance which in turn gave confidence to the financiers.
"The financing wouldn't have all come together if it hadn't been for the team at AMP, Jamie Jessop and Simon Williams from Ingenious Media and Norman Merry from Lipsync Productions who completed backed the project," says Hardman.
Once the finance was in place, the team hit go on casting.
Spall arrived at the first meeting as the embodiment of Alfred Rott, the architect. "It was the way he was dressed, the way he spoke, that low growl, it was perfect, he was already living and breathing Alfred Rott," says Hookings.
Peter Stormare was then quickly cast at the mysterious Grand Duke.
Graham's original script was not set in Malta but Hookings met the Malta Film Commission at the Cannes film festival in 2017. They were extremely impressed with Maltese film commissioner Johann Grech and his "no nonsense, no bullshit" approach to the Maltese film incentive: "Come and shoot in Malta and get 40% cash rebate, that's it, boom," as the producers put it.
Hookings, Hardman and Graham travelled to Malta to get the feel of the island. They have plenty of praise for the island's film infrastructure, securing every location for which they asked. "Nothing was closed off; we could shoot wherever we wanted," Hardman says.
The shoot went so well that Hardman and Hookings are returning to Malta in August this year to produce their next movie, a genre movie written and directed by former Screen Star of Tomorrow Sam Walker. The project was brought to them in the early stages of the Covid-19 lockdown in the UK by AMP who is producing as well as handling worldwide sales.
The Malta Film Commission, Ingenious Media and Lipsync Productions are also back on board.
"We're really looking forward to going back to Malta," Hookings says. "This one is much more self-contained and we're looking forward to working with the local crew again."
To see more of Chris and Matt's slate of projects visit www.camelot-films.co.uk and www.chrishardman.co.uk
Interview by Stuart Kemp

AMP International produces, finances, markets, packages and sells films by new and established filmmakers. It is part of Alliance Capital Partners group, a private asset management and finance company, based in Dubai.