Rena Ronson became the first woman to run an independent financing, packaging and sales department at an agency as sole head. Now co-head of UTA Independent Film Group, she tells Screen about the female filmmakers she has championed and how careers are created through risk.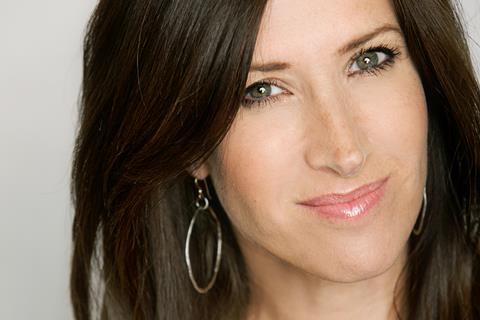 Trailblazing industry pioneer Rena Ronson has always believed in learning as much as she could from any situation, and as a result has acquired impressive expertise in distribution, sales and production in film and TV on her journey to her role as co-head of UTA Independent Film Group.
Growing up amid the bustle of New York, Ronson initially wanted nothing to do with the business side of entertainment — she wanted to be the entertainment. "Straight out of college I thought I'd be a singer/songwriter," she says, "but I injured my vocal chords. So I had to go to my second love, which was my Spanish language and Latin American studies."
Ronson started out working as a bilingual assistant at management consultancy Touche Ross, situated on the 102nd floor of what used to be the World Trade Center. She hopped around, and by way of a Spanish advertising company and a return to education at Columbia University to get her MA in international educational development and media studies, Ronson caught the industry bug while interning at Nickelodeon. She landed a job at Fox Lorber Associates, where she worked as operations co-ordinator, and then co-head of international sales, from 1986-91.
The young executive convinced Richard Lorber to let her open the Latin American sales division and she travelled widely across the region. "I quadrupled sales and it became a business," Ronson says. "Instead of going through a middle person, we became that middle person."
In 1988, a paralegal from Paramount Pictures named David Linde came over and together they ran the international sales division for several years. When Gaga Communications acquired Fox Lorber, the company moved into production. One of the projects they worked on was 1990's Prayer Of The Rollerboys starring Corey Haim. "David and I thought we were in the movie business," she laughs. "Back in those days, you would show a movie box and you could sell something."
Ronson moved to the West Coast in June 1991 to open the Los Angeles office for Fox Lorber. Shortly after that, Gaga sold the company and she landed a job overseeing international sales at Trans Atlantic Entertainment and, subsequently, Lakeshore Entertainment.
"I went to Toronto International Film Festival, where you would also go with the aim of picking up films to sell," says Ronson. "Today that's less of the case." The trip to Canada proved fateful: she fell in love with Lynne Stopkewich's necrophilia romance Kissed and emerged thinking she was the only person who understood it.
Not quite. After word got out that she was signing the film for representation, the agent and producer Cassian Elwes bounded up and asked for help signing the director. "We started talking," Ronson recalls. "At Sundance we sat down some more, and he told me to come to William Morris and do international alongside his role as a domestic sales agent."
Ronson had enjoyed learning the production ropes at Lakeshore, but found herself intrigued by the notion of working for an agency. In 1998, she joined Elwes in a partnership that would last more than 11 years. By now Ronson was a familiar face on industry panels amid "a sea of men", and she relished the challenge of working at William Morris, where together with Elwes she launched the independent department.
When William Morris merged with Endeavor in 2009, it was time to move on and Ronson arrived at UTA that October. After running the independent department alongside Rich Klubeck for a year, Ronson became the first woman to run an independent financing, packaging and sales department at an agency as sole head — a post she held for eight years. She is now co-head with business affairs chief Jim Meenaghan.
Can you recall your first day on the job at UTA?
My first day of work at UTA was actually on a panel in Abu Dhabi where I met Haifaa [al-Mansour]. It was the last night of the festival when they were giving awards out, and I saw Haifaa on stage because she had been awarded for a script she wrote [Wadjda]. I went right up to her and asked, "What's the story about?" When she told me it was about a young girl who just wanted a green bicycle and couldn't have one, I thought, "I'm in!", because everybody wants something they can't have, and I wanted to help get her voice heard. Since getting Wadjda made, Haifaa has directed three more features, is working in television, developing an animated feature, and has a film premiering in Competition in Venice. She's an incredible force. [Ronson will be in Venice representing North American rights on al-Mansour's Competition title The Perfect Candidate.]
Are you keen to support female filmmakers?
I've had the pleasure of working with a lot of first-time feature filmmakers that happen to be women, from Haifaa to Crystal Moselle (Skate Kitchen), Jill Soloway (Afternoon Delight), Marielle Heller (The Diary Of A Teenage Girl), Sarah Polley (Away From Her), Lake Bell (In A World…) Robin Swicord (Wakefield) and Greta Gerwig (Lady Bird), to name a few. With Crystal Moselle, I saw [her 2015 documentary] The Wolfpack and chased her for months until she signed with us. I then helped her put together the funding for her debut [fiction] feature, Skate Kitchen, which was released by Magnolia, and she is in production on a TV series based on the feature for HBO, as well as another feature doc.
How would you describe the flavour of your team?
We are very producorial in our approach. We all come from different facets of the industry and that makes for a unique perspective as a department. We have people who have come from international sales, development, domestic distribution, finance, legal and production. When you come into a department with different expertise, you see things from all sides and you can be more producorial in your conversations with filmmakers.
What have been some of the biggest deals you've done at UTA?
Hidden Figures. The Big Sick. I, Tonya. Room. Lady Bird. A Beautiful Day In The Neighborhood. Top Five. Inside Llewyn Davis. Call Me By Your Name. I Feel Pretty. The Report. We helped package and/or raised financing and sold all of these films. Hidden Figures was a book that came out of our media rights department. We identified it, brought development money to it, attached our filmmaker, our star and sold it. Room was similar, also coming out of our media rights department. It could have gone to a studio or been set up independently. I loved the book and it just so happened that the author [Emma Donoghue] wanted to be very involved. We attached Element Films out of Ireland to produce alongside Emma. Lenny [Abrahamson] wrote Emma a passionate letter, which convinced her he was the director she wanted to tell her story.
How did Element come on board?
I knew Ed [Guiney, of Element Pictures] and he and Andrew Lowe became attached early on in the process, along with Film4. Once we knew who the players were, we set Room up as a UK-Irish-Canadian co-production, which made sense being that Emma is Irish-Canadian and there is an Irish-Canadian treaty — so a great tax benefit to shooting it that way. While many people wanted to fully fund [Room], the goal was to create an opportunity for the filmmaking team. We represented the under­lying rights and attached the best team. We then went out to actresses, and someone in our media rights group brought up the idea of Brie Larson. I'd seen Short Term 12 and also loved the idea, as did the entire filmmaking team. Once Brie was attached, we also attached our young client, Jacob Tremblay, and the rest is history.
Larson won the Oscar, but Room involved creative risk along the way.
You get the opportunity to create careers from these independent films by taking risks. From a financing perspective, we brought on Film­Nation to handle international sales, and they did some pre-sales in Cannes [2014], and I did a big Canadian deal with Elevation in Canada, which ultimately triggered the Telefilm money for our Canadian production company to lock in. I presold the US rights to A24, which enabled the team to finance the film by banking all the deals. We set up Room a little bit differently than Hidden Figures, which we sold to a studio [Fox 2000] because it was a big film that needed a big theatrical release. A Beautiful Day In The Neighborhood also started at UTA with writers Micah Fitzerman-Blue and Noah Harpster, and director Marielle Heller, which Big Beach came on to develop. We later attached Tom Hanks and then co-sold it [to Sony].
Give us an example of when you have done individual territory deals on a film.
We did a handful of pre-sales on The Biggest Little Farm [to Germany, France, Australia and Benelux]. We took the film to Telluride and Toronto and there were different directions to go in, and multiple offers on the table. [John Chester's] feature documentary is cinematically beautiful, and we ultimately closed a deal with Neon to get the traditional theatrical release. Since we were at the festival and hadn't placed the movie with an international sales agent yet, there were many distributors I've known for years who wanted to buy the rights so it made sense for us to take advantage of the momentum and close those four deals. We believed having those deals in place would only help in attracting other international deals.
How has the business changed?
It's changed by virtue of the business evolving and the international business expanding exponentially. You can no longer sell something by showing a one-sheet with photos of the actors attached like you'd see on a video box. It's become a lot more complex. It's a creative business, and it requires a level of awareness of the entertainment business on a global basis.
What are your goals when you represent individuals or companies that want to put money into films?
We work with financiers in many ways, but most often with those looking to invest in the entertainment industry to help build their profile. Some are interested in narrative features and others in animation, documentaries or series. Ultimately, we all have a responsibility to the filmmaking team and the financier to make the best deal possible for both parties. We are looking to build lasting relationships, so we're in it for the long term.
Where do theatres fit into the ecosystem now with the rise of the streaming platforms?
I'm optimistic we will continue to have a vibrant theatrical business, though the question of what will continue to draw audiences to the theatres still remains. We worked on a very special film which Anne Fletcher directed called Dumplin' that stars Danielle Macdonald and Jennifer Aniston, and was based on a YA novel. We had interest from theatrical distributors, which was our initial goal, but we also understood it would have required a significant amount of p&a to reach the audience, and have young girls show up to the theatre. The challenge we were faced with was an offer from Netflix, versus an offer from a theatrical distribution company with separate p&a. We ended up selling it to Netflix [in 2018], and it became their fourth most watched film that December.
Was it a difficult decision at the time for the filmmakers?
These are the exact moments when you need to evaluate which release option will be the most beneficial for the project. It doesn't mean everything is well suited for either theatrical or streaming, but in this case, Netflix was a great partner with more access to this specific audience. On the flip side you have a beautiful film like The Farewell, that's fresh and original, and seemingly made for the theatre. It was important to the filmmaker to have the film screen in the theatres [through A24], and we also wanted to be cognisant of what the financiers' [Big Beach and Anita Gou] needs were as well. That's the balance of the job.
How do you weigh up the value of trying to sell a movie at a festival or market, versus doing an off-market sale?
If your film gets into a festival, why not wait and sell it there with an audience experiencing it the way the filmmaker wants it to be seen? Exceptions to that would be timing — if a film is aiming for a fourth-quarter release, we might consider bringing a distributor on before the festival in order to take advantage of the festival and help launch the film there. Another reason to pre-screen can simply be that the film is completed well before a festival date and the financier doesn't want to wait. I'm a big advocate of the festival circuit because it allows you to see how the film plays with an audience, and you have all the buyers together in the right headspace for buying. The complications of outside screenings are that you aren't always able to get everyone to the screening, and you may have to stage a couple of supplemental screenings. There are many ways to sell a film, and every film has its own strategy. There's no cookie-cutter plan for any film.
Given the challenges in the theatrical space, does that change the way you put films together?
You have to be aware of who your audience is when you're making movies. When we have the luxury of being involved at an early stage and budgets are being put together, we have to keep in mind what we think something is worth domestically and internationally. You're creating a finance plan with 'take' prices, which represent the worst-case scenario from a financial point of view. You want to understand the financial risk when going out to financiers. As a result, when you plug those numbers into your finance plan and add residuals, legal fees, marketing costs, sales fees and any other ancillary costs, that's typically where the budget will land. Are there outliers to that model? Absolutely. Are there financiers that have a gut feeling about a project and want to write a cheque even though they don't know where it's going to land? Yes. It happens, and that's a good thing.
What's the profile of the streamers as buyers at festivals and markets today? Netflix started out aggressively a few years ago, and Amazon Studios made a big statement in Sundance this year.
In the very early stages, Netflix had to make a bold statement and pay premiums to get great content. As things evolved and some filmmakers wanted the theatrical experience, it became harder for Netflix to acquire, so they started to make their own content — similar to how HBO created its own premium product. We had multiple offers for [Scott Z Burns'] The Report [in Sundance] and our deal [with Amazon] is going to be a limited theatrical; not traditional theatrical windowing. They paid a substantial MG for it, but they're also not spending a lot on p&a. Our feeling was this is such an important film and you want the eyeballs on it, and we understood the challenges of the content. So you say to yourself, "Will we get more people watching it this way, or how much will you have to spend to get audiences to show up [through a traditional theatrical release]?" We sat down and modelled all of the possible deals and this became a deal everybody loved, and we won't be sitting behind $10m-$20m in p&a.
What proportion of UTA's sales titles end up at Netflix?
Significant. Projects come to us to put together and to sell. If it makes sense to us [to sell to Netflix or another streamer], we will absolutely go to them.
How will the launch of streamers like Disney+, WarnerMedia, Apple TV and the NBCUniversal platform affect the landscape?
It's exciting. There are a lot of new platforms that will create competition, which is always a good thing. As more international players enter the marketplace, there will be more opportunity to reach global audiences in a significant way.
Can streamers and theatrical co-exist?
I believe that there are different audiences out there for each, and for those filmmakers looking for a traditional theatrical release, there will be a need to focus on material that's going to drive someone to the theatre. I'm the mother of a 20-year-old and I have watched her viewing patterns evolve as well as my own.
How will deal structures evolve in the age of streamers?
Netflix negotiates buyouts, so those deals are structured differently with talent, because by partnering with a streamer like Netflix, you're giving up on a potential backend. I would like to think the evolution involves more participation.
Are there others areas of content evolution that interest you?
The podcast space is interesting and will only help increase content creation. It's great to watch these mediums coalescing: you create podcasts that can in turn serve as IP for a book, a TV show or a movie… We have a dedicated department that focuses on building opportunities in the podcast space. Grace Royer from my team has been working with the podcast group on great IP like To Live And Die In LA, My Favorite Murder and Disgraceland, and most recently was involved in setting up Up And Vanished with Oxygen from our clients Tenderfoot TV.
You have flown the flag for women for decades. What are your views on gender parity efforts?
I like to think we were ahead of the issue. I've always believed in balance because it works. You have a balance of opinions, with various people offering different perspectives. Someone responds to one story and another one to something else. This creates better business and is additive overall. It's inherent in how I work and what I believe in. With respect to more diverse stories being made today, we have seen a lot of progress in the last year, which makes me optimistic that we are on the right track.
What's your personal taste in content?
I have a personal affinity for stories that can share a point of view, teach or inform. It's why I am passionate about the documentary space, films based on true stories, and local language films like Wadjda or A Separation, that can teach us something about a particular region while entertaining us through incredible artistry.
Who are your mentors?
I've had a few key people in my life that helped paved the way. My mom at a young age, who worked throughout my childhood and always made me feel like I could do anything I put my mind to; Olivia King Canter at Fox Lorber, who David Linde and I reported to, was also an inspiration because she had a great balance — she worked hard but also had a fulfilling life outside of work. One thing she said stuck with me: "People like to talk. Listen to them — you'll get so much information." That was the key to understanding the sales business. Anne Sweeney, Linda Kahn and Geraldine Laybourne, who I worked for as an intern at Nickelodeon, were also incredible role models as I got started in my career. Sherry Lansing has been an inspiration on so many levels — a pioneer in her field, and now in a new chapter of her life doing incredible things in education and research. All of these women were confident, and in their own way showed me everything was possible.
How is the ongoing dispute with the Writers Guild of America impacting your team's work?
The issue with the WGA is unfortunate, especially for writers, and we certainly hope the guild's leadership will return to the negotiating table and engage to reach an agreement.