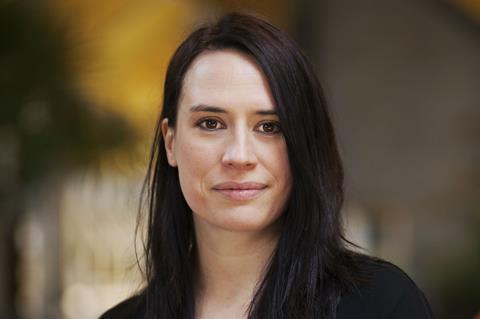 Growing up in her native Croatia against the backdrop of the violent break-up of the former Yugoslavia, Vanja Kaludjercic had limited access to cinema, let alone auteur filmmaking.
"I'd always been interested in cinema and culture but there wasn't much going on at all for many years after the war," says Kaludjercic, who kicks off her maiden edition as artistic director of the International Film Festival Rotterdam (IFFR) this week.
Rotterdam is the latest chapter in a remarkable 20-year career that has encompassed roles in the entire film production and distribution chain and jobs in Croatia, Slovenia and Bosnia-Herzegovina as well as France, the Netherlands, Denmark and the UK.
Prior to the war, Yugoslavia had a strong national film culture, fostered by its long-time president Josip Broz Tito, and a thriving network of state-backed cinemas. They showed a mix of mainly Yugoslav productions and Hollywood fare that would hit screens there years after the original US release. But most theatres closed during the conflict, and many never reopened again.
One bright spot was Italian film critic and TV presenter Enrico Ghezzi's cult late-night cultural programme Fuori Orario on Italy's state broadcaster Rai, the programmes of which were available to viewers in Kaludjercic's home region of the Istrian Penisula, where most speak Italian as well as Croatian.
"They'd do crazy things like a John Ford retrospective in fast forward over the course of one night. It was an eye-opener," she recalls.
A lucky coincidence for Kaludjercic was that the Roman amphitheatre in her beach resort hometown of Pula was the site of Yugoslavia's main film festival from 1954 until 1992. In its 1960s heyday, it drew stars like Sophia Loren, Elisabeth Taylor, Richard Burton, Yul Brynner and Orson Welles who would stay at Tito's villa on the nearby Brioni archipelago. It was reconfigured in 1992 to focus mainly on Croatian cinema.
"I volunteered one year as a teenager," says Kaludjercic. "I think that was actually when I first started getting excited about these sorts of events."
Kaludjercic filled in the blanks in her film knowledge when she went to Ljubljana University in neighbouring Slovenia to study comparative literature and cultural sociology. "My dad drove me to Ljubljana and by chance, he parked outside the cinematheque. We went inside for a coffee and I picked up the monthly and saw they were running a Pasolini retrospective and I was like 'Great!'. I think the first film I saw there was Salò, Or The 120 Days Of Sodom," she recalls.
She also benefitted from a grassroots movement of cultural events that started to spring up across the former Yugoslavia as peace took hold and volunteered in the summer at the Motovun Film Festival. It had launched as a guerrilla-style event in the late 1990s in response to the lack of availability of world cinema. Guests in its early years included Stephen Daldry, Paul Greengrass and Paul Thomas Anderson.
"Motovun is just north of Pula and some family friends had a house there. I wasn't yet 18 but I was determined to go, so I begged my parents. I volunteered my way through the festival, starting with the box office, then running the volunteer department, even editing the catalogue and finally working in the executive production of the festival," she says.
"There was this crazy energy at the time which I think came out of a deprivation of content and then all these creative people coming together, saying let's do something to change that," she adds. "Who'd have thought we'd end up spending time with directors like Paul Thomas Anderson in this super tiny medieval town in the middle of Istria… there were so many stories like that."
"There was this crazy energy"
It was through Motovun that Kaludjercic began a long relationship with neighbouring Bosnia-Herzegovina's Sarajevo Film Festival. "I first went to Sarajevo in the early 2000s through a volunteer exchange programme," she explains. "You could see the traces of war in the city on nearly every corner, it was still undergoing reconstruction."
There, she worked first on its professional activities with Amra Bakšić Čamo and Jovan Marjanovic, who are now head of its CineLink Industry Days and head of industry respectively, before segueing into programming.
"My first role there was as a matchmaker, although I didn't really know anyone. None of us really knew anyone… we were sort of wild guessing how it should be done but that's how these festivals worked at the time, but again there was this crazy energy and motivation."
After graduating from university, Kaludjercic moved to the Croatian capital of Zagreb where she was appointed head of the city's fledgling Human Rights Film Festival and also worked with the ZagrebDox and Animafest Zagreb.
"At 22 years old I was the head of a film festival. That's where I first met Lav Diaz. We programmed his Batang West Side, which was his last 35mm film. It involved transporting 16 reels of 35mm film from Manila to Zagreb, and Lav came too," notes Kaludjercic, referring to the Filipino filmmaker whose work she has since programmed, produced and acquired in other roles.
"A second university"
Kaludjercic moved to Paris in 2008 to work in acquisitions at Coproduction Office after meeting producer and co-founder Philip Bober when he invited her to join him in programming Sarajevo's New Currents sidebar, focused on first and second features as well as shorts by emerging talent.
Kornel Mundruczo, Jessica Hausner, Shirin Neshat, Michelangelo Frammartino and Ruben Östlund were among the directors working with the company at the time. "It was one of my most formative experiences," Kaludjercic says. "Philip has such an incredible eye, not only in terms of spotting talent but also in understanding what works in a film and what doesn't. It ended up being like a second university."
Bober is just one of the key figures in Europe's independent cinema scene who would play a role in Kaludjercic's path to Rotterdam. Other key allies include Tribeca and Les Arcs artistic director Frédéric Boyer, who recommended her for the role of head of industry at the latter; CPH: DOX founder and director Tine Fischer who invited her to join the programming team in Copenhagen; Dutch film consultant Ellis Driessen, who suggested she apply for the role of the head of Holland Film Meeting; and former Rotterdam artistic director Bero Beyer, who hired Kaludjercic to bolster the festival's talks and masterclasses programme.
"It was a small gig but it was fun because I already knew [head of industry and Cinemart] Marit van den Elshout and a lot of the other programmers," says Kaludjercic of her first stint at IFFR, for which she attracted speakers including Bela Tarr, Olivier Assayas and Barry Jenkins.
She also became involved in Rotterdam's Reality Check conference, exploring innovative approaches for the film industry, at which Mubi senior vice president Bobby Allen was a speaker for the first edition in 2018. This, in turn, led to her next position as head of acquisitions at UK streaming service Mubi.
As well as relishing the chance to work for a company which was expanding in lots of different directions, Kaludjercic was also drawn to the role for the insight it could give her into the UK film industry.
"The best job in the world"
"For us on continental Europe, the UK film industry has always seemed a bit further away, we don't interact with it as much. Being in the UK for two years gave me an opportunity to get to know it better," she explains. "It's a very dynamic scene and I think I would still be there if this role [with Rotterdam] had not come along."
Kaludjercic had originally planned to divide her time between the UK and the Netherlands. The pandemic forced her to ditch this idea and she is now living fulltime in Rotterdam. After 20 years on the move, Kaludjercic has no plans to move again any time soon.
"For me, this is the best job in the world. I never set out with the idea that my career would lead to becoming the director of a festival but now that I am here, even in this very challenging year, I love it."