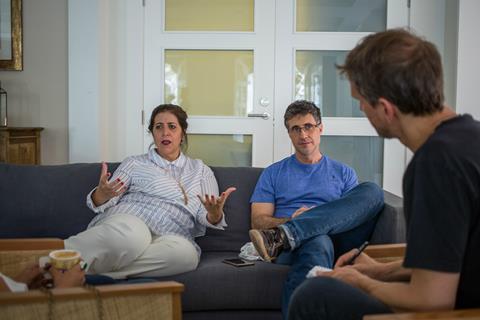 Paraguay is not known for its theatrical output, which is why Juan Carols Maneglia and Tana Schembori, in Panama to present adventure The Gold Seekers (Los Buscadores), have earned a special place in their country's sparse cinematic history.

When their feature debut and crime thriller 7 Boxes opened in 2012 it went on to become the highest grossing local film of all time. Five years later, the co-directors, friends and business partners returned with The Gold Seekers (Los Buscadores), which became the second highest grossing local film when it opened in their country in September 2017.
Maneglia and Schembori talk about what took them so long to make a follow-up, how they work together, and the state of the Paraguayan film industry. FilmSharks handles international sales.
How did you meet and how do you co-direct?
Tana Schembori: Juan Carlos is a genius. He's very important in Paraguay and started to make short films in the 1980s. We started to work together in 1992. I came over from theatre and work more with the actors, while he is behind the camera. He storyboards the whole thing. His eyes are like the camera.
Juan Carlos Maneglia: She always advises me on the camera set-ups.
You've worked together for 28 years and only recently got into film. How?
TS: Our production company makes TV commercials. That pays the bills. We also make short films. We made a TV series. Then we met [a producer associate of Michael Mann] who was visiting Paraguay with Miami Vice. He read the screenplay to 7 Boxes and fell in love with it and told us to leave TV and make films. That was a very important recommendation for us.
What is The Gold Seekers about?
JCM: Gold Seekers is about a teenager who receives a present from his grandfather. It's a book and inside he finds a photo and a treasure map.
TS: It's an adventure movie and you don't see many like that today. During the Paraguayan War [against the Triple Alliance of Argentina, Brazil and Uruguay] in the 19th century, rich Paraguayans buried their treasure. The gold seekers would look for it. Many of these remain buried today.
Why did it take so long to make it after 7 Boxes?
TS: When we finished 7 Boxes we thought the next one would be easy. It wasn't easy. We were afraid about the second film and thought it would be difficult. That's why it took so long.
How did you finance it and how much did it cost?
TS: We got a bank loan and some private investment from a wealthy partner, [media entrepreneur] Christian Chena. The whole movie cost about $1.2m.
How did you finance 7 Boxes and what was the budget on that one?
JCM: We made 7 Boxes with a bank loan and it cost $600,000. We won a finishing fund award from San Sebastian in 2011 and the film opened in 2012.
What did 7 Boxes mean for the Paraguayan film industry?
JCM: It was the 20th film in the history of Paraguay. We're one of the few countries in Latin America that don't have an industry law for films. We don't have funds or a film commissioner.
7 Boxes was very important for Paraguay to see this on the big screen so people believe they can make films and tell their stories. Since then, Paraguayans have been shooting films. Now we had Marcelo Martinessi's The Heiresses that won the Silver Bear [Alfred Bauer Prize] in Berlin and the best actress trophy for Ana Brun.
This year there will be four local films that will get released in Paraguay: Las Herederas, Leal, El Silencio De Los Otros, and La Redencion.
TS: After the success of 7 Boxes, the government opened a film school for the first time and started to work on creating a law. We think these two movies will help create an impetus on the government to make a new law.
What are you doing next?
TS: We're working on a TV show but it's a little too early to talk about it.