Emerging Indian writer-director talks largely improvised female-focused road movie, which is world premiering in Rotterdam.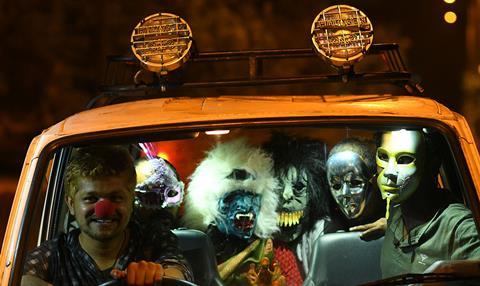 Marking the third feature of Indian filmmaker Sanal Kumar Sasidharan, who hails from Kerala, Malayalam drama Sexy Durga is a largely improvised road movie about the prevailing attitudes towards women in the South Indian province.
It screened as a work in progress at Goa's Film Bazaar and had its world premiere in Rotterdam Film Festival's Bright Futures section on Friday (Jan 27).
Screen: How did you get into filmmaking?
Sasidharan: I don't know how it has happened exactly. I was not a film student and I had no experience in film production when the idea of becoming a filmmaker became planted in my mind. I was a lawyer before, but I quit that profession.
At first when I became a filmmaker, my ideas were brutally rejected by the producers and stars I met. But I was not ready to give up. I approached friends and friends-of-friends to get the support I needed to make my first film Oraalppokkam. That became a success and I received the best director award at the Kerala State Film Awards, that opened the door to do more filmmaking.
What was your inspiration for making Sexy Durga?
I have always wanted to make films about the life I see around me. The society in which I live has always excited me because of its contradictions. It was thrilling to see how the patriarchal society [in Kerala] grapples with the idea of womanhood. On one hand, the female is a goddess, and on the other hand she is a whore. This was the basic inspiration for the film.
How was the project developed?
It didn't go through any films labs or initiatives. The idea for Sexy Durga was developed on the highways at midnight, where it would eventually be shot.
It has no screenplay or storyboard. I went to the location with a concept, my artists and some initial ideas about how it would be made.
The making of the film itself was a writing process for me, and I also edited it.
What was the biggest challenge when working on the film?
Almost 90% of the film was shot in the middle of the night. In a sense it is a road movie, we wanted to film on empty highways at night. We only had a tiny budget, that made it a big challenge. Even though there were a lot of hurdles during the making of the film, all of them were beautiful and thought-provoking.
How do you think the film diverts from your previous work?
The concept, narration and filmmaking are totally different. My previous film Ozhivudivasathe Kali was based on a short story and it had more dialogue.
What are you working on next?
My next film is about the life of a filmmaker, it will discuss the freedom of speech of an artist.