Ruben Santiago-Hudson, Kemp Powers, Florian Zeller and Christopher Hampton come together to talk about their personal inspirations and the cinematic power of drama unfolding in confined spaces.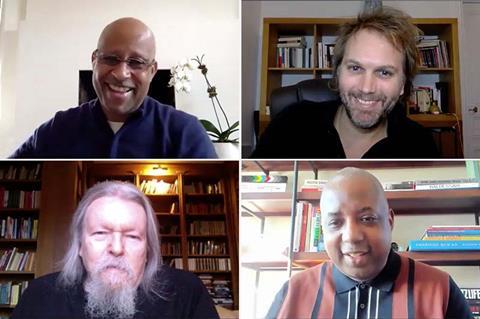 This year's awards season has been notable for the attention paid by voters to three films that are based on stageplays: Ma Rainey's Black Bottom, adapted by Ruben Santiago-Hudson from one of August Wilson's 10-play American Century Cycle; One Night In Miami, adapted by Kemp Powers from his own stageplay; and The Father, adapted by Florian Zeller and Christopher Hampton from Frenchman Zeller's own play La Père.
Santiago-Hudson made his screenwriting debut with 2005's Lackawanna Blues, developed from his own one-man stageplay of the same name and directed by George C Wolfe. Wolfe also directs Ma Rainey's Black Bottom, which is set in Chicago in 1927 as blues singer Ma Rainey (Viola Davis) travels from the south with her band for a recording session. Santiago-Hudson enjoyed a long creative association with Wilson (who died in 2005), both as an actor and as a theatre director.
Former journalist Powers makes his screenwriting debut with One Night In Miami — bringing together four black American icons in a Miami hotel room one night in 1964 — and is also the co-writer of Pixar animation Soul.
At the age of 20, Hampton was the youngest writer to have a play performed on the London West End stage with When Did You Last See My Mother?, in 1966. He went on to win an Oscar and Bafta for adapting his own 1985 stageplay Les Liaisons Dangereuses for Stephen Frears' 1988 film adaptation Dangerous Liaisons. Hampton's collaborations with Zeller include six translations of the Frenchman's stageplays, including the trilogy The Father, The Mother and The Son. Zeller, a garlanded playwright and theatre director, makes his film directing debut with The Father, starring Anthony Hopkins and Olivia Colman.
The four men participated in a Zoom conversation for Screen International in early February.
Kemp Powers: Christopher, you have had the most experience doing the thing that I think most people in the system don't want to let happen, which is have the playwright adapt their own work. And you did that so successfully with Les Liaisons Dangereuses to the point that I'll admit when I was a younger man, I didn't know when I saw Dangerous Liaisons that it was based on a play. I found out it was a play after I saw the movie. What can I say? I'm a city kid. My knowledge of theatre wasn't that extensive at the time. How did you put the executives at ease that you could be trusted with your own work? Because there seems to be a certain amount of distrust when you deal with authors, particularly playwrights, adapting their own work.
Christopher Hampton: First of all, we were in a specifically strange situation because Milos Forman had announced he was making a film based on [Choderlos de Laclos' 1782 epistolary novel] Les Liaisons Dangereuses at the same time [Valmont, released in 1989]. So nobody had time to worry about all those things they often do worry about. We were basically in a race; we just made the film as quickly as we possibly could.
But it is difficult. It took me a long time to learn because my very first play [When Did You Last See My Mother?] was sold, the film rights were sold, and I was hired by Richard Attenborough and Bryan Forbes to write the screenplay. And it was absolutely hopeless, because I don't think I'd ever read a screenplay before. I just kind of copied out the play, and the producers were extremely polite about it, but they were not impressed. It was a good 20 years of failed experiments and less successful attempts before [I got it right].
I was determined with Liaisons not to make it like a play. And with Liaisons, there was a novel in the background as well, so that made it a bit easier.
Powers: Ruben, I've watched Ma Rainey three times, and I've got to say Ma Rainey is a play I know well and I had difficulty figuring out what's missing. Considering your film is 90 minutes and the play is two-and-a-half hours, that really is impressive. I'm watching it going, "What am I missing from the play?", and I can't put my finger on what you've cut out.
Ruben Santiago-Hudson: That's the greatest compliment because that was my goal, other than honouring August. Because I know the rhythms so well, I could take a phrase out and still keep the melody [clicks fingers]. It's hard to explain, because I know that work so well. When they hired me, I was told, "We keep looking at the names of [other] writers and we keep going back to you." Why do you keep passing my name, if you keep coming back? It's funny Christopher, you say you had a lot of trial and error. When I sold Lackawanna Blues to HBO, I was sitting in a meeting with my manager. They saw me do the play and said, "We got to turn this into a movie. Now who's going to write it?" And I said, "Me!" I had never written a screenplay. And my manager was like, "Ruben will write the heck out of it." On our way to the car after the meeting, he said, "Can you do it?"
Screen: When you first set about adapting a play for the screen, did any of you look at films that were successfully based on stageplays?
Powers: I learned to write screenplays first, so I kind of backed into writing for the stage. I started off writing screenplays for fun just because, being a child of the 1990s before the internet got really big, to get your hands on something like a Quentin Tarantino script was a big deal. They were very talky. I was lucky in that the screenplays I first started reading were incredibly talky scripts. The 1990s were a great time for talky action movies, talky everything. So I end up writing screenplays that are very talky but I guess I just learned bad habits.
Florian Zeller: When I wrote The Father as a play, it was a personal story, because it's about a man losing his bearings. I had been raised by a wonderful grandmother — she was like my mother — and she started to suffer from dementia when I was 15. So I knew a bit about this painful process, I was there.
When the play was on stage, first in France and then in other countries, I was moved and surprised to discover the response of the audience, because it was always the same, meaning that people were waiting for us after every performance to share their own story. I realised there was something cathartic about it. This is what I had in mind when I started adapting the play [into a film], this desire to share something cathartic with people.
But what kind of film could give me the confidence that you could do this without being too theatrical? I thought of Rosemary's Baby where basically you have two characters in an apartment and it's so cinematic. I also thought of Amour by Michael Haneke where, again, you have only two old people in an apartment.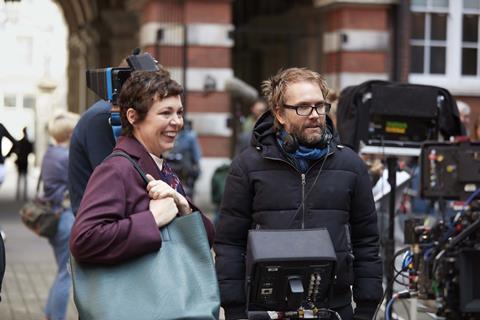 Screen: Ruben, can we ask about the difference between adapting your own work, as with Lackawanna Blues, and adapting someone else's? Did you feel a burden of responsibility when adapting Wilson's work, particularly for a film that's going to bring him to a bigger global audience than he had on stage?
Santiago-Hudson: Yes, it was a certain amount of responsibility because, like Shakespeare, August has thousands of custodians, everybody's a scholar, everybody's an expert. I don't feel my responsibility to them, I feel my responsibility to August.
Hampton I think it's easier to adapt other people's plays, which I've done, than to adapt your own. With your own plays, you have to overcome a certain kind of defensiveness and achieve a kind of objectivity, which doesn't come naturally.
Screen: Kemp, when adapting One Night In Miami, what were the creative dividends of adding the prologues establishing the four main characters?
Powers: For those who aren't familiar, the play is in real time — it begins when the four men enter the room and it ends 90 minutes later when they leave the room. So I had to tear it down to the studs and start over. Some of the parts of the play that were the showstopping moments on stage are not in the film. So it was just coming to not be precious about my own words.
The Jim Brown part changed dramatically, because his part in the play is very expository. He is like Basil Exposition [from the Austin Powers films]. In order for Jim Brown to exist in the film, that had to be incredibly rewritten. And thankfully, what Regina [King] did with it, and what Aldis Hodge did with the part, I'm seeing a completely different part than what was on the stage.
As talky as it is, we do show a lot more than we tell in the film version. I don't want to say it was easy but by the time I started adapting it, I wasn't as precious about the play as I would have been if I had tried to adapt it in 2014, or 2015. I was like, "Okay, I've seen this play a dozen times, and I'm ready to try to reimagine it."
Screen: Financiers and producers often talk about the importance of 'opening out' stageplays when adapting them for films, but concentrating characters in a specific setting can also be cinematic. How did you all approach that choice?
Zeller: The narrative of The Father, it's a lot about the space. All the thinking about how we could adapt this play into a screenplay was about thinking how it could find a room in the space. The first advice you get when you're starting to think about adapting a play into a film is always to write new scenes outdoors — as you beautifully did, Kemp, in One Night In Miami, you cannot see the play behind the screenplay. But for The Father, we wanted to try to stay in this small apartment. And so that space could become like a mental space and to use it in a very cinematic way.
Hampton: The temptation to open it out was different in our piece because it's a story that's taking place inside somebody's head. Therefore you want to find ways of reflecting the intense privacy and individuality of the experience, rather than doing what you would instinctively do with a play.
I think it's harder to adapt plays for the screen than it is to adapt novels. There's something about the theatre which is very technical and artificial. If you're not careful, when you turn it into a film, it still looks like a play, which is what you don't want. So there were these two conflicting things, which is that neither Florian nor I wanted it to look like a filmed play [but] on the other hand, we wanted the audience to gradually understand that we were inside Anthony Hopkins' head. So we were balancing those two considerations.
Santiago-Hudson: The trap is: the studio says, "Open it up." But, you know, I only gave you a couple of opportunities to be outside, to introduce the time and the place and the character. The play is about a specific group of people in a specific place in a specific time. That's what I kept getting back to. If you notice, I open up from the beginning because I wanted to put Ma Rainey in the temple where she was most powerful. I had to put her in her power first, and then I put her in the navigating of power.
Hampton: It always tends to narrow down to the play in the end.
Powers: I saw 12 Angry Men as a child and it was the best movie I'd ever seen. I saw the play many years later. But for me, there is a more natural symbiosis between works on stage and works in film. And some of the conceits of the stage transferred to film excite me. I always go back to 12 Angry Men when people say, "They're just going to stay in one place?" It's like, "Didn't you guys watch that when you were in school? Wasn't it riveting to watch these jurors battle it out for 90 minutes?"
It's been borderline annoying to see people saying this season, "Why are there so many play adaptations?" That's not something you usually hear, "Why are there so many novel adaptations? Why are there so many movies about meteors hitting Earth?"
It's particularly amusing because when my play was produced, it was not universally well-received. I remember a number of criticisms where it was, "This isn't worthy subject matter to be a play." They were like, "You have these four guys in the room and literally nothing happens." Or I've heard, "There's no stakes."
So then I adapt it into a film, and I get to read reviews about, "Oh, it's such a play. Shouldn't it just be play?" And I'm like, okay, basically, this story is not allowed to exist on stage or in film.
I love Ma Rainey's Black Bottom and I love The Father and I love the film that Regina made of my play. So I don't see any harm seeing more and more plays get adapted. A Few Good Men, Aaron Sorkin adapted his own play into that great movie. Plays have been adapted into incredible films for a long time. This isn't a new event.
Hampton: I must say, as the oldest person here, I can remember that it was actually pretty standard for successful plays to be done into films, if you think about Look Back In Anger, Who's Afraid Of Virginia Woolf?, or Betrayal or several of the Pinter plays. That was pretty much a standard progression, and it kind of fell away in the last 20 years or so. I'm not quite sure why. So maybe this is an encouraging trend.
Santiago-Hudson: I really respect European cinema because they do people stories, stories about relationships and people navigating relationships, and they're patient. And so to have a film like ours, Kemp, in America, where people actually do sit and talk, and then everybody is like, "Open it up, make something happen." Human beings are navigating relationships and feelings and emotions and intellect — that's what's happening. You've just got to convince them, and that's the hardest thing.