The films competing in the two shorts categories of the Bafta Film Awards span hand-drawn and stop-motion animation, documentary, Eastern European black comedy, musical and pulsating queer drama. Screen profiles the eclectic titles that are up for prizes.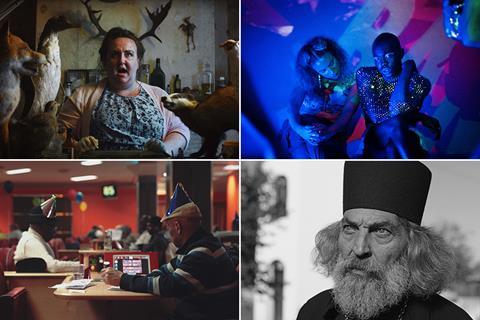 Best short film
The Black Cop
Bafta nominee: Cherish Oteka (director/producer)
Current concerns about the working culture in London's Metropolitan Police force — as well as continuing conversations about racial profiling within policing — make this a timely moment for The Black Cop. Cherish Oteka's docu-drama explores one former Metropolitan Police officer's experience of being both victim and perpetrator of racism in the police force, taking audiences into the usually private world of policing, told through an unfamiliar perspective. "I have made documentaries that explore identity, discrimination and institutional bias, but never through the lens of someone who sits on all sides of the conversation," says Oteka, whose directing credits include numerous documentary shorts and the 2019 BBC TV documentary Too Gay For God?. "In one person and one story we present a villain, victim and hero, and begin to understand the potential that we all have in being any one of these, even all three." Commissioned by Guardian Documentaries and supported by the BFI Doc Society Fund, The Black Cop, produced by Emma Cooper, has screened at festivals in the UK and US, including London's Raindance Film Festival and the American Black Film Festival in Miami.
Femme
Bafta nominees: Sam H Freeman, Ng Choon Ping (directors/writers), Sam Ritzenberg, Rienkje Attoh, Hayley Williams (producers)
The day before the start of the four-day shoot scheduled for Femme, the director of photography and the entire camera and lighting crew were exposed to Covid-19. "We had to find a new DoP and crew that evening," says Ng Choon Ping, who co-wrote and co-directed the fiction drama with Sam H Freeman. "It was terrifying but James Rhodes, the new DoP, was brilliant and was able to quickly absorb and execute our vision for the film." The short tells the story of a femme gay man, played by Paapa Essiedu (a 2017 Screen Star of Tomorrow who was Bafta and Emmy nominated last year for I May Destroy You), whose night out takes a menacing and tense turn when he gets into the car of a flirtatious drug dealer (Harris Dickinson, also a 2017 Screen Star of Tomorrow). Ng's background is in theatre directing, and Freeman's is in screenwriting (episodes of BBC/HBO series Industry). "When we came to the shoot, we could fan out and talk to different departments simultaneously, confident we were both tapping into the same vision," says Ng. Femme won the best short prize at the 2021 British Independent Film Awards after rolling out at SXSW and BFI London Film Festival
The Palace
Bafta nominee: Jo Prichard (director/producer)
A month into filming her documentary directing debut The Palace — a portrait of regulars and the owner of the London Palace Bingo Club in a shopping centre in the city's Elephant & Castle neighbourhood — Jo Prichard was told the club, long threatened with closure as a billion-­pound redevelopment neared completion, had two weeks before it would be forced to close forever. The shooting deadline focused Prichard's mind and pushed any thoughts of turning her passion project into a feature-length documentary off the table. "I had about a month-and-a-half filming inside and just ramped up my efforts and started filming as much as I possibly could," she says. A documentary producer by day, Prichard's work boasts non-fiction projects for Netflix, Discovery and the BBC, and includes 2021 feature-length documentary Dettori for Sky Documentaries about champion jockey Frankie Dettori. Prichard hopes Bafta recognition for her self-funded passion project will help open doors to directing more of her own documentary ideas.
Stuffed
Bafta nominees: Theo Rhys (director/writer), Joss Holden-Rea (writer)
Theo Rhys originally planned a four-day shoot for his short musical about a taxidermist who dreams of stuffing a human, but his lighting van got stuck in traffic on the way to the Gloucestershire location, shaving off a day. "We were lucky to find a location house that nobody had been inside for 10 years," says Rhys, who was able to do a day-and-a-half of pick-ups on the film a couple of months later. "It was completely dilapidated and gave us some incredible textures to work with." For Rhys and regular collaborator, co-writer and composer Joss Holden-Rea, Stuffed arrives out of the pair's love of film musicals coupled with their longheld ambition to create something darker and more grounded in reality than the norm. Stuffed has enjoyed an awards-­littered 2021 festival run for the duo, including Bucheon International Fantastic Film Festival's top short film prize and audience award, Nashville Film Festival's grand jury prize, and audience and special jury recognition prizes at SXSW. "We were not sure anyone wanted a grotesque musical about a taxidermist, but it turns out they did," says Rhys.
Three Meetings Of The Extraordinary Committee
Bafta nominees: Michael Woodward, Max Barron (director/writers), Daniel Wheldon (producer)
Jones — the filmmaking moniker for commercials and music-video directors Michael Woodward and Max Barron — shot Three Meetings Of The Extraordinary Committee in two days on location in Bulgaria, in black and white and in Bulgarian. "It felt like the right setting for our story, which we wanted to take away from a British or American context, but preserve the themes that inspired it — deindustrialisation and the failure of hope." The film is set in Dobre, a town whose dairy farmers are faced with a defining choice when a salesman for the 'unicow' comes to town — a revolutionary bovine creature that produces the same milk as 2,000 normal cows. For Jones, which earlier made the micro-budget feature Everyone's Going To Die (a SXSW 2013 premiere), a Bafta nomination feels like a validation as filmmakers. "The nomination makes it feel like someone is listening to what we're trying to do as filmmakers," declare the duo. "That's all we ever wanted."
Best short animation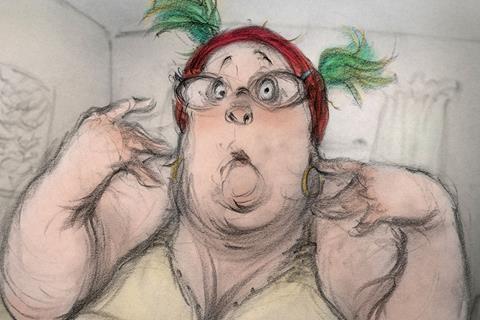 Affairs Of The Art
Bafta nominees: Joanna Quinn (director), Les Mills (producer/screenwriter)
Affairs Of The Art from director Joanna Quinn and producer/screenwriter Les Mills has been a long time coming. It continues the series of award-winning UK animated films that began with 1987's Girls Night Out, followed by 1991's Body Beautiful and 2006's Dreams And Desires: Family Ties. The short sees the belated return of recurring character Beryl, a 59-year-old factory worker who is totally obsessed with drawing, and sketches out stories about her grown-up son, multi-­divorced sister and her husband. Mills creates in-depth profiles of the characters for Quinn, who then storyboards and creates 2D hand-drawn paper animatics. "It was two years of animatic work and six years of drawing and script," says Quinn. Launched in the middle of the Covid-19 pandemic, Affairs Of The Art has won multiple international awards at festivals including Clermont-Ferrand International Short Film Festival and Annecy International Animation Film Festival, and has been nominated for the animated short film Oscar in addition to its Bafta nomination.
Do Not Feed The Pigeons
Bafta nominees: Antonin Niclass (director), Vladimir Krasilnikov (writer), Jordi Morera (producer)
Antonin Niclass and Vladimir Krasilnikov embarked on Do Not Feed The Pigeons after a late-night scouting mission to London's Victoria coach station in 2020. Niclass's National Film and Television School (NFTS) graduate short film uses animated cutouts to portray a disparate collection of tired and lonely travellers waiting for a delayed last coach, who find themselves magically connected for an instant by the resident cooing and swooping pigeons. "I have always been drawn towards portraying feelings of loneliness and melancholy," says Niclass, who describes his animation technique as quirky and shabby chic for his film, which took just over a year to finish. "For me, the Bafta nomination is motivation to keep exploring different forms of storytelling in animation because it seems it has found a public," he says. Niclass is up against fellow NFTS graduate, ex-housemate and good friend Ida Melum, nominated in the same category. "I didn't imagine the film would get this type of recognition, but we're thrilled and excited to see it travelling to festivals all over the world."
Night Of The Living Dread
Bafta nominees: Ida Melum (director), Laura Jayne Tunbridge, Hannah Kelso (writers), Danielle Goff (producer)
Ida Melum says she has always had a turbulent relationship with sleep and has also dealt with her fair share of anxiety and overthinking. Her debut animated short tells the story of Ruby, who finds herself haunted by unwanted visitors after her bedtime routine is ruined by a power cut. "I definitely had lots of embarrassing moments to bring to the table," says Melum. "It was a fun moment in development when the producer, writers and I shared our most embarrassing stories, some of which ended up in the film." Melum's NFTS graduation film includes Stephen Fry in its voice cast and took a year-and-a-half to make. On the road to Bafta, Night Of The Living Dread picked up a best British short film nomination at the British Independent Film Awards, and a best student film nomination at the Annies. "I'm looking forward to the festivities and being able to celebrate with everyone," she says regarding the Bafta recognition. "The other two nominated films are both incredible, and I'm proud to be nominated alongside them."