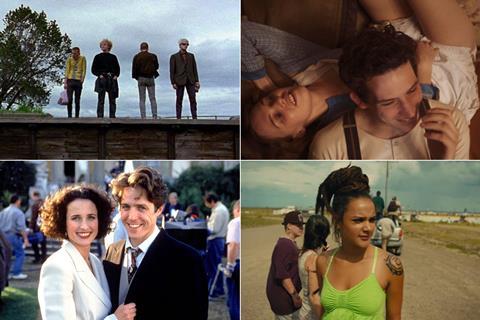 Update: The UK government has now confirmed it will push ahead with plans to privatise Channel 4.
Original story: In July 2021, when the government first launched a consultation into the possibility of finding a new owner for the public service broadcaster, Screen canvased leading filmmakers and executives in the UK film industry about the prospect of a privatised Film4, which is the film arm of Channel 4.
Most of the people to whom Screen has spoken expressed fears a private owner would not maintain the commitment to creative risk-taking and support of new talent that has defined the film division - along with its broadcaster parent - since its launch in the early 1980s. It is these values, they said, that have helped to craft the present UK film ecosystem and celebrate the "British cultural voice" as Working Title Films' Tim Bevan puts it.
Film is not mentioned at all in the summary document published in early July which talked in general terms about ensuring "the UK's broadcasting system is fit for the future."
Along with the British Film Institute and BBC Film, FIlm4, which has an annual budget of £25m, is one of the three pillars of independent film financing and production in the UK. Any change to its remit would very likely impact the entire sector.
Film4 has nurtured the careers of multiple Oscar and Bafta winners by consistently supporting the new voices that private backers did not. The 'Film on Four' label was set up as part of the launch of Channel 4 in 1982. In the years since the company has nurtured the careers of filmmakers including Danny Boyle, Sarah Gavron, Neil Jordan, Steve McQueen and Andrea Arnold. Success stories include Four Weddings And A Funeral, Shallow Grave, Trainspotting, 12 Years A Slave, The Favourite and Three Billboards Outside Ebbing Missouri. Last year it backed Gavron's multiple award-winner Rocks and Rose Glass's similarly-lauded Saint Maud; this year it has been involved with and will co-release in the UK, the Palme d'Or winner Titane, as well as Cannes critics' favourite Mothering Sunday.
UK industry figures express their opinion on the potential sale of Film4
Elisabeth Karlsen, Number 9 Films, producer, Mothering Sunday, Carol
"Number 9 works very closely with Film4 and has done for decades. For us, Film4 has been absolutely crucial in providing not just finance for the development of our projects and production funding… but also the creative input and support they provide is extraordinary.
What we have found from personal experience is that relationships with corporations are very, very different. They function in a pretty cut-throat manner that leaves you in very difficult and unpleasant situations very quickly. They are not interested in the things Film4 are interested in and do not sustain creative talent in the way that Film4 does.
It only takes seconds to look at Film4's history and to see the cultural and business impact it has had on the global industry. Privatisation seems incredibly short-sighted. We would be devastated as would many people. It would be a completely different thing as a private organisation."
Steve McQueen, Oscar-winning director of 12 Years A Slave, Widows
Film4 has a legacy of creating space for British filmmakers to tell stories that matter. Without them I wouldn't have been given the opportunity to tell mine. Its body of work is a testament to what happens when artistic integrity is placed above drive for financial returns. The privatising of Channel 4 would put the UK's future as a place where meaningful work is done in great jeopardy.
Andrea Cornwell, producer, Saint Maud
"Film4 was essential for getting Saint Maud into the world. Alongside the BFI, they were the full financiers of the film. It was an extremely safe and good creative home for the film. We are doing our next project with Saint Maud director Rose Glass at Film4. It's a thriller which we are hoping to shoot in the US early next year. It's now starting to go out on its cast and financing journey but it has been fully developed with Film4.
Film4 is more than just a financier. It's a stable where filmmakers can start and develop their careers. It's not just to get you out of the gates on your first one. I was involved in a film called The Scouting Book For Boys many years ago that started off the careers of Jack Thorne and Tom Harper.
The whole eco-system of film in the UK collapses without them. The three central pillars, BFI, BBC Films and Film4, are what enables films to happen. That isn't replaceable at a commercial level. To have a cultural element to the commission process is a fantastically privileged situation we have in the UK. As a result, we do have these enormously important figures on the world stage. We do have this way where people can hone their craft. [If Film4 is privatised] the worry is that filmmaking becomes a place where the privileged few can afford to develop and make films and to self-fund. That is exactly the kind of thing we've all been trying to eradicate."
Tim Bevan, producer, Working Title Films
"We benefited from early Film4 where they developed My Beautiful Launderette and we came on as producers. We then had a run of movies - Wish You Were Here, Diamond Skulls, Four Weddings And A Funeral - where they were incredibly supportive. The really important thing is that they gave us the framework from which we could build our business. Their mandate was to support independents - and they did support independents by allowing independents to own their rights and then trade in those rights.
I think it is preposterous what is going on. People are really not seeing the bigger picture and the bigger picture is this: companies like Working Title were able, by owning their rights and working as independents, to build businesses. Creative voices like the Stephen Frears, Danny Boyles and Steve McQueens who've been brought in by the channel, got themselves established. As important are the diverse, inclusive voices that continue to get supported by the channel. We have just made a TV show [for Channel 4] with a brilliant young voice Nida Manzoor called We Are Lady Parts. This argument that, 'oh, young producers and directors can take their work and put it on YouTube', they're sort of missing the point. Yes, they can but you do not get the editorial support and experience you get from a channel like Channel 4. All those great creative voices - they needed that nurturing and those executives who completely supported them to get their voices heard.
Most important of all the arguments is that we've been through Brexit; we are told by everybody that the creative industries are the industries of the future. Really important inside of that is that the British cultural voice is heard. A lot of what is going on with the overheating of the industry at the moment is to do with mainly American, multinational companies shooting here. They're not particularly interested in the British cultural voice. They're interested in our crews, our facilities and our tax credit. Which is great because it keeps a lot of people employed but it is not protective of the British cultural voice."
David Parfitt, producer, Trademark Films, The Father
"The fact that Film4 has got risk baked into their DNA is incredibly important. It's not that they don't take a commercial approach. Their deals are good but can be quite tough. But what they are is genuine risk takers. I can't see where their replacement comes from.
Our relationship goes back to the early 1990s with Peter's Friends and The Madness Of King George. They really were the people who took the risk on us when we were starting up.
Film4 is such a brilliant model! It was pretty revolutionary, an advertiser-funded independent company who are re-investing profit is sort of wonderful and, I think, uniquely British."
Aml Ameen, director of Boxing Day
"I support anything that keeps Film4 within the framework of its wonderfully progressive structure. They've been friends to me, and help me realise a dream of directing the world's first Black British rom-com."
Katherine Butler, creative director, The Ink Factory
"It was always my dream to work for Film4 - growing up as a provincial 80s teen, films from My Beautiful Laundrette to Letter To Brezhnev shaped my own personal cultural landscape. I count myself as being ridiculously lucky to have worked there for the best part of a decade, and what's more, to have been liberated to take risks and to follow my instincts to whatever weird and wonderful places they led me.
As a team we believed in, and worked hard to nurture an utterly supportive environment for talent, an environment that was purely focused on the work and how to make it great. Our guiding principle was to build an environment that not only gave talented people the greatest chance to do their best work on their first film, but which then gave them the possibility of a creative home to return to as they built their careers. We were able to do this because as a company we did not have a commercial imperative. The public service broadcaster principles under which Channel 4 and Film4 were set up gave us a mandate to find, nurture and build. We knew how damn lucky we were - every meeting with an American industry friend started with 'if only we had a Film4 in the US whose role was to grow talent in the way you do' and we tried to live up to this responsibility by supporting the best, riskiest, noisiest, and most exhilarating work we could find.

There are so many of those films that came early in filmmaking careers - from Hunger to Shallow Grave, Dead Man's Shoes to The Selfish Giant, Tyrannosaur to In Bruges to Kill List to Garage to The Imposter to Beast to Saint Maud (and the list goes on and on and on) - that would have struggled to have existed at all without Film4."
Andrew Macdonald, producer, DNA Films, Shallow Grave, Trainspotting, Ex-Machina
"I don't think I would have a career without Film4. I think you can add to that a lot of the collaborators I have worked with, John Hodge and Danny Boyle with Shallow Grave and Trainspotting, Kevin Macdonald with Last King of Scotland, Alex Garland with Ex-Machina. The list goes on and on.
Everybody can make endless amounts of film and television with Netflix and Amazon but then those people aren't going to give people a chance at the beginning of your career. I say to every young person who wants to make a film you've got to make it for Channel 4 or the BBC because then it will be credible and get respect and all the rest of it. Try and make it with those guys, because those are the best people in the UK to make films with. They understand everything that you're trying to do.
if you're Netflix, putting up $20 million, and it's a British film, you want the British rights. That's the challenge everybody has because the streamer just wants to buy out all the rights. If you've developed a film with Film4, they always allow you to play the field. That's a very good thing for producers.
As a more experienced producer, that is what I love about working with Film4. You partner with them and then you can show the film project, once you've developed it, to all the buyers. You can finance it in many different ways. They're happy to work with studios or with sales agents. I am sure they will find a way to work with Netflix because we will have to. That's the real challenge and losing Film4 would make that challenge even harder. Channel 4 is partly set up as a publisher, non-rights owner, to encourage the British independent business which I think is hugely responsible for the inward investment we are now getting. Without all the filmmakers and producers who've built up serious businesses because of Film4, we'll just end with everything as ever in this country being owned by Americans and Chinese."
Nick Rowland, director, Calm With Horses
"Film4 has always represented bold and distinctive filmmaking. They tell stories that are willing to challenge the audience as much as entertain them, and they have been the place to discover fresh and diverse new talent just as much as they have been a loyal home to the UK's most prolific auteurs. That has always been their DNA and it is vitally important that this never changes. In a post-pandemic landscape we will need Film4 more than ever to protect the cinema we all love so much."
Prano Bailey-Bond, director, Censor
"Film4's championing of independent, artistic voices is vital to a thriving UK film culture. They are known globally for creating challenging, progressive, award-winning cinema, and have provided many debut filmmakers, including myself, with their first big breaks. Privatisation would be devastating to filmmakers like myself, as well as the next generation of British film creators."
Katie Goodson-Thomas, co- head of production Searchlight Pictures
"Film4 are not only industry stalwarts but leaders in their field and have been an integral part of Searchlight's success in the UK. We value them both as friends and creative partners – it is critical to the UK and worldwide industry that their legacy continues."
Moin Hussain, director, 2018 Screen Star of Tomorrow who made 2018 short Naptha with Film4
"Film4 have supported and enabled me to develop as a filmmaker and bridge the gap between shorts and features. The time, space and trust they have given and continue to give first-time filmmakers really is special and so valuable to our industry."
Chris Smith, Lord Smith, Baron Smith of Finsbury, former Secretary of State for Culture, Media and Sport
"One of the glories of Channel 4 through the last 20 years has been its commitment to supporting and making films of the highest quality. Quite simply, it's been a backbone of the British film industry. All of that will be put at risk if Channel 4 is sold off – its film commitment will be the first thing that could go, with a commercially-driven owner."
Chris Young, producer, The Inbetweeners
"We wanted to make a film from a TV show that had originated on E4 and had a huge following. The reality is that, out in the marketplace, there was no real appetite for a film. There was one person who saw its [cinema] potential and that was Nigel Green [at Entertainment Film Distributors]. Everyone else saw it as a straight to DVD, non- theatrical proposition. It was an under -the -radar production [fully financed by Film4 and 4DVD]. It had no names attached. Those are precisely the things that Channel 4 and Film4 have been very brilliant at unearthing. That level of ambition and boldness and originality would be killed if it was privatised. It would be a disaster creatively and therefore financially. If it ain't broke, don't fix it."
David M Thompson, producer, Origin Pictures, former head of BBC Films
"Film4 has struck a brilliant balance between creative imperatives and risk-taking and commercial imperatives. They tread a very fine line and they've made it work.
Striking that balance is really crucial, particularly now when cinema is so challenged. It would be quite alarming if Film4's brief was changed under a new system. It would shackle it somewhat. If Film4 was privatised, then, inevitably, the imperative would be merely commercial. That would really influence the kind of decisions that are taken.
I know there are some people who say you can do both. If you look at Searchlight, it is a commercial studio that has also been very risk-taking. Maybe it is possible to do both but privatisation would be a really, really unwelcome and quite dangerous change.
Ed Guiney, producer, Element Films, Lobster, Room and The Favourite
"Film4 has been absolutely crucial [to Element]. Two of the most prominent filmmakers working today got their early support. I am talking about Lenny Abrahamson and Yorgos Lanthimos. That's such an important thing to have that dynamic in play, to take risk on new talents and unusual talents. Obviously, the BFI and BBC Film does that and it's part of their remit but I am not sure that anyone else does and I would really fear for the future of British filmmaking and the discovery of filmmaking talent if Channel 4 were to be privatised and Film4 to have a more overtly commercial agenda.
If people are taking the money out, obviously there will be less money for development and experimentation. It will turn into something much more like ITV or Channel 5 where you don't see the same kinds of innovation and risk-taking…what will be damaged are things that are of cultural value and of value to the future of British filmmaking and cinema. That seems incredibly short-sighted.
If you think of something like Poor Things, the new film we're doing with Yorgos, and with Room, we built that with Film4 and then took that out into the world. That's a very powerful thing. You're able to circle the wagons, completely explore what the thing is, figure out the budget and who should be in it, get the script to the very best place and then go out into the world and find your partners. That is very valuable and important in terms of preserving the integrity of the piece, the voice of the piece. That is really precious."
Rose Garnett, director of BBC Film
"Alongside BBC Film and the BFI, Film4 are a cornerstone of UK independent film and it is vital that they continue to thrive."
Edgar Wright, director, Last Night In Soho, Shaun Of The Dead
"Last Night In Soho is the first film I've actually made with Film4 but to give credit to their development of new talent, they developed Shaun Of The Dead [under Paul Webster and Jim Wilson].
As a fan and a filmmaker, what they've managed to create over the last nearly 40 years is an incredible groundbreaking body of work. Most crucially, they supported a lot of the best British filmmakers in their first movies. It's the investment in development and new talent and also making cutting edge films that are not necessarily led by market forces.
I worry that a commercialisation of Film4 would mean losing its identity completely. Their history speaks for itself basically. Especially in what would next year be their 40th anniversary."
Additional reporting by Ben Dalton