Former teacher speaks to Tom Grater about his debut feature, which premiered at Cannes.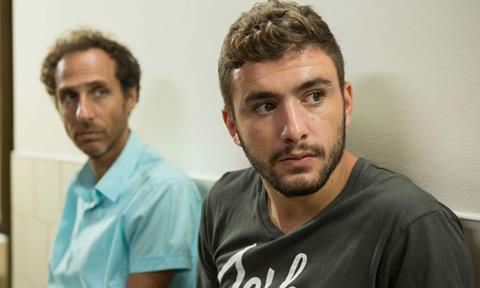 A year ago, Tel Aviv-based director Matan Yair was in Jerusalem pitching his script for drama Scaffolding to a Pitch Point jury consisting of Dylan Leiner from Sony Pictures Classics, Vanessa Saal from Protagonist Pictures and Remi Burah from ARTE France Cinema.
The project's story, based on characters from the director's life, follows an impulsive troublemaker who forges a special connection with his literature teacher before an unexpected tragedy occurs.
Yair found the pitching experience empowering and beneficial. "It was important because the jury were people from all around the world," recalls the debut feature director. "I surprised myself. I found I knew the characters deeply. I felt that I had all of the answers to their questions intuitively inside me."
Cash boost
Yair and his producers Gal Greenspan and Roi Kurland at rising Israeli production house Green Productions were already in pre-production on the feature, a process that was boosted by the Pitch Point jury's decision to grant them their top prize, the $5,200 Van Leer Award.
The majority of the film's budget, which was around $400,000 (€350,000), came from the Israel Film Fund. The finance was completed when the Green Productions team approached Stanislaw Dziedzic from Polish company Film Produkcja to be a producer, and he in turn raised funds from the Polish Film Fund. Moshe Edery and Leon Edery also boarded as producers for United King Films.
Armed with a budget that Yair describes as "modest", the director and his producers were conscious of keeping costs down on the production. As a result, they opted to shoot in many of the same locations that had been used as inspiration for the script, including the school where Yair was working as a teacher of literature and history. "We chose places that wouldn't be trouble for the production," Yair notes.
Scaffolding's protagonist is played by newcomer Asher Lax, one of the director's students, who was the original inspiration behind the screenplay. "I taught 17- to 18-year-olds from difficult backgrounds, from houses that don't see education and culture as something to raise your kid on," recalls Yair. "I was Asher's teacher for two years. It was really difficult to teach this guy. He was almost becoming a small-time gangster; he was violent and rude and did whatever he wanted at school."
The pair's relationship came to a head when Yair was made the examiner for Lax's history final exam, which was due to take place not long before he would be sent to the army to complete his national service. "I realised he wasn't going to pass, and if he failed he could be on the street," the filmmaker says. "It was crucial he pass, otherwise school would give up on him and he would give up on school."
Fortunately, Yair helped Lax to pass the exam, and afterwards their relationship significantly improved. "I started to see a different side of him, a warmer side," he says. Yair adds that Lax didn't have ambitions to be an actor before he was cast, but was cautiously receptive to the idea when the director first mentioned it early in the scriptwriting process. After the screenplay was complete, and Lax read the dialogue, Yair says that the young man realised it was something he could do.
During shooting, a further location used for the production was Lax's actual house, which Yair says helped the actor to feel comfortable because he was in his own environment.
Cannes premiere
Filming took place in October and November 2016. The team was delighted to discover that the film had been selected to have its premiere at Cannes 2017 in the Acid programme, which highlights works from emerging indie filmmakers. The director says it was the perfect platform for Scaffolding's debut. "It was a great experience. In a way the Acid programme is quite modest; it was very good for the film," he says.
Yair will be at Jerusalem Film Festival to accompany the Scaffolding screenings on July 17 and 20. He will return to teaching in September, following a year's sabbatical taken to work on the film, and is also now in the early stages of writing his next project.