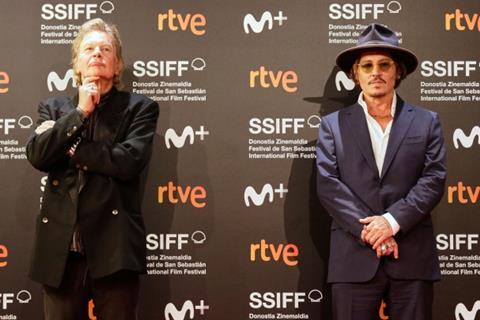 When UK filmmaker Julien Temple took a call proposing a feature documentary about Irish musical icon Shane MacGowan, the hell-raising, hard-drinking, drug-taking punk poet and lead singer of the Pogues, he hesitated.
But then Johnny Depp backed the project and with Depp on board – the Hollywood star has known MacGowan for 35 years – Temple knew he had an ally in corralling MacGowan.
Crock Of Gold: A Few Rounds With Shane MacGowan is now premiering in competition this week at the San Sebastian International Film Festival. The film details the singer-songwriter's life from growing up in Ireland to his time in London embracing the punk scene.
It blends animation, dramatic re-enactments, talking head interviews, voiceovers and archive footage, and includes intimate interviews of MacGowan with figures as diverse as Depp, former president of Sinn Féin Gerry Adams and MacGowan's wife Victoria Mary Clarke.
It is produced by Temple's Nitrate Films and Depp's Infinitum Nihul outfit, with BBC Music, Warner Music and international sales outfit HanWay Films. Screen Ireland supported the project.
Temple and Depp are both in San Sebastian in person for the world premiere. "I've been very lucky to have a long history with Shane MacGowan," Depp told the San Sebastian press corps yesterday. "Before I met him I was fascinated by his language, his ability to make these incredibly moving, powerful songs yet at the same time kind of being on the heels of the devil.
"I really wanted the world to see who Shane MacGowan is and what his legacy is, for me one of the greatest poets of all time," he continued. "If you read his lyrics and go back and read François Villon, the great French poet, you'll see similarities."
With Depp sleeping off the effects of a rock 'n' roll lunch, it was left to Temple to talk to Screen about the importance of research in doc making, capturing MacGowan now, and the impact the Covid-19 pandemic has had on the whole the process.
Who first called you to make a film about Shane MacGowan?
Shane [MacGowan] and [long-time friend and London-based publican] Gerry O'Boyle asked me as they were getting ready for Shane's 60th birthday concert [in Dublin in 2018]. I wasn't sure. It's quite a challenge making a film about Shane MacGowan. You have to wake up to the potential pitfalls. But Johnny [Depp] got involved, he's an old friend of Shane's, and that got me. There was an ally to back me up a bit and I took the plunge. I'm glad I did.
As Shane's story unfolds, so does the story of Ireland. How quickly did you figure out the narrative structure of the piece?
You only had to go to Pogues gigs to know Shane was a Republican Irishman. But I didn't quite understand how central the notion of re-inventing Irishness was to him. Getting rid of not just the twee aspects of how the music had become but also the whole "Oirish" kind of thing. He wanted a much more abrasive, young hip version of the tradition he saw himself coming from (not just the music but also the literature).
How long did the research take?
We spent about a year and half researching the film. It was made longer by the virus because we couldn't access the master archives, the libraries were closed. That part of the process looking for the best quality archive you can get takes a long while anyway but the Covid thing meant it took a long time.
The conversations Shane has on camera with Gerry Adams, Bobby Gillespie and Depp as well as his sister, mother and father are very revealing. How important was it to have those interviews?
Shane didn't want to do a formal talking head kind of interview. He wanted to see what we found out in conversation with people. What I like is they do show different sides of Shane rather than just sitting in an armchair in front of a camera.
What was the bumpiest moment?
Shane is probably in pain more than you realise. Getting from A to B if there isn't a smooth ramp or path, sometimes we'd be waiting around for days and then not get anything. It got a little urgent because we did need him to do stuff.
Where did you film the segments with Shane himself?
We shot in France in Johnny's place. We shot him in Dublin with Gerry Adams and we shot him in London at [MacGowan's former manager] Gerry O'Boyle's Boogaloo Bar in Highgate.
Was there a particular golden moment during the process?
His sister [Siobhan] and his wife Victoria [Mary Clarke] are very important to the film. Bizarrely a lot of the film is reaction shots: Shane listening to Johnny saying something or listening to his own thoughts recorded over the years. His face is intriguing it draws you in. There is something in his eyes. When he lights up, he's young, he's got a young mind and wit.
You're at a festival in Spain during a global pandemic and rising cases again. Do you feel safe?
[The producers] sent us a private plane which made it a lot easier.
What is the festival atmosphere like?
Everyone is wearing masks. It hasn't stopped the festival being alive. It's a beautiful town and the festival has great pedigree. It is the opposite to the market circuses you get at some festivals.