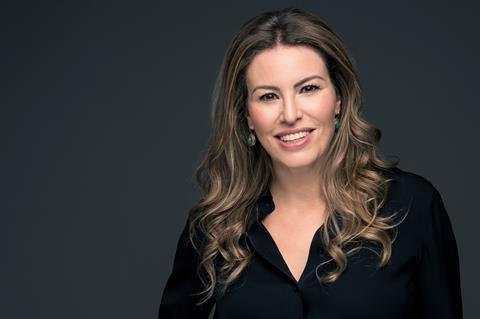 Farah Nabulsi may have been born and raised in the UK, but it is the land of her family, Palestine, that compelled her to ditch her corporate career and become a filmmaker.
Nabulsi remembers childhood trips to Palestine, where her mother is from and her Egyptian-born father has his heritage. Then came a 25-year break from visiting, which Nabulsi puts down to "inherited trauma and stigma from my parents after the first intifada (uprising) in 1987. They thought they were keeping my sibling and I safe and, for them, returning to visit was a very painful experience."
She forged a career as a stockbroker in London, before starting up a mother-and-child focused business. In around 2013, she returned to Palestine for the first time as an adult, for what would prove to be a life-changing trip.
"I'm Palestinian by my blood and my heritage," says Nabulsi, "and I've always thought I understood the realities on the ground there, the discrimination and the oppression, but it was only a few years ago when I travelled back to Palestine that I really understood the extent of the racism, military occupation and apartheid [under Israel's occupation]. I was feeling quite disturbed.
"I started to go back and forth and had this really deep desire to tell these human stories that I had come across on my trips there and express myself creatively."
While Nabulsi grew up with a fondness for cinema – she cites the work of Jim Sheridan and Daniel Day-Lewis' performance in In The Name Of The Father as having a particular impact – she had no formal film school training. Her craft was learned by writing and producing three self-funded short films, adapted from what she describes as "personal therapeutic writings I had written myself before choosing to become a filmmaker".
It took these three shorts for Nabulsi to rid herself of "a bit of imposter syndrome" and switch her attention to directing. "I had a desire to direct, but I always thought the barrier to entry for that was higher," she recalls. For her fourth short, The Present, she couldn't deprive herself any longer.
The Present tells the story of a Palestinian father, played by Saleh Bakri, trying to navigate the military checkpoints and segregated roads of the Israeli-occupied West Bank to buy a present for his wife, with his young daughter in tow. Nabulsi directed the short, and co-wrote with Palestinian writer Hind Shoufani. It filmed on location, including guerilla filming of thousands of Palestinians queueing at an Israeli checkpoint known as Checkpoint 300 for their morning commute, shot without permission from the Israeli authorities. The short was self-funded, with help from the Doha Film Institute.
It went on to be picked up by Canal Plus in France, Pacific Voice in Japan, Telefonica in Spain and Netflix worldwide, win over 40 audience and jury awards at international film festivals, get nominated for the best live action short film award at the 2021 Oscars, and win the best British short film award at the Baftas in that same year.
The pandemic hit while Nabulsi's career was gaining momentum, but she is grateful for the time it gave to focus on writing her first feature, The Teacher, with which she is taking part in this year's Doha Film Institute talent incubator, Qumra.
The Teacher will reunite Nabulsi with Bakri, who she describes as "the Daniel Day-Lewis of the Arab world". The feature is supported by the Doha Film Institute and also received development funding from the British Film Institute. While plot details remain under wraps, she confirms it is a "suspenseful drama". The UK producer is Cocoon Films. It is a UK-Palestine co-production, with support from Qatar, and plans to shoot in Palestine later this year.
Future focus
Palestine will continue to be an important part of Nabulsi's calling as a filmmaker – she's just completed a rough first draft of a Palestine-UK comedy drama – but she's not ruling anything out. "As long as it really matters to me, and has that depth and meaning, then I'd love to direct it. I'm definitely open not only films on Palestine, but I do want to continue with that as well."
She describes making films about her family's homeland as "absolute pleasure, mixed with absolute pain, which I perceive as a necessity if you're ever going to have a chance of creating anything great.
"We don't have a full-blown film industry [in Palestine]," she continues, "or the funding or government support. I think we've done pretty well on the global stage considering all that. There's a lot of talent in Palestine, and a lot of potential talent as well.
"You've also got Palestinians in exile, who are up-and-coming filmmakers and storytellers, and are still part of Palestinian cinema, but internally, it's a really difficult landscape to manoeuvre in. You're always having to look for funding outside, so productions become very international, and given the reality on the ground, talent can't necessarily make their livelihoods only from being in the industry.
"I do feel Palestine is coming more and more into the mainstream," she concludes. "I think the conversations are increasing about Israel being essentially an apartheid state, but there needs to be more action. Look at what's happening in Ukraine right now – the whole world is up in arms, and rightfully so, but Palestinians have been experiencing military occupation, oppression and apartheid for decades. Where has the outrage been on that? There's definitely room for more from the UK, and the rest of the world."