Founding chief executive of Channel 4 discusses potential privatisation and career highlights.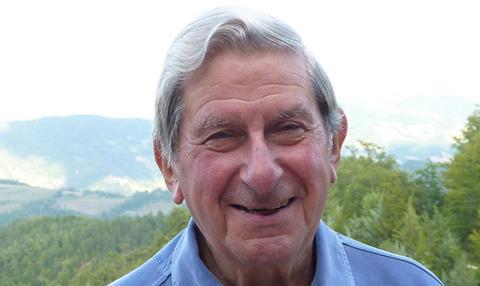 Jeremy Isaacs is one of the towering figures in recent British broadcasting history. The producer of The World At War is a former editor of Panorama and the founding chief executive of Channel 4. He also worked with Granada, the BBC and Thames.
Isaacs was renowned for allowing filmmakers creative freedom but what is sometimes understated is his contribution to cinema. Isaacs produced films (Jimmy Boyle drama A Sense Of Freedom); he gave the opportunity to Kevin Brownlow and David Gill to produce the groundbreaking documentary Hollywood: A Celebration Of The American Silent Film and broadcast their restorations of old silent classics like Abel Gance's Napoleon.
Together with David Rose, he helped to make Channel 4 a major player in the British film industry
Isaacs will be at London's BFI Southbank today (Mon July 25) to take part in a panel discussion about the filmmaker Jack Gold, director of The Naked Civil Servant, which Isaacs helped to bring to Thames after it had been rejected by the BBC.
Screen: What is your opinion about the current debate as to whether Channel 4 should be privatised?
I am against it because I think once you have got a company with shareholders running it, the risks and variety that Channel 4 is committed to would go out of the window. I think it may not happen because it needs legislation. The Parliamentary Committees that have considered the issues in the last couple of years have said it wouldn't bring the government enough money to justify mucking about with something that has been doing rather well.
When Channel 4 was first commissioning Film On Four, did you have any idea the films would get theatrically realised or that Film4 would go on to become a major film company?
French, Italian and German television paid for and showed feature films. The exhibitors in Britain wouldn't touch anything that had been on television. They saw television as a terrible threat. So, good filmmakers in the UK didn't get an opportunity to use aid from the television companies to make feature films of a modest sort.
A deputation of five filmmakers came to see us to say 'Don't make television series, make features films and we want our work to be seen in cinemas before it comes onto television'. I agreed with that. Dickie Attenborough, the principal filmmaker on the board of Channel 4 agreed with that.
David Rose (commissioning editor for Fiction at Channel 4) set out to make 20 low budget feature films a year. He did that for the first 2 or 3 years. The budgets crept up a bit. Bill Douglas made Comrades which cost £3m ($3.9m), a hell of a sum for us, but other things were made comparatively inexpensively. Directors grateful for the chance did their damnedest to do good work on a modest budget. I didn't want to make big commercial films.
The exhibitors came round?
They wouldn't let the films into cinemas. They had a rule that said it would be three years [between cinema release and showing on TV]. This was a nonsense because we were paying for these films. My good colleague Justin Dukes [founding managing director and deputy chief executive of Channel 4] played an absolutely critical role in enticing the exhibitors and distributors to the view that if the Channel had paid for its own films and wanted them seen in the cinema before they came to television, that was not something they should try to prevent. They gave in.
How did you come to work with Kevin Brownlow and David Gill at Thames and at Channel 4 on those documentaries and restorations of silent films?
I had made a series called The World At War. Two thirds of the way through that, we had a cast and crew party. I gave everyone a copy of Kevin Brownlow's book, The Parade Has Gone By. There were people in this group [making The World At War] who had nightmares because of the subject we were handling. I said to them, listen, next time we are going to enjoy ourselves, read this book.
When I became director of programmes at Thames, I asked Kevin Brownlow to make a history of Hollywood. That would have been completely impossible and idiotic to attempt. But it wasn't impossible to attempt, as the Parade Has Gone By had done, to talk about the early days of Hollywood from the turn of the century to 1926 or 1927 when the talkies came in.
I asked him [Brownlow] to do that and he couldn't believe it. He had never found it easy to be commissioned to make a programme for the BBC or ITV because he was an independent freelance and the staff people got all the jobs. He couldn't believe it when I said I want you to do a 13 part series on early Hollywood.
The (US) studios were extremely reluctant and wouldn't commit themselves to giving any kind of access to their material. They hadn't realised frankly that it could be exploited in a big way. When they did realise, they thought it is going to be us to benefit, not a television company. We had to decide whether to film Kevin's interviews for a series that might or might not happen before we had as single foot of material that would be intercut with Kevin's interviews.
We did that because they (the Hollywood old-timers) were dying. If you didn't get them now, they might not be there next year. Then other people more able and tenacious than I managed to get the Hollywood studios to see it might be in their interest to let this partnership go forward.
Why don't broadcasters support this kind of work today?
There was a period in British television history when the ITV companies had a safely guarded cartel monopoly position in television advertising in the UK. They earned enormous amounts of money because they had been given the franchise. They were told if you get this franchise, you must contribute to the quality of British television and not just the commercial aspect of it. So they were more than willing to commit large amounts of money to big worthwhile projects.
Thames made The World At War and then made Hollywood. From the word go, commercial television in the UK wanted not to crush the BBC but to emulate the best achievements and aspirations of the BBC. You had a two channel system, ITV and BBC, committed to what can only be called quality.
I had the most extraordinary good fortune to be at Channel 4 with a blank sheet of paper and to be able to put on it what I chose. There was, from the word go, to fund what the Channel needed and wanted to do in any given year. The money was an agreed and fixed proportion of the advertising revenue of the ITV companies the previous year. I was in the happy position of always knowing how much money we had coming.
I don't think it is right by any means to run down completely what the BBC, ITV and Channel 4 are doing at the moment but the will to do big big things is not there as it was earlier.
How did you first come across Jack Gold?
I met Jack Gold as he began to make his name as a marvellous filmmaker. He was one of a trio of filmmakers who were contemporaries and friends: Gold, Michael Tuchner and Kevin Billington. Two films Jack made early in his work caught the eye. One was a film about fox hunting called Death In The Morning, an account of a fox hunt which included a sequence from the fox's point of view. (The cameraman held camera between his knees and ran through a thick copse.)
He also made a film from the short stores of A.E. Coppard. You realised you were in the presence of a filmmaker who knew what he was doing with every shot he took. He brought the screen to life by being very clear and simple. He didn't waste a moment. He didn't waste a frame. He was the most efficient and economical director I had ever worked with. He had learned on the Tonight programme that if you had something to say, you had to say it quickly.
How did you come to work with Gold on The Naked Civil Servant?
Documentary maker Dennis Mitchell had made six short films about characters in Soho. One was about Quentin Crisp. A screenwriter Philip Mackie saw that programme and thought there ought to be a film about Quentin Crisp. He wrote one of the very best scripts I had seen. He touted it around Wardour Street.
Films about gay men or women were not very frequent in those days and so everybody turned it down. They probably thought it was too slight a topic for them or too dangerous a topic. The BBC, for some reason, did not respond warmly to it. Philip's agent got the script to Verity Lambert, who was the head of drama at Thames. I brought Verity to Thames and I was director of programmes. I agreed totally it was a marvellous script and asked Verity to put it into motion.
BFI season 'A Midas Touch – The TV and films of Jack Gold' is on now until 31st August at BFI Southbank.