The director and co-writer of The Greasy Strangler discuss their gross-out comedy.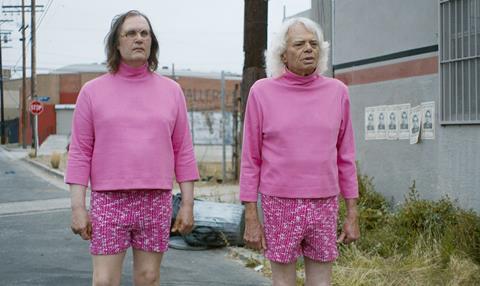 Comedy-horror The Greasy Strangler, which had backing from the BFI, counts Elijah Wood and Ben Wheatley amongst its creative personnel.
Screen spoke to director-writer Jim Hosking and co-writer Toby Harvard ahead of the film's showing at Sundance London (June 2-5) this weekend.
Screen: How did you attract the likes of Elijah Wood and Ben Wheatley to the project?
Jim Hosking: I was working with Andy Starke, who runs Rook Films with Ben Wheatley, on a few different projects. Along the way I made a segment of horror anthology The ABCs of Death 2 called G For Grandad, which Andy produced along with Tim Lee of Drafthouse films and Ant Timpson of Timpson Films.
I showed him the script for The Greasy Strangler and he loved it, so did Ant, and he asked if he could show it to Elijah Wood who had also seen The ABCs.
They all looked over the script and then it was a swift process. It's a low budget film but they wanted to make it in a pure way, I got a call from Andy in December 2014 saying that everybody wanted to do it and we started shooting four months later. It all happened very quickly.
It's not an obviously commercial project, did you worry about getting it made?
Toby Harvard: We didn't write it for anyone else, we wrote it to amuse ourselves first and foremost.
JH: I think until you make a film you feel like all films are hard to make. I've written a lot of scripts, shown a lot to my agent, and you hit a lot of bricks walls, especially when you're trying to make stuff that's different and not sitting tightly within one genre.
It's difficult but with The Greasy Strangler we thought somebody might really love it and find it hysterical, luckily that happened. We also showed it to a couple of other people who when they first saw it said, "We can't show this to anyone else that we know in the business, no one will ever want to make it, you're mad."
What was your writing process?
TH: We don't do it in person, we send it back and forth and do it by Skype, working out the story scene-by-scene in real detail.
JH: We never have an exact story that we want to tell, we stumble upon things and we move it along, you don't know what's going to happen or when, life is like that. I think we've both got some kind of attention deficit disorder, when we know where something is going we just get bored and switch off.
TH: We like to let it be free and take tangents that people don't expect.
Do you see it as a genre film?
TH: It's just different. The producers are all into genre film-making, I'm more into it than Jim.
JH: It probably appealed to them because of that, I think they saw it as a crazy film, perfect for a midnight screening.
Your actors really have to bare all in the film, how did you cast those roles?
JH: I wanted people who you wouldn't know from any other films who would feel fresh to the audience. I wanted people who would be excited to do it and would get fully invested in the roles and do whatever it takes. People ask me if I thought about casting Elijah Wood in the film – I love Elijah and think he's brilliant, but I wouldn't have felt comfortable with him in the film. He actively didn't want to be in it too, I think it was mutually understood.
What was the mood like on set?
JH: When you're making a film on a very tight schedule [an 18-day shoot] with special effects and prosthetics it's not straightforward, you have to take it very seriously. It was fun but you can destroy the atmosphere by having too much fun, if the actors start playing to the crew, it really can't be like that.
It's a largely comedic film, but it's punctuated with moments of violence and extreme weirdness, have some viewers found it distributing?
JH: It's quite grotesque, some have found it disturbing. It's not to me and Toby, we think it's funny. I didn't know that people were going to watch it and say, "This is the most disturbing film of the year, the most WTF film at Sundance." I'm quite naive, you just don't know how people are going to react.
Everything is quite innocent of playful, it's not telegraphed as shocking, maybe that's what people find so disturbing. I think it depends whether you like to have the order of life disrupted, I want to be challenged, I get disappointed when I go to the cinema and see something that's obvious and formulaic.
I think people who feel like that, when they see a film like this, they get really excited to see something different. There's always value in something different.
TH: It does its own thing, that's what we always wanted it to do, I'm proud of that. People are polarised, which is what we expected, as long as people aren't indifferent, that would be the worst thing that could happen.